The band started with the work 2001 in Brescia as a trio, and now works as a quintet, with Mickey Evil (vocals, keyboards), Erik Stayn (keyboards), EyeVan (bass, contrabass), Macfly (guitar), Gyorg II drums. They released
two albums
and
ep
, were present on several compilations, and have earned a special compliments of Captain Sensible, former bassist of English punk legends The Damned. Here is what they have to say...
Tell us who you are and where you're from?
I am named Mickey Evil. I come from...let me check...my ID says I come from a
town called Brescia, located in Italy near Milano. But I guess it's all about my
material body, my simulachrum: my spirit comes from the Pleroma and desperately
wants to go back over there!
A brief history of how the band started?
The band was created back in 2001. I am the only surviving member of the original line-up...well, the other musicians are still alive, I mean, they are not Mugshots anymore! We self-released two albums and an EP, the three of them gained a lot of amazing reviews from everywhere. Our music is featured on some thriller movies from canadian Creepy Six Films. We opened shows for THE STRANGLERS, THE DAMNED, BRIAN JAMES GANG, UK SUBS, DEMENTED ARE GO, LORDS OF ALTAMONT. Right now we are working with Gun Club Management, which helped us in the release of our last blood-red vinyl EP "In Disguise". The digital copy is available, thanx to Alka Records, in all the best digital stores all around the world. Check our website and MySpace out.
What did you do before you were in a band?
I asked myself: "Why haven't I started a band yet?"
Song/album that changed your life?
Song: "Heatseeker" by AC/DC. It showed me the existence of heavy music.
Album: "Them" by KING DIAMOND. It showed me the existence of concept music and face painting.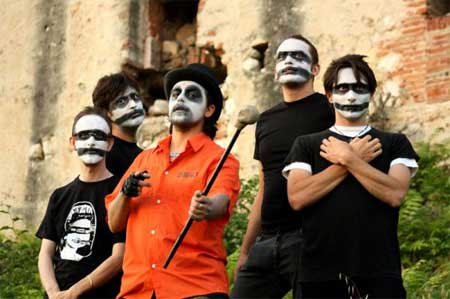 Tell us something about your music?
Nothing new, definitely. We try to take "pieces" from various "dead" musical
realities and stick them together in order to give life to our Frankenstein's
monster made of parts taken from dead bodies, yet alive in the whole! We christened our musical style "Elitarian Undead Rock": rock music for a few people who like what has been done in the past and, even if now it is dead and gone, it's not forgotten in their minds. The achronym EUR, then, indicates our birthplace: Europe, a place we are proud of.
Why did you chose to use so many make up?
I'll quote my master ALICE COOPER: "Some people do not need make-up onstage, some others do. I do need make up".
What do you listen when you're at home, on tour, right now…?
I like to clean my house while listening to Beethoven. I like to travel while
listening to a bunch of stuff...but I guess THE DOORS would be a good companion for
a long tour. Right now I am listening to EMINEM...big ups!
Are there any song that you would like to cover and any artist that you would like to play with?
I'd like to cover a bunch of songs, I'll let you know soon! Right now I am thinking about Blue Oyster Cult...talking about supporting other bands, as already said I've played with my main inspirators in the past. Well...I'd love to play with Alice Cooper of course! But I am already happy to have met him once, he's a really "nice guy"!
Which do you prefer, cd, vinyl or mp3?
When I travel: mp3. In the car: cds. At home: everything...but I am definitely old enough to be in love with vinyls above all!
Tell me something I would never guess about you?
I do faint when I see blood and spikes!
pedja // 12/04/2011