Sealight combine aspects of acoustic folk music with lush, layered guitars, expressive vocals and ambient textures to create an immersive and distinctive sound. These elements are deftly interwoven throughout the five songs that comprise the group's debut EP 'Dead Letters'. (from http://sealight.fr/about)
Tell us something about Sealight?
Dave: We are a group based in Paris, France. Sandra and Marco are French and I am Australian. We will release our debut EP 'Dead Letters' in October and play our first shows in support of its release. The EP was mixed and mastered by Robin Guthrie (Cocteau Twins) and will be available in CD format exclusively from our 'Bandcamp' site on 17th October and digitally through most platforms worldwide from 10th October.
A brief history of how the band started?
Sandra: Dave and I were working together with a friend of ours doing an album late last year when she left Paris to work in London. We wanted to keep the songs and continue so we cut down the Album down to an EP and worked together as a duo trying to play them live. We asked Marco to join us after the EP was recorded and our first shows together will be in support of the EP after its release.
On your EP "Dead Letters" you use fragments of conversations from letters of your families from France and Australia. Seems like a very good idea. Tell us something about it?
Sandra: The lyrical content of the EP is based around a collection of letters and texts from our families in France and Australia. The texts themselves are about a range of things: travel, distance, reflection, relationships and memories. Most of the lyrics are taken directly from the letters and only on a couple of occassions have we altered them to fit the songs. The songs on the EP are arranged chronologically (as are the letters) and they form a correspondence; each letter and song is in response to the previous.
The legendary Robin Guthrie mixed the EP. What has he said about Sealight and what do you say about him?
Dave: I met Robin a few years ago after moving to France from Australia with another group I play with called 'Heligoland'. We worked with him on our last album 'All Your Ships are White' in 2010 and were really happy with the whole process from beginning to end. After Sandra and I finished tracking the Sealight EP earlier this year, we spent a while deciding whether we would mix it ourselves or ask someone to help. We eventually asked Robin and were thrilled when he said yes. Having worked with him before, he had a pretty good idea where we were coming from and the actual mixing of the EP was relatively easy. In regards to what he thinks of Sealight, you'd have to ask him!
I think there are so many interesting bands from France and Australia? Do you know some that deserve to be mentioned?
Dave: There have been some great bands from Australia over the years. Of course a lot of people know The Birthday Party and The Church, but there were also The Go-Betweens and The Triffids which I still love listening too. More recently, Underground Lovers, Sounds like Sunset and Not from There are great bands.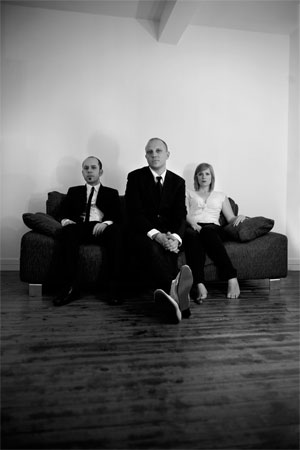 Are there any songs that you would like to cover or any artist that you would like to play with?
Dave: I think one of the things perhaps a little unusual about the band is we all listen to different types of music and different groups. Occasionally, one of us will share something with the other two and we'll talk about it, but up to now, we've never much talked about doing covers. I think probably the different influences in the group have a lot to do with the sound as its a combination of a lot of different things. The EP is quite guitar based, but on stage we use more electronic elements (e.g keyboards and drum machines) so at this stage we are just focusing on getting a new bunch of songs together for our next release.
Song/Album that changed your life?
Dave: There has been quite a few albums that have been big for me and I guess their impact depends on the specific time and place. I always find it hard to come up with a definitive list but probably the last Big Star record, the first few Red House Painters records and 'Hounds of Love' by Kate Bush have stayed with me the longest.
Sandra: Probably the Portishead albums. I love Beth Gibbons voice, but it was more the atmosphere and sound of the band that changed totally my perception of music. Before that, my parents listened mainly to French Music (not particularly good French Music) and I hadn't heard much indie music until I was in the last few years of high school.
Marco: Interpol - 'Turn on the Bright Lights'
Which do you prefer, CD, vinyl or mp3?
Dave: I actually really like all three. I do think unfortunately though that both Vinyl and CD formats are becoming less interesting to a lot of people as they prefer to have their music portable, whether it be on ipods or mobile phones etc. I always liked to have CD's or Vinyl records because it was a complete product. Quite often the artwork and sleeve design would reflect the music on the record, and give you some idea of what the record was about and maybe even what it sounded like. I used to buy a lot of records based just on the artwork actually and still probably do discover a lot of new bands this way.
Sandra: I actually prefer mp3. I create a lot of playlists with my favorite songs and you only really have that flexibility with mp3. I'm not really into CDs or Vinyl, I find they are more objects to collect and not so much to listen too anymore. My CD player is broken at the moment anyway !
Marco: Vinyl !
What do you listen when you're at home, on tour, right now…?
Sandra: I don't really listen to music so often at home. I travel a lot by train with my work so I spend a lot of time listening to music on headphones which is great. It gives you a chance to hear a lot of detail on the records you perhaps wouldn't otherwise hear at home on a regular Hi-fi. On tour, I like listening to bands we play with as it's a great way to discover new groups and new records.
Marco: Deerhunter, Foals, The Berg Sans Nipple, The Go-Team
Thank you so much for your time. Is there any thing else you'd like to say to our readers?
Sandra: Thanks for reading and we hope to come to Croatia soon!
Marco: Go see live bands! Be curious
Dave: Thanks for reading! Please do check us out on our website at the address below if you are interested at all and shoot us an email if you would like some more information.
pedja // 18/10/2011