Hyung-ki Joo (pianist) and Aleksey Igudesman (violinist) met when they were twelve years old. They both went to Yehudi Menuhin School and they are respected classical musicians. Between them they have worked with some of the best movie composers, actors and other musicians in the classical field that were especially attracted to them after they came up with something completely different. Seven years ago they put up a show called Little Nightmare Music. They combined theater, music and comedy to bring new life to classical music. Which is almost always considered boring and elitist. They went on the road with the show and they have a lot of fans all over the world. They are praised by the critics and public alike.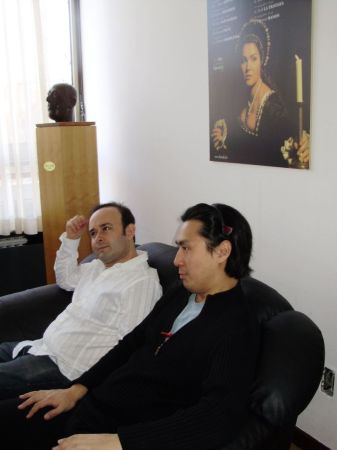 Igudesman and Joo just sitting there. © Sonja Jeđud
Big Nightmare Music is a continuation of the similar principles. Only with orchestras. The audience in Zagreb are privileged to see for themselves what a great show it is.
Igudesman and Joo will welcome the New Year in Austria celebrating the 50th birthday of UNICEF Austria. They will break the world record for the most dancing violinists. The whole thing will be conducted by Sir Roger Moore. Obviously Igudesman and Joo love to make the world a better place. Luckily the world recognizes that.
Interview was conducted in a dressing room in Lisinski Concert Hall at around 12 o'clock.
© Sonja Jeđud
What can you say about classical music from a perspective of a classical musicians that turned the classical music upside down? If you understand my question.
Joo: Yes we understand the question. I'm not sure if we think we turned classical music upside down because we are just trying to put classical music the right way up. We feel the classical music was turned upside down. What we mean by that...we felt that a lot of the ways classical music is performed and the way it's taught and the whole business surrounding classical music is way too serious for itself, way too elitist and going to a concert sometimes feels more like a funeral rather than a celebration. This is where we felt that the classical music was upside down. It got nothing to do with the spirit in which classical music was created, which was in the spirit of joy and celebration.
Even the tragic music was written in the spirit of sharing and passion. Not as a selective and elitist.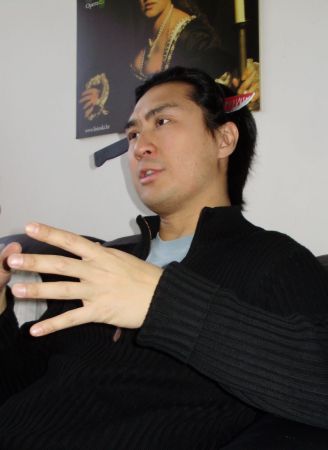 Joo complained about a headache... © Sonja Jeđud
We've been to a lot of classical concerts and it tends to be quite boring sometimes...
Igudesman: The music is not the boring part. The problem is the surroundings, the way it's presented and also partly the way it's played. Because everything is strict. Not too much, not too little. Clap not too much, not too little. Play four movements in a strict order, don't clap between, you know, all these strict rules which most composers didn't give a s*** about. Back in the time of Beethoven, btw. People used to clap between movements. When they liked something people clapped, they could even be vocal, people booed, that was okay too. Nowadays it's flat and people go to a concert to sleep and it's a very expensive ticket to sleep.
Little Nightmare Music is a project full of twists, atypical behavior on the stage, so how did it come to be? How did you developed the idea?
Igudesman: Well we've known each other since we were twelve years old...so how did it come to be? We shared a dream also, besides combining music and theater with comedy, the three things we were very passionate about, a dream of bringing (classical) music to a wider and maybe a younger audience. We realized that a lot of that was possible through humor. When one sees that classical musicians don't take themselves so seriously, it's much more approachable, it's much nicer. And also it's a combination of music, theater and comedy. We don't think of it whether it's right or not, we think of it, in a way, as a different art form. How you combine music with theatrical aspects and comedy aspects but still keep the music really good and of high quality. Keeping the humor clever but at the same time approachable to everything (and everyone). Having the theatrical aspect there is a feeling like from the viewers oh my god there is a relationship between the two of us or the two of us and an orchestra like in Big Nightmare Music which we are doing in Zagreb.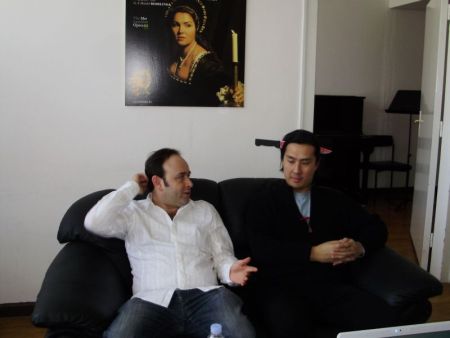 Aleksey offers some advice for the headache... © Sonja Jeđud
Joo: Maybe this is what they did in comedia dell'arte, who knows? We only have some historical documents but maybe that's more in the spirit what they used to do, in the birth of opera.
Yes, and the boring classical music keeps younger people away and your approach to this is refreshing and even revolutionary. Like the piece you did in Dubrovnik at the Rachlin Festival, the Music Critic with John Malkovich. Does Dubrovnik as a city influence your work and affects your music?
Igudesman: Definitely. But I think I wouldn't even restrict it to Dubrovnik. I think, generally, we do have a special relationship, we don't even know why, with Croatia, definitely. I think people here, at certain festivals, like to laugh. Maybe it's because sometimes they had to laugh in order to survive some of the hard times but also there is a kind of pride and strength. There is something that agrees with us in Croatia.
Joo: And we love chevapchichi.
Can you tell us more about Rachlin festival? Is it something that is not usual in the rest of the world?
Igudesman: Definitely, to a certain extent, because it is very, very personal. Julian invites friends and we are (Igudesman and Joo) two of the oldest and dearest friends. That makes it special, when you play music with your friends. Also the atmosphere of Dubrovnik is what makes it so unique. You cannot copy that anywhere in the world. And the people...it's many, many layers.
We talked about Little Nightmare Music. Can you tell us the difference between Little and Big Nightmare Music that will be performed tomorrow night?
Joo: Big Nightmare Music is bigger than the Little Nightmare Music.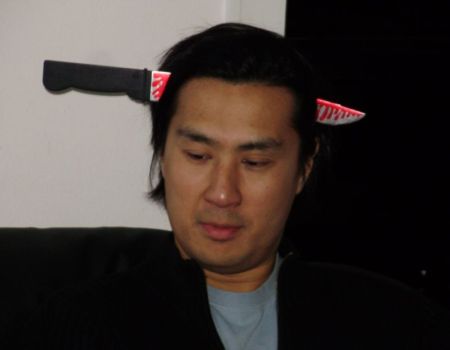 Joo is not quite reassured yet. © Sonja Jeđud
Igudesman: Yes, much bigger. Only because of the size.
So it's Little Nightmare Music on steroids?
(Laughter)
Igudesman: No, we don't take steroids.
Joo: Not anymore. Little Nightmare Music is little because it's just the two of us. And Big Nightmare is big because we have eighty people with us.
Igudesman: But it's still different. If you've seen Little Nightmare Music, we have many numbers that are in Big and they aren't in the Little Nightmare Music.
Joo: The wonderful thing about doing the orchestral show, actually there are many wonderful things. First of all there is more possibilities. We have more possibilities because there is more people and more instruments. But one of the other things that is great is the locals. They come to see their local orchestra in a different light and it builds a bridge, a relationship between the audience and the orchestra. In a concert you see that coming alive. You see people who generally go to see their local orchestras and suddenly they realize, oh I didn't know she could dance, or that he could be so funny and so on.
Igudesman: Exactly.
Joo: And it makes them personable. Then the orchestra, I think they feel that and they start to have fun. So in the end, sometimes when we are touring with an orchestra...
(The voice from the speaker cuts through the interview with a call to rehearsal in Croatian).
Joo: Exactly. By the last concert it is the orchestra making a lot of jokes. They are doing it behind our backs and it's like a carnival. It's a lot of fun.
Igudesman: The great thing, for example, is that we get violinists or other members of the orchestra to dance...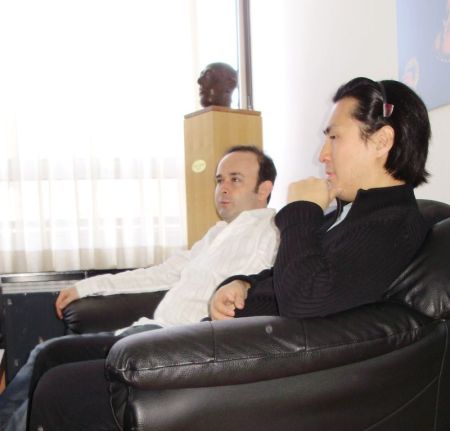 Still sitting. © Sonja Jeđud
Like in Vienna?
Igudesman: Exactly. We get them to sing, etc. But in Vienna there is a very special project. Basically we are actually looking for more violinists. We are missing a few violinists.
Joo: If there are any Croatian violinists...who can dance...
Igudesman: We are making a world record for the most dancing violinist. We are hoping to get over a hundred violinists. It's with Sir Roger Moore and it's for UNICEF. It's in Vienna, so if you want to be on stage with us, playing and dancing, if you are a violinist, you can certainly apply. Another thing we are working on is our next show which will be out by autumn next year. It will be called And Now Mozart.
Joo: It will be premiered at the Mozarthaus of course. But we guarantee there will be no Mozart.
(Laughter).
I wanted to ask you about the TV show you are working on...
Joo: We can't tell you about it, it's top secret.
So, it's still in production?
Igudesman: We are basically just gathering material and thinking about it. We've done alot of stuff in TV, other media, this and that, but basically it's something we are thinking about.
I heard your violin is approximately 300 years old.
Igudesman: It's from 1717 and it's actually the Erste bank which is also here, is very kindly loaning it to me as long as I mention them in every single interview, like I'm doing now. It's very kind of them to loan it to me.
Does the age difference bother you when you're in the public?
(Laughter).
Joo: There's a big age gap.
Igudesman: I like women of all ages...
Joo: Legal age.
Igudesman: From 18 to 360.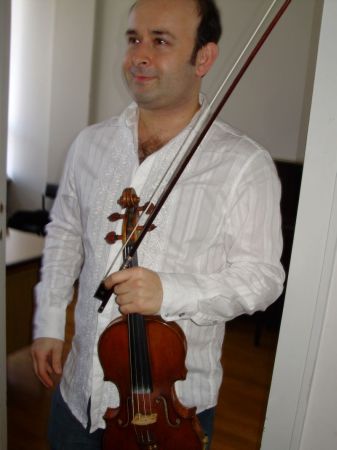 Rehearsal time. © Sonja Jeđud
And then Igudesman & Joo had to continue with their rehearsal and the interview was wrapped up. We have to mention that Hyung-ki Joo was rather talkative and patient considering he had a knife stuck in his head. Wonderful interviewees, full of humor and approachability. Not to mention they can fill up stadiums and concert halls and everything in between.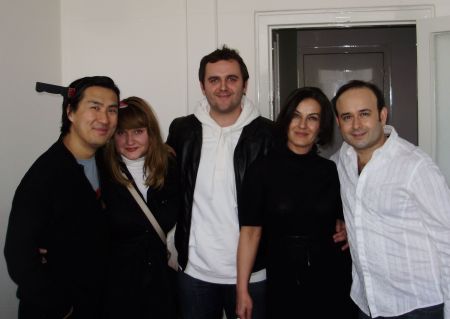 Everybody is in the picture. Almost. © Florian P.
Their concert the Big Nightmare Music will be held tomorrow, on 15th December in Lisinski Concert Hall. They will be accompanied with Symphony Orchestra of Croatian Radiotelevision and conductor Andrei Pushkarev. The concert is an annual Christmas concert that is a part of Rotary Clubs program Rotary for Excellence. The profits will go to scholarships for pupils and students with lower financial status.
sonja jeđud i robert tabula // 14/12/2011