SEVEN (UK)
Black Box/Wheel & Deal/Tempa/Subway/One Gun Salut
Based in London, UK. Seven is an artist in high demand both for his DJ skills and production. His distinctive sound is original, versatile and has worldwide following.
His mixing style is calculated and unique, constantly showcasing exclusive tracks by him self and others. His precise beat matching and constant double drops also contribute to what makes Seven one of the most technical and crowd friendly DJ's on the dubstep scene today . Seven already has impressive discography too, which features on Black Box records, Tempa, Wheel n Deal and Subway Recordings. His very much anticipated debut album is due for release in April 2012 on Black Box Records and tipped to be huge!! Quoted from his fellow established artists; "Seven is a headliner DJ to make your event, his energetic performances, orchestrating euphoric vibes and big crowd reaction sums this up"...set on beatport radio...... http://www.ustream.tv/recorded/19189402
set on Get Darker TV...... http://www.youtube.com/watch?v=7V97Fl8KC1U
+ rezidenti:
Bamster aka Lo Peaks, Jan Becele, Meniga
Vinyl friendly party!
Protect yourself - earplugs recommended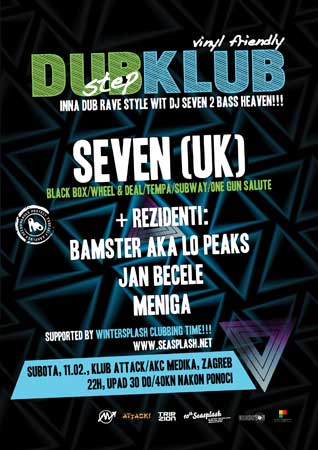 promo guy // 09/02/2012