Memoryhouse is a dream pop music group formed in 2010 in Toronto. The band is signed to Sub Pop. Memoryhouse consists of Evan Abeele (composer) and Denise Nouvion (vocalist)...
They will play in Kino Europa, Zagreb on 27th of august 2012...
You are not well known band in Croatia, so please give me a brief history of how the band started?
Denise was a concert photographer for a local magazine and she and I would bump into each other at shows. We shared a similar artistic sensibility so it only felt natural to pursue a path in music together.
Describe Your Music in 4 words?
Lush emotional pop songs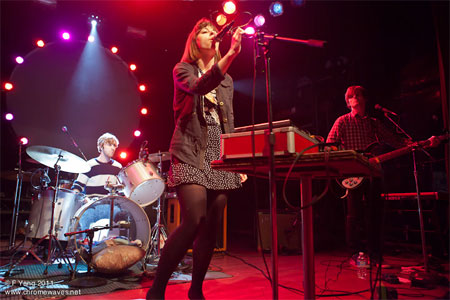 http://www.memoryhou.se
There's a French/Australian duo Sealight, that uses fragments of letters of their families from F/A as lyrics. Seems like a good idea, don't you think? As you're also duo, who is in charge for making music and who is for lyrics?
We like to share the workload pretty evenly. There are times when I'll contribute lyrics and music, and at others it will be Denise taking the lead. We always work on lyrics together, everything goes through the two of us.
On your debut album you had drummer, violinist and lapsteelist. Since, you will play soon in Zagreb, tell me are they with you on tour?
We work as a trio live, Denise sings and plays keyboards, I play guitar, and our drummer Daniel, who performed on the record, takes over drumming and back-up singing duties live.
I heard that you have interesting movies behind you when you play live. Tell me something about it?
They were created by Jamie Harley, visual artist extraordinaire. We've worked with hi a lot n the past and we have a pretty deep, mutual understanding of our visual aesthetic.
You did When You Sleep by My Bloody Valentine. Are there any other songs that you would like to cover or any artist that you would like to play with?
We were bouncing around covering Elvis recently. We like his music and movies quite a bit.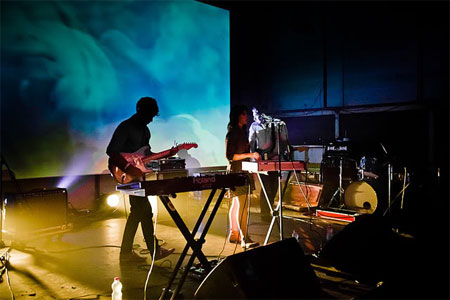 http://www.memoryhou.se
Song/Album that changed your life?
It's a little broad, but the entirety of The Beatles catalog is the only thing I can declare as being fundamentally life changing. Just making my way through their albums when I was 12 was really special every album was it's own little world that I connected to in a unique way.
We don't know much about cannadian scene, but I think there are so many interesting bands from there? Do you know some that deserve to be mention?
Kathleen Edwards recorded a really beautiful record this year, I think more people should hear it.
Which do you prefer, CD, vinyl or mp3?
CD's for the most part.
What do you listen when you're at home, on tour, right now…?
I've bee listening to hill-top blues records as of late. Junior Kimbrough, RL Burnside, Model T. Ford. They are so visceral an said and jus posses a very narcotic quality to them.
Tell me something i would never guess about you?
Hmm, I really like sports and comic books.
Thank you so much for your time. Is there any thing else you'd like to say to our readers?
We are very thrilled to be visiting your wonderful country. This'll be our first time there!
pedja // 06/08/2012