New Zealand legends, The Chills led by Martin Phillipps, were formed in 1980. They recorded 4 albums between 1987 and 1996. Almost 20 years later, they came with the 5th.
"Silver Bullets"
continued where they left off all those years ago. With the new "crew" at his side, Martin is ready for a new start.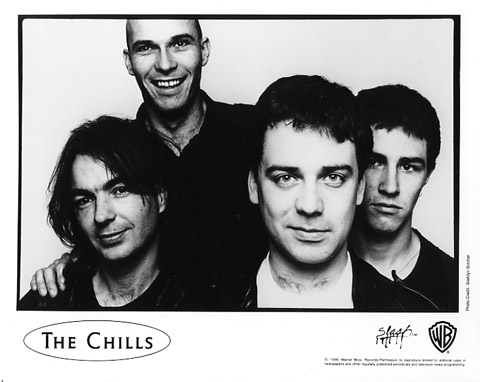 the chills circa 1985
1. Do you remember when and why it all started?
I had always loved music but there was a special energy in Dunedin, and other parts of New Zealand, in the post-punk era and there were the right combinations of people for things to happen. I don't know if I would have discovered that I could make music and write songs without that time of inspiration.
2. During the early eighties, you were part of the unique Dunedin Sound and took place on legendary Tuatara compilation, which presented you outside the New Zealand. How hard it was to break through that barrier without any help of internet?
Being at the wrong end of New Zealand and the wrong side of the world, away from the influential music media, certainly made things more difficult but I don't think many of us were thinking then about international stardom - we were just enjoying the thrill of making music. When we became aware that our music was being listened to around the world it made it worthwhile to then travel and take things more seriously.
3. Why that sound was so unique?
It was more difficult in the '70s and '80s to gain access to the new music happening around the world but there were people who were importing some of the crucial new music and there were people with great record collections of the important albums from the past and all that music was shared with each other and all the key song-writers etc took what they needed from what we heard and made our own pathways without worrying very much about what was fashionable.
4. The Chills are known for their frequent change of musicians. Was it negative in terms of progress or positive in terms of freshness brought in by new members? Do you know how many people have passed through band?
There have been over 30 members of The Chills but most of that happened in the early years and the present band has been stable, with only one person leaving, over the last 16 years. It was frustrating that we lost many songs in the early days because they were unrecorded or still being developed but it also did add a continual freshness of approach to what we were doing.
5. I read somewhere that you have recently re- recorded Pink Frost. Will this song be released, and have you thought about re- recording some other songs?
'Pink Frost 13' was released a couple of years ago as a B-side to the 7" single 'Molten Gold' - a song which was later re-recorded for the 'Silver Bullets' album. Perhaps 'Silver Bullets' could be re-issued at some time with those extra tracks and other rare material. There are some other songs from the past which I would like to re-record and some that have never been recorded but the priority now is to record new material.
6. Do you plan to re-release the old albums?
We are always in discussions about how to keep our back-catalogue available and exciting but there are many problems with old contracts and the cost of re-issuing old material which we need to solve. We hope there will be some surprises over the next couple of years.
7. When you have concluded that it was now time for a new album? Is there an interesting story behind it?
For many years there was not the opportunity or finance to record a new album that would have been of the quality we needed but then we met the right people who believed that there was still good music to be heard from The Chills and they were prepared to back us. I had never given up hope of recording again but I had stopped completing new songs as they were going nowhere - whether they were good or not. But then there was the incentive and the means to do something special and bring The Chills' story up to date.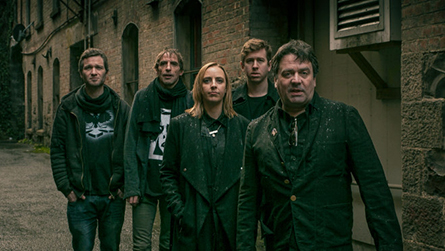 the chills circa 2015
8. What was the process in writing material for the new album? Are all members participated in the creation of new songs?
Some of the basic riffs and ideas can be traced back many years but once I was given the go ahead to record a new album my song-writing ability rose up and most of the album was written in a little over a year. I always take roughly finished versions of new songs to the band in rehearsal and then they add they own magic to them. This happened more on 'Silver Bullets' than on any previous Chills' album because I really trust this band and admire their musical skills.
9. I think the Silver Bullets stood alongside the best works of The Chills. How are you satisfied with the album?
I know that all the band agree with me that we have created something special that will stand proudly alongside the best of The Chills' releases from the past. We decided early on that we were very happy with it and it didn't matter what anyone else thought but it has been wonderful to see the response to the album from all around the world.
10. I especially like the complexity of the song Pyramid / When The Poor Can Reach The Moon. Why two titles, two parts?
Both of the musical parts didn't seem to want to become full songs in the own right but they both dealt with different angles on a similar theme - so I decided to join them together! It seems to have worked and it is one of the highlights of the album for many people. Incidentally it was recorded in Thailand at the same time as 'Pink Frost 13' nearly a year before the rest of the album was recorded in Dunedin - prior to it all being completed and mixed in London.
11. Are you familiar with the current New Zealand scene. Is there a band to which you should pay attention?
Music is always being made here and there is another exciting Dunedin scene at present. Check out Kane Strang, Males, Opposite Sex, The Prophet Hens, Trick Mammoth, the Shifting Sands and others. The label Fishrider Records has most of these artists.
12. As we approach the end of the year, and the preparation of the annual toplists, can you present your top 5 albums, songs, movies, books ... from 2015?
I am still trying to catch up with what was released as I was very busy with my own music so I won't name any favourites quite yet.
13. Thanks for your time and I hope that we will soon see in Croatia?
Sorry it took me so long to reply to your questions. Some things got lost in the confusion around the new album. I very much hope we can tour Croatia at some stage. Thank you.
Martin Phillipps, The Chills. Dunedin, New Zealand.
pedja // 04/02/2016