Dustin O'Halloran, the man behind music of DEVICS, released his second solo album "Piano Solos Vol. 2". The songs are played and recorded only on "a 1930s restored Swiss Sabel Piano". A few of theme were used in soundtrack for "Marie Antoinette", new Sofia Coppola's movie. Here's what he has to say…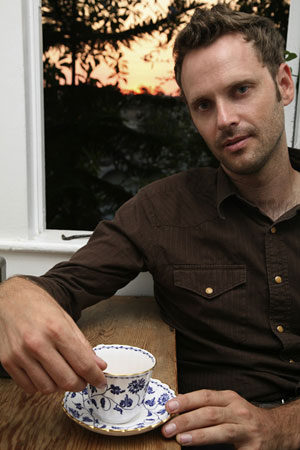 dustin o'halloran © jeaneen lund
T. Where are you now and what are you doing?
D: At the moment I am in Italy working in my studio finishing a film score for an independent film called " The Beautiful Ordinary "
T. What happened with DEVICS after releasing beautiful "Push the Heart"?
D: We did a bit of touring …did a really great tour of the US with the Black Heart Procession. It had been a long time since we have toured the US so it was a nice change. It was also interesting to travel across the US after living away from it for so long.
T. Two years after "Piano solos" you released "Piano Solos Vol. 2". What inspired you to create these two albums?
D: Well the first cd was not so intentional …I was documenting these pieces I had written, but never really thought someone would release it or that I would make a second one. I sent it to Simon Raymonde ( Bella Union ) and he said that we wanted to release it. The response to the first was really great..and I suppose I felt there was more to say. The piano has always been my first musical love so I feel fortunate that I have been able to have the chance to put out these records.
T. Describe "Piano solos" in few words?
D: For me the piano solos are the most vulnerable I could make myself. It's a bit scary at first to throw your self into a place where every single note counts and there is no band or technology to hide behind. But I felt that is what music should be…honest, vulnerable, and capturing a moment.
T. Songs on the album are numberes as Opus No...How come some numbers are missing such as 22, 24, 25...?
D: Actually I do have pieces for those numbers…I just did not feel they were right for the record. I guess coming from an indie rock background I approached the piano albums in a similar way..I wanted it to have a flow and work as a whole record.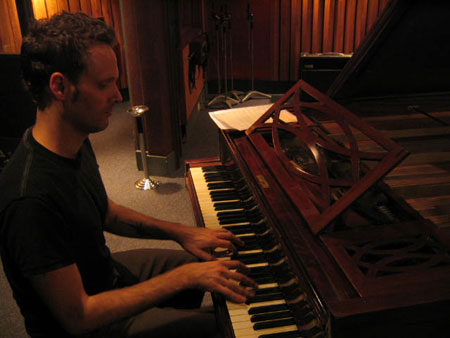 dustin o'halloran piano solo © www.dustinohalloran.com
T. Three of them, two new and one from first Piano Solos, are used in soundtrack for the new Sofia Coppolas movie "Marie Antoinette". How was this cooperation arranged?
D: I was initially contacted by her music supervisor Brian Rietzell. He had heard my first solo cd, and put some of my pieces on a mix cd he made for her to listen to while she was writing the script. They stuck with her and finally they asked me to write some original pieces of music for the film.
T. Will there be any tours soon, solo or with Devics?
D:I am doing 2 shows in Los Angeles this month and hopefully some solo dates in Europe in the spring. As for Devics ..I think we are going to start working on a new record and maybe do a few US dates.
T. What are your favorite albums, movies, books of 2006?
This year has been so busy and mostly spent in the studio..so did not have a lot of time . But currently I am ready The Sheltering Sky, and I think my favorite record was the new Johann Johannson…its brilliant. And film…well Marie Antoinette of course!
T. Tell me something I would never guess about you?
D: I don't take myself seriously at all…the only place I put that is in the music.
T. Thanks for your time and I hope I'll see you again in Croatia, soon…
pedja // 15/01/2007