I'll probably be the one person in media that will write something positive about Sean Lennons concert in Zagreb, but there you go. It's a bit hard for me not to react on everything that has been said about Sean in newspapers lately because once in the future, when someone tries to find something about this concert they'll only find unrealistic rubbish, so I write this in hope that at least someone will stumble upon my review which I believe is a lot closer to the truth.
Anyway, for those that are not familiar with the whole situation, the whole negative thing in the press concerning Sean started even before the concert. When bringing the news of the concert most of articles were full of bizarre texts informing us how Sean has such unbelievable demands from the promoters like for example a hotel room with heating and fruits and vegetables. (?!) How does he dare ask for heating in a room?! It's not like he's asking for ten virgins and 20kg of caviar, for Christ sake.
sean lennon in zagreb © kris
And then to make things even worse, they started accusing Sean that he's only touring because he is exploiting his fathers fame and that he's even trying to look like him! Obviously, these journalists have never heard about genetics which makes one look like their parent.
All this obviously had an effect and only about hundred people came to see the concert but have no fear, there was at least that many journalists, hungry for sensation.
So right from the beginning the concert was special because from the start the crowd and journalists had a bit of a duel because the photographers were unbelievably rude with their cameras, trying to capture how little people came. They're flashing at the crowd with brutally strong flashes and they got on our nerves. So Sean came on and he thought we were angry at me which was not at all true. Then photographers got even ruder and for the first two songs were so much around Sean that even I, who was seated at third row couldn't see anything. So people in the crowd asked Sean for help and Sean nicely asked photographers to step aside so we can see the concert. But of course, tomorrow there was sensational headline in all newspapers! Sean sent all the journalists to corner! Obviously Sean is stronger than Superman and eats journalists for lunch.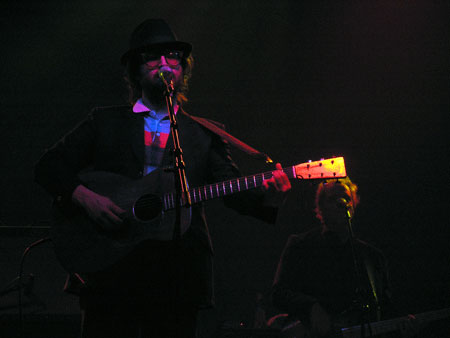 sean lennon in zagreb © kris
And so while the journalists stood shivering in the corner fearing the wrath of Sean, the rest of us enjoyed beautiful and extremely intimate performance of excellent musicians. What a concert it was! For me personally (and as well for other if we consider the comments left on Sean's official website) this was one of the best and loveliest concerts I ever went to, and thank god, I've seen many.
It's hard to explain such homely atmosphere and the communication we had with Sean but the whole thing can we describes as having the musician you truly like and admire play in your living room. Sean and the band played entire "Friendly Fire" album which sounded even better than on the record and we were treaded as well to two unreleased tunes called "Smoke and Mirrors" and "Piano Epic". The highlight of the concert was definitely "Parachute" which left me there with my mouth open and with shivers down my spine. We all talked with Sean between the songs and the subject ranged from Cicciolina, talk about venue, about Mr Beautiful (drummer). Sean even got a flower for a girl in the crowd…
sean lennon in zagreb © kris
In the end, Sean turned out to be rather lovely and communicative person but everyone who came to concert because of his music knew that anyway. Those who stayed at who were however treated with extraordinary information from the TVs report of the concert. Apparently they main news was only 2 t-shirts were sold and they told nothing of the music being played.
But who cares? The rest of us went home afterwards to listen to "Friendly Fire" for the millionth time, remembering this perfect evening and hoping that we will meet again soon.
kris // 09/02/2007