After years of demand, the Drop Dead Festival, traditionally held in the USA, will finally be held in Europe October 31- November 4 2007. Drop Dead Festival is the largest Deathrock festival in the world, focusing on horror and post-punk genres of music such as Goth, Punk, Psychobilly, and Wave. The city of Prague in the Czech Republic was chosen as the location for the festival for its outstanding beauty, and because of an ideal location connecting east and west Europe.
Drop Dead Festival started in NYC has beed attracting fans from all over the world for 5 years. The festival usually hosts 65+ international bands and DJs combining the newest and the best talent with more established and legendary underground acts. Drop Dead is also famous for special events like a DIY punk jacket showcase, a screening of the cult classic movie Forbidden Zone complete with question and answers from director Richard Elfman, giveaways from underground artists and companies, a large vending bazaar, and much more.
Although Drop Dead Festival is an international event, this year's unique location is a perfect chance to immerse in local music and art. The festival kicks off on October 31 with a showcase of local bands at the 007 Club. Later that evening, the party continues at the Swamp Club with Prague's first ever Halloween costume party hosted by the Gothic Pogo Party crew (of Leipzig, Germany). Between shows, attendees are invited to see why Prague is often called 'the most beautiful city on earth'. All venues are located in the center of the city and within easy reach of spectacular art and architecture famous the world over.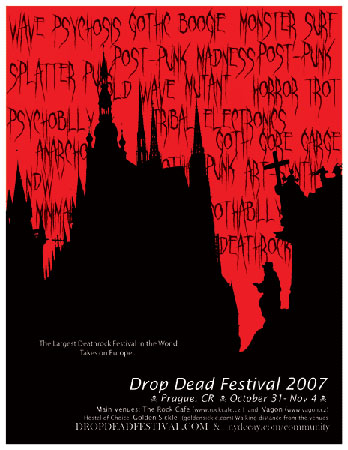 Thursday through Saturday, the two-story Rock Café Club will host a post punk, wave and deathrock line up with many incredible performances by legendary bands such as Lene Lovich (UK), Sex Gang Children (UK), Norma Loy (France), Ausgang (UK), Charles De Goal (France), and an exclusive reunion from Scottish deathrock band Twisted Nerve. Audience will also see some of the best newer bands like Miguel and The Living Dead (Poland), Naughty Zombies (Spain) Din Glorious (USA), Sixteens (USA), Joy Disaster (France), Cremaster (Germany) and many others. Across the street, Vagon Club will host a horror punk and psychobilly lineup. Performing will be psycho scene luminaries such as Klingonz (UK), Spellbound (Ireland), and Death Valley Surfers (UK). Also appearing will be the German horror punk pioneers The Spook and Crimson Ghosts, as well as Los Angeles natives Deep Eynde and Canada's Nim Vind.
More then just a show, Drop Dead Festival is a unique gathering of tribes with many activities in store. Attendees (many from opposite sides of the globe) look forward all year to this celebration of music, and DDF does not disappoint. In addition to fantastic bands, many other events are planned: all-night dance clubs with international DJs spinning post-punk and deathrock, movie screenings, meet and greet with the bands, and a daytrip to the famous Bone Church.
The deathrock movement is visually stunning and musically eclectic; it combines the best and most exciting underground genres. To get a taste of what is attracting fans from all over the world visit
Drop Dead Festival official site
, and we will see you in Prague for the Drop Dead Festival!
Tickets are 65 euros now and 75 euros at the door. You can order them at the official festival website.
ana // 24/07/2007