The band got together about 10 years ago. Sara, Dustin and Evan were untill 1999 functioning as a threeman band. At that time Ed joined the band and started playing the bass guitar, and this enabled Sara who was untill then playing the bass guitar and singing to fully focus only on singing. They had problems in finding the records label and so they started "Splinter Records" on their own and thus they published first three albums. After that they signed contract with
BElla Union
and for this label they published two latest records. This contributed very much to their fame and they became well known band. In their music you can find influences of classic, dark, pop some trip hop and even rock music. For that reason they are often compared with Portishead, Mazzy Star, Nick Cave... The latest record was made on their farm somewhere in Italy where they started preparations for incoming European tour which also includes performance in Zagreb on 6th of May 2003 in a club called
KSET
.
You are about to read what Sara Low, the
DEVICS
singer, has to say about that and about many other things.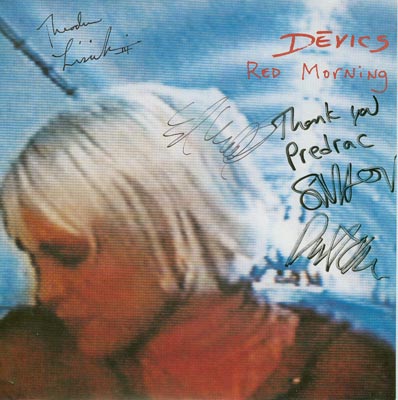 T: Where are you now and what are you doing?
S: Right now we are in Italy and we are getting ready to start this tour.
T: You are not well known band in Croatia, so please give me a brief history of how the band started?
S: We have been together for about 10 years. We released 3 cd's on our own before signing with Bella Union (London). We just released our second cd with them "the stars at saint andrea". Probably you don't know us because we only came one time to Zagreb about one year ago.
T: Why did you released your first three albums on your own Record company and later changed that and started working with Bella Union?
S: We always wanted someone to help us but we didn't want to wait forever so we began to release our own music. It's really too much work and so hard to be the band and the label so when Bella Union wanted to release our music we were so happy.
T: I really like Bella Union bands and I think that you just perfectly fit into it. Are you satisfied with Bella Union Records and what do you think of other bands who also work with them-do you see any resemblances with their music?
S: We are so lucky to be with Bella. They are incredible people with a lot of artistic integrity. They are the perfect label for us because they trust us to make the kind of music we want. They don't tell us what or how to do it, so our music can remain pure with this label. I love Dirty Three, Francoize Bruet, The Czars and Lift To Experience. I think they have a really great collection of bands.
T: What does your name stand for?
S: It is a kind of protective muse (like an angel that protects the true artist).
T: People say that your sound is a mixture between Cocteau Twins, Portishead, Mazzy Star, Nick Cave & The Bad Seeds... How do you feel about such comparisons?
S: I think it's really difficult to describe music in words and so people feel the need to make comparisons. I think we are lucky to be compared to these great bands instead of some shitty ones.
T: Are there any differences between "The Stars at Saint Andrea" and "My Beautiful Sinking Ship"?
S: Yes, so many. "My beautiful sinking ship" is a much darker and colder record, still I love the songs but I think "The stars at saint andrea" is a brighter album. I hope we can always grow and change musically to challenge ourselves and our listeners.
T: Do you remember anything from the gig you had two years ago in Zagreb?
S: It was one of my favorite shows of that tour, I will never forget it. We met so many wonderful and warm people and it was a really cool place to play. We have been wanting to come back and now finally we can.
T: What do you expect from the next performance in Zagreb?
S: I don't know, I hope some people will remember us and come back to see the new songs.
T: What kind of music do you listen when you're on tour, at home...?
S: So many different kinds. There are a lot of new independent bands that I love but I also love old jazz and classical. We have been listening to a lot of Chopin lately. My most listened to cd's right now are: Iron & Wine, Flaming Lips, Blackheart Procession, Isan and Chopin's Nocturnes. Dustin is really into Devendra Banhart.
T: I can see many different influences to your music in the range between classic, jazz, lo-fi and electronics. How much influence did such music have to your work? Which member of the bend is in charge of lyrics and which of music i.e.. who deos what…?
S: We are influenced by a lot of music, we always have been. We find inspiration in new music, old music, jazz, classical, electronic.......everything!!!! But we also find inspiration in other places such as film, art and books. I write the lyrics and Dustin writes the music, we work together really well for a common vision. He does write lyrics for the songs that he sings and for example on "in your room" we both wrote the lyrics together but he always writes the music and I could do nothing without him. His music makes me want to write words. The song structure we work on together.
T: Your 5 favourite albums ever?
S: how can I answer that? I have about 100! (I will have to think about this one and email you again.)
T: Your 5 favourite movies ever?
S: again, too many to mention, but I will try:
The 400 blows
La Strada
the city of lost children
Amelie
Dancer in the dark
Spirited away
oops...that was 6 and i have more.....
T: Tell me something I would never guess about You?
S: umm, hmmm.... aahhhh, I'm not depressed at all.
pedja // 22/04/2003
PS: touched by the hand of lana