This Sunday in Zagreb band The Mission will play one of their last concerts. Wayne Hussey, singer and founder of the band answered a few questions for us.
Where are you now and what are you doing?
In the dressing room in Milan waiting to soundcheck, smoking and drinking orange juice, and, of course, writing this.
Since THE MISSION had lot of personal changes, do you know how many members came through the band from the beginning till now? And of course which is your favourite line-up?
The politically correct answer would be that I don't have a favourite line-up. Each and every line-up has had it's own merits and it's own drawbacks. Sometimes the chemistry has been better at some times than others but I do like to think that each person that has ever played in the Mission has always managed to impose at least a little of their own personality. Now, as for own favourite line-up I do have to say the current one is pretty damn good and we all get on fine.
Who is in the band now?
Myself, Wayne Hussey, Mark Gemini Thwaite on guitar, Rich Vernon on bass, & Steve Spring on drums.
Last year you recorded new album "God is a Bullet", which is "back to basics" kind of album. What do you feel about it?
I think it's a very good album and very representative of us at that time. If there has to be a last ever Mission album then God Is A Bullet is a mighty fine way to bow out.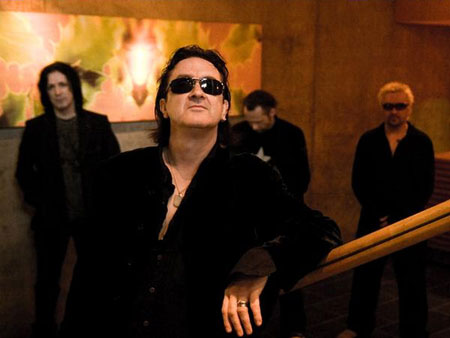 The Mission 2008
Is this your "farewell" album like it's your "Farewell Tour"? And is it really "farewell" or it is just the name?
Well, you can never say never but at the moment I have no intention of playing any more Mission tours or making any new Mission albums.
You recorded some great covers (Like a Hurricane, Dancing Barefoot, All I Want is You…). Is there any song that you would like to cover but you didn't?
I can't really think of any. I always wanted to record the Beach Boys 'God Only Knows' but I've just done that for my first solo album, Bare.
What do you think about other bands cover THE MISSION songs and which one or two do you recommend for listen?
I don't really know any or heard an. If anyone would like to cover one of my songs then I'd feel honoured.
What are your favourite albums, movies and books in 2007?
Best book I read last year was the Time Travelers Wife, my favourite film was Inland Empire, and favourite album was In Rainbows by Radiohead.
If you knew back then when you started your career what you know today, would you have changed anything?
No, not really. Maybe the only thing I would change is that I didn't marry an American first.
Do you remember something from your past Zagreb gigs?
Uh, no. Have I been to Zagreb before?
Can you tell us what kind of set list can we expect?
No, it changes everynight deending on our mood. We have rehearsed 65 songs for this tour.
How did you chose Dead Guitars to play with you and what can you tell us about them?
I heard their album and really liked it and they wanted to do the tour so it was a marriage made in heaven.
Tell me something I would never guess about you?
I wear stockings underneath my trousers on stage.
Message for the fans in Zagreb?
See you soon. And buy Bare. It's only available at the shows.
pedja // 14/02/2008