Tell us something about The Deer Tracks?
The Deer Tracks is a Swedish little humble duo created by the Swedish children David Lehnberg and Elin Lindfors. We kept running into each others at shows and parties. We started comparing our record collections and at some point we just decided to try to do something together. We started working on some stuff just for fun in mine (David) own studio, Jesus LoTech, without any real goal of starting a band. We were just playing around with some sounds and ideas. Then after a while we put a song on Myspace and then everything pretty much burst and bloomed into where we are now. It's just lovely and we're enjoying every second of it. When we play live we always bring a lot of friends to make the experience as great as we possible can both in every single way.
Your name…
We've always thought of the deer as a very mystical and beautiful animal. You know how it stares at you with really intense eyes, but it's almost impossible to try to read something out of it's stare. There movement is gracious and it's horns pretty. So then we thought we could find out their very secrets if you just follow their tracks into the soft and dark woods.
Describe your sound in a few words?
There is not really any "this is how we write our songs" "and this our sound" map for us to follow. I would say it's more like a puzzling way of putting sounds together with a neat melody or rhythm. Sometimes it can start with a lyric sentence and then we try to cloth the feeling of the sentence with sounds. A song can change up to an endless amount of times and have like 5-6 different structures before we get the final version we like. Then live, the songs tend to change a bit from the original version anyway so it's a constant developing. Someone once called our sound "Norther lights Electronica" and I Think that is pretty accurate to what we're doing.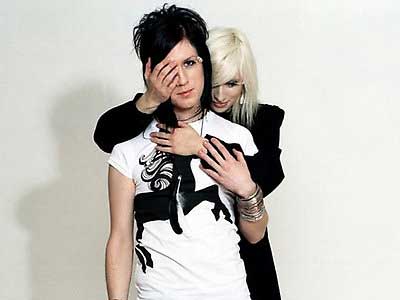 Who were your influences from the start?
Any art that feels heart warming and true to it's own goals and aspirations. But if you mean bands and musicians we really like Björk, Múm and such bands.
Are there any song that you would like to cover and any artist that you would like to play with?
There's no cover song on our minds right now but to be able to work with Björk in whatever way would be the most exiting thing in the world I think. She is just amazing in every way I can come to think of. Everything from her fantastic music and voice to her appearance and style. We just love her.
Tell us something about Swedish music scene?
It's good. It's tight and people work together a lot. A bit boring to play live here since the Swedish audience is spoiled with so much good music that they have a hard time to appreciate music that isn't top notch.
Which do you prefer Kevin Shields and Bilinda Butcher, Jack White and Meg White or Sune Rose Wagner and Sharin Foo?
I'll go with Sune Rose Wagner and Sharin Foo since I never ever hear of these people before in my life, and that makes it more exiting.
What do you think about Myspace, Facebook and other sites for promotion of music?
I think it's an awesome tool to use in the purpose to spread and discover new music. For us it has made a big difference. We actually got picked up after posting a song on myspace.
What do you listen when you're at home, on tour, right now…?
Right now I'm listening a lot to Björk and also a Swedish band called Fever Ray.
Tell me something I would never guess about you?
Elin is playing tennis and David is training Muay Thai kick boxing.
Thanks for the interview. I hope we'll meet sometime in the near future.
Have a great day and a lovely life!
Blessings!
David & Elin - The Deer Tracks
pedja // 21/05/2009