Tell us something about Kim Novak?
kim novak is a pop rock trio from france since 2007, we recorded our first LP called "luck and accident" with the producers markus dravs and francois chevalier. we are actualy working on the coming out of the second LP wich has been recorded by Frans Hagenaars (alamo race track).
You choose your name...
because we liked the way it sounds and we liked the work of this actress in the Hitchcock movies.
Describe your sound in a few words?
We are a pop rock band based on a power trio energy. For the new LP we wanted to catch a live feeling with adds of modern psychedelic sounds.
Who were your influences from the start?
it's mainly the velvet underground and david bowie that links us from the beginning. We are also very concerned by all new indie bands like animal collective, deerhunter, fleet foxes...
Are there any song that you would like to cover and any artist that you would like to play with?
This is something we've never thought about but maybe a song from the lou reed's berlin could be nice to play !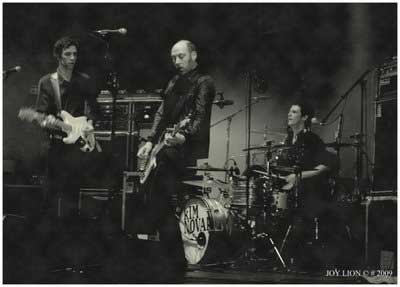 Tell us something about French music scene?
We are very lucky because we live in a country where there are a lot of very nice places to play and many cool bands. we really love the work of bands like phoenix , they really found the way to give to rock'roll music a credibility in france
What do you think about Myspace, Facebook and other sites for promotion of music?
myspace seems to be the best way for a band to be promoted without spending money even if it starts to be old fashioned ; so we keep an eye on all the new possibilities .
What do you listen when you're at home, on tour, right now…?
old sun records , roy orbison mainly for me ...
Tell me something I would never guess about you?
well...what a strange question ! we used to be spiderman, hulk & batman when it gets dark ! hahaHAHAHA !
pedja // 30/05/2009