Tell me something about The Fauns?
M: The Fauns started in 2007 as one man, a laptop and a guitar, the band has since expanded into a live six piece.
A: … We'd hold the door open for you if you were carrying a large box ...we're nice like that.
You choose your name after …
M: Originally I wanted the name "The Thorns" but I have a South London accent so it always sounded like "The Fauns" anyway…
A: Around that time "Pan's Labyrinth" was out in the cinema; the main creature is a faun. Seeing the film felt like a sign so the name stuck.
When talking about your music, everybody's talking about Cocteau Twins, My Bloody Valentine, Sarah Records… Shoegaze in general. What do you think about that?
M: It was always my intention to align our sound initially at least with the shoegaze bands of the 80s and 90s so it's not surprising that comparisons are made with these acts.
A: My personal influences aren't so shoegazey… however it's great to be mentioned in the same breath as artists that I have a great respect for…
Describe your sound in a few words?
A: Sexy, but not in a whips and chains kind of a way… more like a bicycle rides and picnics kind of a way.
M: A barefoot sprint through a golden field on a warm summers day.
Bristol, where you're from, is always connected with trip hop? What is the scene really like in Bristol?
M: The Bristol scene is still very influenced by that classic trip hop "Bristol sound". Dubstep is the latest genre to appear to continue that tradition, personally it does nothing for me.
A: There is a vibrant live scene in Bristol and there are some really great bands around at the moment… few seem to break Bristol's gravitational pull though. Maybe we'll change that ;)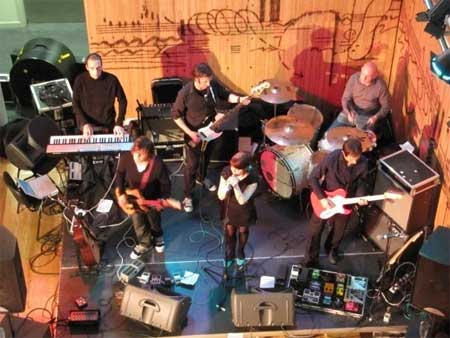 Tell me something about your debut album?
A: It's just delicious.
M: The track "Black Sand" is the first track I ever wrote, it's built around a four minute long recording of an aircraft taking off.
Are there any songs that you would like to cover and any artist that you would like to play with?
M: I'd love to play with Robert Hampson from Loop but he seems to have moved on from performing live. A cover version of "Bonnie & Clyde" by Serge Gainsbourg would be mind blowing! We've been discussing it.
A: Lee and I would have to learn French first of course!
Song/album that changed your life?
A: "The Breeze and I" by Caterina Valente… She just has the most beautiful voice, and her vocal range is astounding… I can only aspire to ever be as talented as she was…
M: My Bloody Valentine's "To Here Knows When" from the album "Loveless". It's the soundtrack to some of the happiest and saddest moments of my life. In my opinion it's the best album ever.
What do you think about Myspace as service to promote yourself?
M: is a brilliant way to network with other bands, journalists and musicians but is not so good for the social aspect and reaching the listeners. Facebook is better for that.
A: Myspace has opened so many door for us, it also makes it very easy to contact people in the music business who were previously hard to get hold of.
What do you listen when you're at home, on tour, right now…?
M: I've been revisiting the Slowdive and Stereolab back catalogues recently, also a lot of the twee indie pop from the late 80s, I love ambient and orchestral sci-fi soundtracks. My girlfriend is French so I tend to listen to a lot of French songs in a subliminal way.
A: Faith No More, Bjork, Bowie, ELO, Journey, Blondie, Iggy Pop, Roxy Music, Queen, Justice, Patti Smith, The Mars Volta, Prince, Kate Bush, Sabbath, Pearl Jam, Monotonix... I like a lot of stuff from different genres, as long as it's not emo.
Tell me something I would never guess about you?
A: I'm currently studying to be an osteopath… (that's bones and stuff)…
M: I used to DJ and promote easy listening and 70s disco nights under the banner "World of Cheese". How things have moved on…
pedja // 01/12/2009