After griefing for not attending it the last year, I said to myself: This year you're going, no matter what! It's one of the things when I dare to think that I'm happy living in Croatia. And I really was (and still am). The biggest dubstep & bass culture festival was in front of my face. I had great accomodation near the festival with 2 friends of mine and a car, so there were no worries about getting there. Although I haven't been to Fort Punta Christo, I was persuaded the abandoned fort is far better than the last location. It's surely more suited for this festival.
Thurday, the first day, was supposed to be a nice "light" night - drink a few beers, check the place, see some interesting artists and save yourself for the next few days. Yeah, right! First thing we saw at the entrance was a guy captured in a small yawn looking through the bushes and a security guy yelling: Does someone have a rope to get him up! We were just looking at ourselves: Ok. How the hell did he get there? Even before, when we were walking to the Fort through the dark with a horde of English people, we knew it - they are crazy and there's a lot of them. They occupied the place, it looked almost like a big school trip.
Eddy Ramich @ Outside arena © Maja Milich
Everything started so fine that thursday (after midnight) with our well-known Eddy Ramich on the Outside floor - moving a bit and slowly consuming beer while waiting for Zinc on the Main arena. But, let's check the stages. The Courtyard was more reserved for reggae and dub as I saw it at that moment, not so interesting for me among the huge list of artists on other stages. Walking through a narrow alley we got to the Ballroom - a smaller nice round room which you could enter only through a little doorway. It was probably the nicest room. With dubstep rolling around and everybody dancing it looked like a private party, really cute. We entered the Dungeon only once. It was at the end of the narrow passages and a bit muggy. I knew I wouldn't find it again on my way, I hardly managed to observe the 3 biggest floors. And, finally, we got to the Mungos arena and were stunned. The sound was so awesome that every tune sounded absolutely great. It just couldn't get bad, even with the MC's spitting too much "Croatia, Croatia", who would blame them in such an euphoric state. Everybody, from front to the back, was moving to the heavy dubstep of Plastician. It was so obvious this is gonna be my arena. Just have to check Zinc. It was maybe a bit too crowdy for me between the 2 walls on the Main arena, but who cares. After Mungos Zinc sounded a bit dissapointing with these hits we've heard a thousand times. Yeah, but the crowd loves it, so rock on, we're heading to Mungos.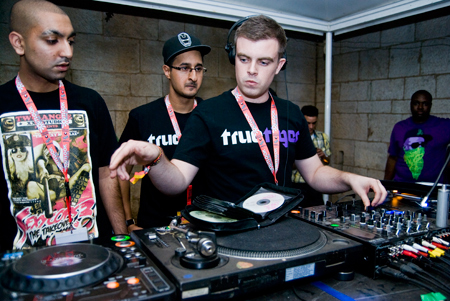 True Tiger: Blue Bear, Sukh Knight, Scandalous Unltd @ Mungos arena © Maja Milich
And there - the ultimative breakdown - the True Tigers were on and smashed it. That's the dubstep I love. Blue Bear, Sukh Knight and Scandalous Unltd were switching their positions on the decks along with MC Chunky. The crowd was so crazy they destroyed the MOE installation which was supposed to be there for 3 more days. It was flying all around.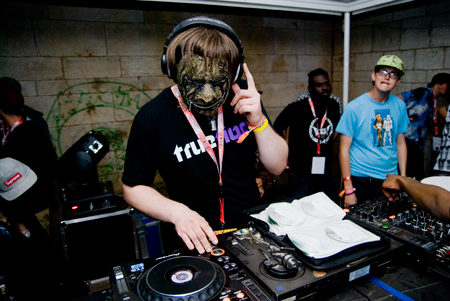 Stenchman @ Mungos arena © Maja Milich
The chaos culminated when Stenchman arrived. He absolutely killed it. I would give him the crown of the best act on Outlook (though I haven't seen half of the line up). I knew he was good but he proved himself even better. The guy takes the mic himself, who cares about the MC's. That's what I'm talking about. So, it was an epic ending of the "light" night.
The other 2 nights are a bit harder to remember (I'm sure you're aware of the reason). Maybe also 'cause I was not actually truly amazed by anything like the first True Tiger night. We missed some artists due to the early hours they were playing, some 'cause they were playing the same time as others, some 'cause we forgot and some 'cause you're not able to check the line up when you're in a good mood in the crowd. You just can't keep up with the huge amount of artists playing throughout the place. I simply got taken away with the feeling. When it was good, I stayed there. When I felt like it, I just wandered around experiencing the whole festival. So, no regrets. The whole vibe was good, I didn't feel like I miss anything.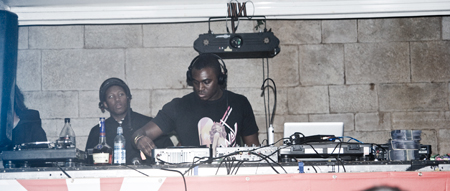 Roska @ Mungos arena © Maja Milich
Friday night we were instantly heading to Mungos arena, but the agregate went down at that time so the show was canceled 'till they fix it. My friends went to see the Gentlemans Dub Club on Main arena and I'm really not sure where I was. Probably catching a drink 'till Mungos starts to light up. For change, the Outside floor was full of people. It was the drum'n'bass day there with artists like Commix, Spectrasoul, Alix Perez, etc, so I get it. But, not for me. The second 'Mungos' attempt was successful - Roska style dubstep followed by The Heatwave & Rubi Dan, a really happy dancing reggae dancehall bashment for getting moved up. After that everybody was in the mood for Roots Manuva and I heard it was an excellent show, but I just wouldn't leave for the Main arena - too much people and dust. I chilled to the deeper dubstep sounds of Appleblim and Shackleton, or I don't know what I was doing. Next on the list were N-Type, Joker and Nero on Main arena. All three of them - good stuff. I caught only 2 last songs of N-Type and the most of Joker. He was already in Zagreb one time, but I really like the guy, it's worth all the dust. It seems like we've forgotten Nero, but when you're tired, you don't think clearly, so there's no one to blame.
Saturday was the most crowded day, as expected. The choice was again Mungos arena - DMZ club night with Kriptic Minds, Pinch, DMZ vs Loefah, Hatcha, Quest & Silkie. But, it was impossible. People were waiting in line for an hour or even more - like someone said - just to get in. What to do? Of course - have a drink or two or three or...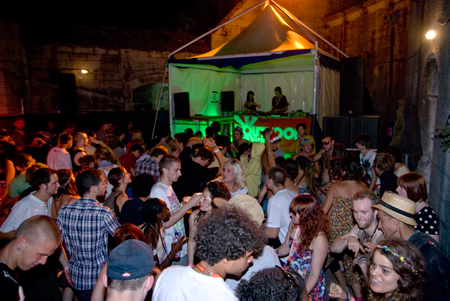 Courtyard © Maja Milich
Using the opportunity to check out the smaller stages, we went through the Courtyard dancing to some Bass Culture (I think) and meeting some funny, crazy people as you can see in the photos. We also stayed for a while in the nice Noah's Ballroom with We Are Dubist. The mood was great - everybody bouncing around.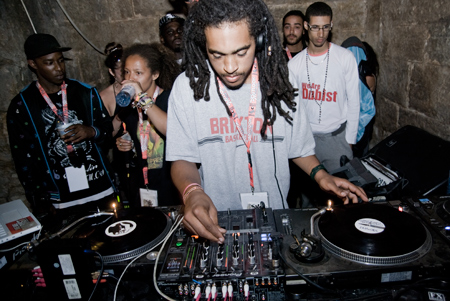 We Are Dubist (Mileage) @ Noah's Ballroom © Maja Milich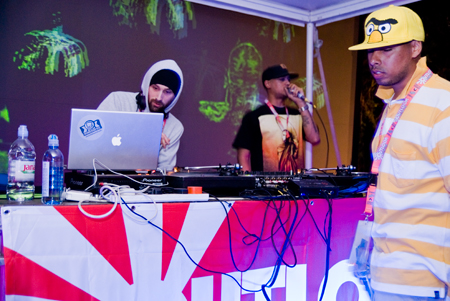 Kid Kanevil @ Outside arena © Maja Milich
Later on, Kid Kanevil was on the Outside stage. It turned out pretty good. In fact, we were into him and wanted to catch his show. The Mungos got you hypnotized and the drinks led to "mind-shrinking", so after Kid Kanevil I decided: What the hell! I'm gonna wait. I left all my friends, got inside and blank. My half-brained sanity got me meeting some people, talking idiotic (probably) stuff and dancing, though if i have to remember now, I don't know who or what was playing. In the end, that's the point - having fun. I ended up in the artist area drinking some more drinks (why not?) and enjoying the view of the Mungos arena from above.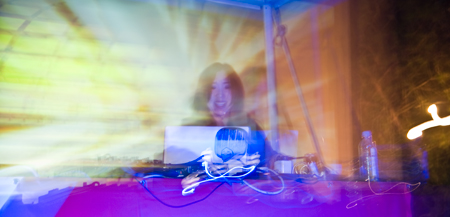 Tokimonsta @ Outside arena © Maja Milich
One more day was on - Sunday. You could smell the feeling of wasted people. It was a bit sad 'cause it was the last day. Anyway, you wouldn't be able to survive one more. I decided not to drink, 2 beers maximum. I was moving a bit slower and harder, but I knew what I was going to watch. Tokimonsta and Debruit on the Outside arena - you just couldn't decide what's better.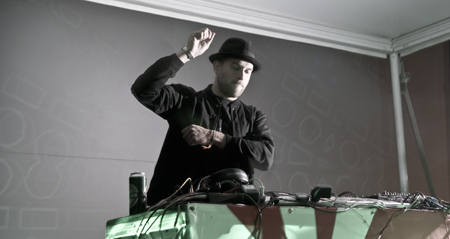 Debruit @ Outside arena © Maja Milich
It was the best non-dubstep experience. In their futuristic beat, soul, hip hop or whatever you call it way it's even harder than Stenchman's "sickness". They rocked the place and Ii love it. I would call it very stylish - violent, but soulful. You can feel they put themselves into the music in a way that just honest people can do. That's what I appeciate and love in an artist - just to be simple, honest, have fun and live your life in whatever way you prefer, not faking and be full of yourself. You can see these things in music. Tokimonsta and Debruit, I was really enjoying it. One more thing to check - Skream.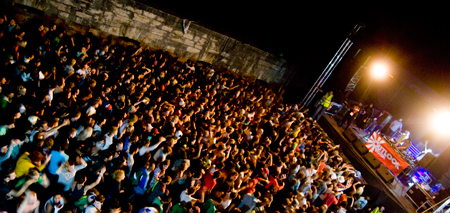 Main arena © Maja Milich
The Main arena was full, so I watched it from above. If I had been drunk, I would probably be jumping down there somewhere. It was a crazy show - it had to be with a guy like Skream. And that was it. It's too bad we missed all the boat parties, but all of them were sold out. Next time, I'm sure be going to one.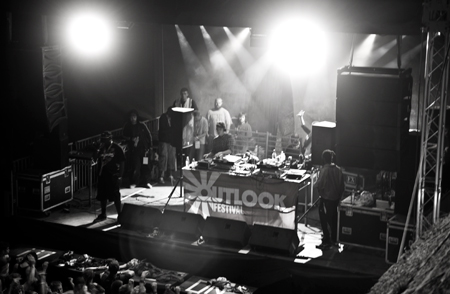 Skream @ Main arena © Maja Milich
Traveling home I had a bit of an Outlook depression. After this huge amount of music you like, these many artists you could experience in such a short time and this great, a bit crazy, audience who just loved the performances, it was just too simple now. Everybody was really friendly and open-minded (at least what I saw). It left an great impression and seemed like everybody had fun and got a good vibe. It was like a whole thing we're going through together. And I'm sure I'll be doing that again next year.
maja // 14/09/2010

> see all photos
PS: Check Facebook(Maja Milich) or Flickr(I am Tapir) for more photos coming soon...
;)