Text koji Vam se najviše sviđao nosi naziv "I Still Believe", a autorica texta
Martina Vukmanić
osvojila je festivalsku kartu za Terraneo festival. Još jednu festivalsku kartu osvojio je
Josip Popić
.
Utješne nagrade za svoje textualne uratke osvojili su
Andrea Pavić
za text "Miss Right and Mr Wrong" (cd Bernays Propaganda) i
Marin Kovačić
za "Terraneo song" (cd Gin Cooler).
Sretno!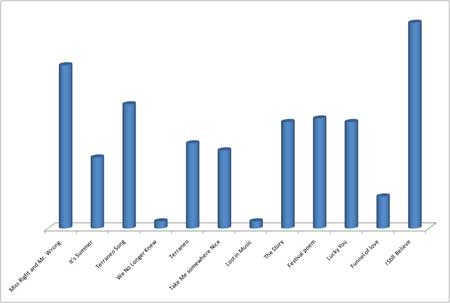 I still believe that
there,s always room on the broom
that will take me somwhere nice...
Like my personal holiday,
in the city of electric light,
where's crystal cat
the friend of the night.
Always drinking out of cups
big big big big big big
red hot drops.
Where Balkan fank
is in the good hand.
Here is your (my) future,up with
bulletproof people,
quite not like any other feeling.
PJESME:
Frank Turner- I still believe
Woven hand - The good hand
Dubioza kolektiv - Balkan fank
La roux - Bulletproof
Oneida - Up with people
Chaad van Gaalen - City of electric light, Red hot drops
Bernays Propaganda - My personal holiday
Dan Deacon - Crystal cat, Drinking out of cups, Big big big big big big
Mogwai - Friend of the night, Take me somewhere nice
Liars - There's always room on the broom
The Thermals - Here's your future, Not like any other feeling
terapija.net team // 08/07/2011