Vrijeme je maškara, a kako je JabbaTon već na daleko poznat po maškara stilu tokom čitave godine, u principu se ništa pretjerano čudno neće desiti niti ovoga puta. Ili možda ipak hoće?
Za ovu priliku u goste smo pozvali zloglasnog dubstep producenta i DJ-a
Stenchmana
. Čovjek koji nikada ali baš nikada ne otkriva lice i nastupa pod maskom čudovišnog bića, "smrdljivog" čovjeka Stenchmana! Sjećate li se Jasona iz Petka 13.? Zamislite tog momka za gramofonima i nadomak ste Stenchman iskustvu. Upravo iz tog razloga odlučili smo organizirati pravi pravcati bal čudovišta. Zaboravite na farsu zvanu Lady Gaga i njena malena, smiješna i bezopasna čudovišta. Ovo je igra za velike dečke, samo najčudovišniji i najhrabriji su pozvani.
STENCHMAN
(True Tiger, Bovinyl Moosick, Prime Audio /UK)
Rea & Mayo
Yesh!
VJ Polygon
DRESS CODE
: Monsters / Horror
Start
: 22:00
Upad
: 35kn uz dress code / 45kn bez
file under: Dubstep, Drumstep, Stenchstep, Bass Filth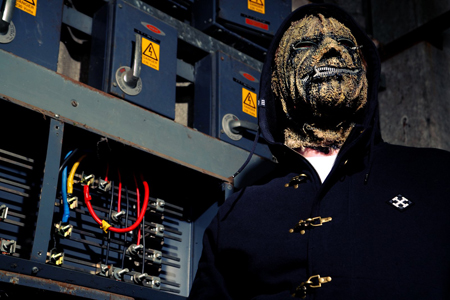 Stenchman
Stenchman
je britanski dubstep producent i DJ, poznat još i pod nadimkom
Henchman
. Polovica je dua
Suspicious Stench
uz kolegu Suspecta, vlasnik Boovinyl Moosick etikete, ali i član poznatog dubstep kolektiva
True Tiger
kojeg uz njega čine Sukh Knight, Blue Bear, Stanza i MC Chunky. Jedan je od rijetkih producenata u dubstepu ali i elektronskoj glazbi općenito koji šakom i kapom (ili pak maskom) svoju glazbu besplatno daje na download, pa je tako do sada već puna tri albuma darovao svojim fanovima. U vrijeme dok glazbenici svaki svoj produkcijski uradak svim snagama pokušavaju naplatiti ovo je definitivno bitno napomenuti. Nakon niza službenih i besplatnih izdanja, Stenchman je nedavno uz poznatog kolegu
Dipla (Major Lazer)
izdao i službeni remix pjesme "Dancehall Queen" pop zvijezde Robyn.
Stenchmana smo imali prilike uživo vidjeti na prošlogodišnjem
Outlook festivalu
gdje je prema sudu mnogih već prvi dan festivala osvojio titulu neslužbenog prvaka Outlooka svojim eksplozivnim i nemilosrdnim setom koijm nas je zadržao na plesnom podiju do zore. Nakon toga, bilo je samo pitanje dana kada ćemo ga pozvati da to isto učini i na JabbaTonu.
soundcloud.com/stenchman
www.facebook.com/pages/STENCHMAN/9643289665
www.myspace.com/stenchmandubstep
www.twitter.com/stenchman
www.myspace.com/suspiciousstench
www.facebook.com/JabbaTon
------------------------------
BESPLATNI DOWNLOAD
:
------------------------------
Stenchman- Dubstep Christmas 2010
maddecent.com/blog/stenchman-dubstep-christmas-2010
Stenchman - The Album
youdunknow.co.uk/audio/tracks/Stenchman_-_The_Album.zip
Suspicious Stench - Free Album
therawjuice.com/free-suspicious-stench-album/
Samo dan prije, u
petak 18.03.
vas pozivamo na:
DUBstepKLUB, w/BULLDOGS (D), DJ Diaz (A) + rezidents
@ Medika
>>>
Dvodnevna ulaznica
za DUBstepKLUB w/BULLDOGS (petak/18.03., Medika) i Jabbaton w/STENCHMAN (subota/19.03., KSET), po cijeni od 60 kn moći će se kupiti 18.03.2011 u AKC Medika od 22h.
maja // 16/03/2011
PS: + ako još niste, provjerite na fotkama kako je to izgledalo na zadnja 2 JabbaTona:
JabbaTon "U Trenirci" ft. Mango & Gattio (HUN) - 26.02.
www.facebook.com/album.php?id=8823998434&aid=286904
JabbaTon & Ridim'n'Culture ft. Jazzsteppa (Hotflush, UK) - 22.01.
www.facebook.com/album.php?id=8823998434&aid=277663