Indie pop bend
The Pains of Being Pure at Heart
dolaze 30. listopada u Kino Šiška predstaviti svoj drugi hvaljeni album "Belong", kojeg je producirao superproducentski duo Flood i Alan Moulder, koji stoje iza produkcije mnogih veličina iz devedesetih poput Smashing Pumpkins, Nine Inch Nails, U2, Depeche Mode, Ride i PJ Harvey !
Prvo diskografsko izdanje bio je EP iz 2007., a pomoću njega i par singlova iz godine kasnije gradili su ime na underground sceni. Bend je od svojih početaka imao podršku relevantnih muzičkih portala poput Stereogum i Pitchfork, pa kad su 2009. godine izdali istoimeni album "The Pains of Being Pure at Heart" za etiketu Slumberland, Pitchfork mu je odmah prišio "Best New Music" etiketu. Zvuk albuma uspoređivan je s bendovima poput My Bloody Valentine, Ride, The Field Mice i The Jesus and Mary Chain, te je većinom pozitivne ocjene u medijima poput The New York Times-a ("osjećajno i prekrasno", Best of 2009), Pitchfork (Best New Music, Best of 2009), Stereogum (" zarazno lijep pop", Best of 2009) i NME ("čisti indie pop, koji će vam prirasti srcu", Best of 2009).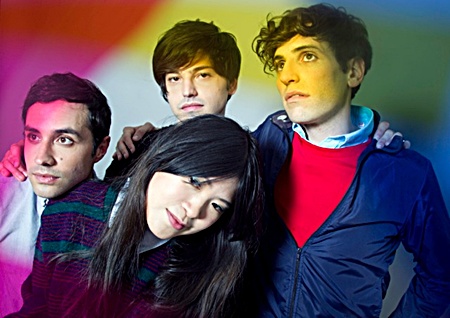 Početkom prošle godine singlovi "Heart in your heartbreak" i "Belong" najavili su izlazak novog albuma, također naziva
"Belong"
. Ovaj album predstavlja prirodni nastavak prvog albuma, samo je produkcijski ispeglaniji, bučniji, moćniji i dotjeran do savršenstva, no zadržao je jednako slatkaste melodije i pop kvalitetu pjesama. Prednost ovog albuma, u odnosu na prvijenac, jest u uravnoteženoj kvaliteti svih pjesama, koje iako se međusobno razlikuju, tvore jednu zaokruženu cjelinu. Neke stvari, kao na primjer "Heaven's Gonna Happen Now," "Girl of 1,000 Dreams" i "Too Tough", koje se temelje na tugaljivom glasu Kipa Bermana i obilnoj upotrebi fuzzy gitare, uklopile bi se s lakoćom i na prvi album. Druge, poput "The Body" i "My Terrible Friend", svoju moć crpe i pulsirajućih ritmova bubnjara Kurta Feldmana i izražajnih klavijaturnih linija Peggy Wang - što je najbolji način da bend izađe iz svojeg kalupa i poznate zone shoegaze udobnosti, a ima izniman učinak. "Belong" je također požnjeo mnoštvo dobrih kritika, a svi utjecaji prisutni u zvuku prvog albuma čuju se i ovdje.
Prije par dana The Pains of Being Pure at Heart su izdali novi singl, "Jeremy"/"My Life Is Wrong". Kao što se vidi iz naziva, A-stranu čini cover pjesme "Jeremy" benda the Magnetic Fields s albuma The Wayward Bus, a na B-strani nalazi se cover pjesme "My Life Is Wrong" benda East River Pipe.
Ulaznice za koncert u Ljubljani po cijeni od 16,50 EUR možete pronaći na web stranici i prodajnim mjestima u sustavu Eventima.
promo guy // 17/10/2012