Petak 21.12.12. znakovit je datum.Kraj mayanskog kalendara,galaktičko poravnanje,promjena kolektivne svijesti,smak svijeta... Ono što je sigurno da će se dogoditi jest vrhunska zabava na 3 floora koja počinje u 22h u AKC ATTACK!-u.
Psychedelic floor
@KLUB ATTACK
LIVE
Yudhisthira [Vertigo Rec - MK]
Kala [Sun Station Rec - SLO]
Plasma Corp. [Veleno Music - HR]
DJs
Tomislav [Teleport,100.5fm]
Pelks [Mo:Dem,Pistolero]
Twisted Twins [Soundforms]
Rainbow Hooligans & Chill Bully's
presents: Who the fuck are Mayas?
@CHAKKAS ROOM
DJs
Zmayo [Pistolero]
Val Valhar [Zenon Rec]
Chillin' Glow [Independent]
+
Special Intergalactic Guest
CupusKactus & Tripping Trolls
tribal / d'n'b / forest / psycore
@GREY ROOM
DJs
Sapleo
Agregat
Danilo.manilO
Mustafa
Jack the Tripper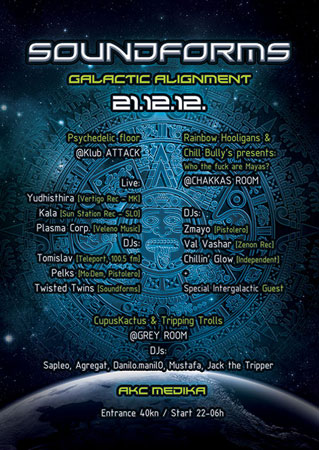 Specijalni live act gosti :
YUDHISTHIRA (Makedonija)
Psytrance projekt osnovan krajem 90ih,poznat je po svojem originalnom stilu i kvaliteti koja je potvrđena nastupima na najpoznatijim festivalima diljem svijeta. Osim standardnog zvuka kakav se moze naći na njegovim izdanjima za Glowing Flame i Vertigo rec,Yudhisthira za ovaj party sprema dosta novih materijala.
http://soundcloud.com/yudhisthira
KALA (Slovenija)
Iza projekta Kala stoji Darko Tromanonski.Dj,producent i party organizator dobro poznat hr. trance sceni dolazi iz Slovenije sa najnovijim radovima koje priprema za vlastiti Forestdelic records.
Njegov jednistveni stil moze se opisati kao mix forest psy-a,freaky semplova i driving bass linija.
http://soundcloud.com/kala
Uz main floor koji ce biti u klubu Attack! tu je i CupusKactus & Tripping Trolls floor u Grey room-u
na kojem između ostalog možete i poginuti od psy-core ritmova. Chill bully's floor u Chakkinoj birtiji sprema razne vrste elektronike, od chill-a,dub-a,breaks-a,progga-a i najavljen je poseban intergalaktički gost, tko je to,najbolje da provjerite u petak na smaku svijeta.
C U ON THE DANCE FLOOR AND DIE HARD
Od 22h, Ulaz minimalna donacija 40 Kn
promo girl // 18/12/2012