Izuzetno nam je zadovoljstvo najaviti nastup jednog od trenutno najuspješnijih bendova iz regije- Bernays Propagande iz Skopja! Najjednostavnije ih je opisati kao alter-rock band koji svoj zvuk zasniva na post-punk zvuku 80-tih: Gang of four, Fugazi… Napokon, nakon 2,5 godine, Bernays Propaganda izdala je novi album Zabraneta planeta kojeg će promovirati 10.3. u Zelenoj Dvorani. Album Zabraneta planeta je najbolje opisan kao bombon s kamenom u sredini- tko ga zagrize, slomit će zube umjesto da cucla sočnu, voćnu jezgru. Tvrdi ritam, plesni ritmovi, odlična bas i ritam sekcija, sramežljiva gitara koja šalje kratke i rascjepkane motive kristalne čistoće i na kraju, trenutno najbolji ženski vokal ovih prostora. Sve vas to očekuje na koncertu Bernays Propagande! Energično, politički angažirano, intrigantno i savršeno za ples- sve je to Bernays Propaganda, i još mnogo više od toga! Oni su vrhunski glazbenici i tekstopisci koji garantiraju odličnu svirku. Svoja duboka i iskrena uvjerenja prenose na publiku, nude joj izlaz iz okvira, nude joj slobodu mišljenja, nude joj odličan R'n'R.
PROMOCIJA ALBUMA ZABRANETA PLANETA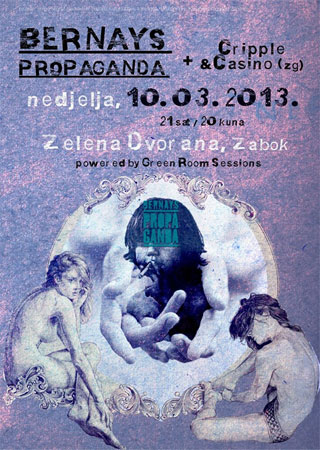 Band Cripple and Casino zagrebački je band , naša perjanica s nasljeđem američkog indie-rocka bandova poput Sonic Youth, Girls against Boys… Dolaze predstaviti svoj novi album With high regards objavljen na etiketi Moonlee Records u veljači 2013. Njihova post-punk estetika izdigla ih je učinila prepoznatljivima. I opet odličan ženski neobuzdani vokal, odlična ritam sekcija, frenetična gitara i produkcija svojstvena noise albumima s etikete Touch and Go polovice devedesetih. Sve u svemu, Cripple and Casino imaju naše riječi hvale i s veseljem ćemo ih predstaviti publici GreenRoomSessiona.
PROMOCIJA ALBUMA WITH HIGH REGARDS
Upad: 20 kuna
promo guy // 07/03/2013