BENEFIT KONCERT -- 15.1.2016. -- MOČVARA
Drugi po redu benefit koncert "Šape u zrak!" ovoga puta u Močvari. Sav prihod od koncerta ide za kupovinu hrane psima u Utočištu za pse Dvor na Uni kako mali dlakavci ne bi bili gladni.
https://www.facebook.com/Utočište-za-pse-Dvor-na-Uni-1688094701418647/?fref=ts
UPAD: 25KN
***SVIRAJU***
PONOR
Ponor je hardcore punk sastav osnovan 2011. godine na ostacima prijašnjeg benda Amok, s bivšim i sadašnjim članovima bendova poput Senata Fox, Nikad, La Kurtizana, Kinoklub, Storms, Clean...
Iza sebe imaju jedan album "Ovo je kraj" i zavidan broj nastupa od Austrije preko Slovenije pa i do ostatka regije. Teški i mračni riffovi popraćenim deručim vokalima svaki puta oduševe publiku i drago nam je drago što su se pridružili dobrovoljcima za pomoć životinjama.
https://www.facebook.com/PonorHC
https://www.youtube.com/watch?v=LdEfriGD9yo
.UPSET
Madball z bregov. Zagorski hardcore njujorške škole poput Madball ili Sick of it all. Kao najstariji bend na ovome događanju iza sebe imaju dva albuma "Opiate for the masses" i "Slaves of the new world" čiju kombinaciju izvode uživo.
"Together - we can only grow stonger" kažu oni.
https://www.facebook.com/upsetzbhc
https://www.youtube.com/watch?v=6HKqRhQmGv4
ME AS WELL
Iz Karlovca nam dolaze punkrock/hardcore veseljaci Me As Well osnovani davne 2006. Uz pokoju promjenu u postavi iza sebe imaju jedan EP "No Progress" i LP "Group Therapy", a mogu se pohvaliti i nastupima na festivalima poput Punk Rock Holiday i SAWA fest i svirkama s velikanima scene.
Pamtljivi refreni kombinirani muškim i ženskim vokalom te zaraznim melodijama obećavaju singalonganje i ples.
Prvi puta na zagrebačkoj pozornici od dolaska novog gitariste!
https://www.facebook.com/measwell
https://www.youtube.com/watch?v=Rj2AGnrqeb4
SAUČEŠĆE
Našlo se par melodičara sa scene i napravili su bend. Saučešće, koji bi se mogao opisati kao nekakav horror (pop) punk. Od 2013. su izdali 4 pjesme koje se mogu naći na internetu, no stalno najavljuju novi materijal pa možda izađe do koncerta.
Ne zna se vole li više svirati ili popiti, ali uvijek su raspoloženi za dobru feštu. Nikada ne znamo kada će nas zadesiti apokalipsa zombija pa bolje da partijamo koliko možemo do tada.
https://www.facebook.com/Saucesce
https://www.youtube.com/watch?v=VS5lRYMABgA&list=PL4Fwnva4GKckffLJ78i0CKoBmXsdvzvLz
SUPPORT: AYKON LINE
https://www.facebook.com/Aykon-Line-K9-Team-521349897968664/?fref=ts
POSTS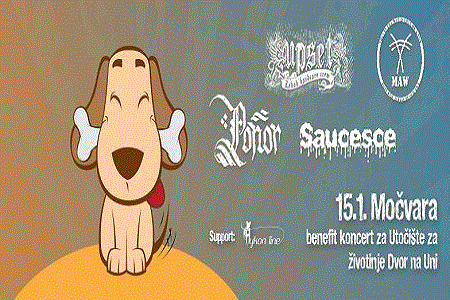 promo girl // 25/11/2015