KLUB BJELOVAR, SUBOTA 14.5. 2016.
Invasion From The East festival po prvi puta u Hrvatskoj
INVASION FROM THE EAST, putujuća koncertna karavana bendova s Miner Recordings etikete, napokon dolazi u Hrvatsku. Invazija je od strane vlasnika i pokretača Miner Recordingsa - Milana von Stona - zamišljenja kao promocija najznačajnijih underground bendova regije. Ali i novih izvođača koji sve teže dolaze pod svjetla reflektora.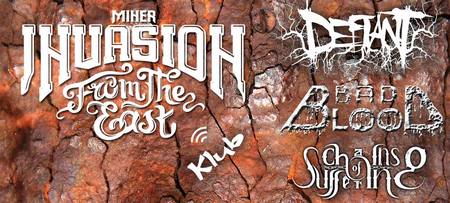 Premijerna hrvatska Invazija biti će održana u Bjelovaru, 14. svibnja 2016., u popularnom Klubu koji sa redovitim underground zbivanjima postaje sve važnije mjesto na koncertnoj mapi Hrvatske.
Mjesto zbivanja: KLUB Bjelovar
Upad: 20 kn
Prvih pedeset posjetitelja uz kupljenu kartu DOBIVAJU NA POKLON Miner Recordings CD KOMPILACIJU, specijalno štampanu za ovu Invaziju.
DEFIANT - death black metal (Osijek / Požega)
www.facebook.com/defiant.croatia
https://youtu.be/0NkL6u-r8r8
https://youtu.be/OlSm3zrxYSw
BAD BLOOD - thrash/groove/HC (Zagreb / Čakovec)
www.facebook.com/badbloodcro
www.badbloodcro.bandcamp.com
https://youtu.be/uchW0iRFLNE
https://youtu.be/I_PMvW4MKIw
CHAINS OF SUFFERING - thrash heavy (Bjelovar)
https://www.facebook.com/chainsofsuffering/
https://youtu.be/JByRvAQbW14
promo guy // 02/05/2016