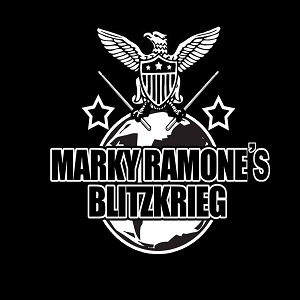 MARKY RAMONE'S BLITZKRIEG
Marky Ramone poziva vas da s njim proslavite 40 godina Ramonesa, jednog od najvećih punk rock bendova svih vremena.
Marky je jedini živući član iz postave Ramonesa koja je primljena u Rock n Roll kuću slavnih, a povodom obljetnice 40 godina izlaska kultne ploče The Ramones, svirat će sve hitove i klasike benda.
I wanna be sedated, Pet Sematary, Blitzkrieg Bob, Rockaway beach, Sheena is a punkrocker, Rock n roll highschool, samo su neki od evergreena uz koje su odrasli mnogi.
Kako te pjesme zvuče danas, zašto su ih na svojim koncertima kao obrade izvodili neki od najvećih svjetskih rock glazbenika, provjerite 9. prosinca na koncertu u Močvari. Ramonesi su inspirirali više bendova od svih ostalih, osim možda Beatlesa. Sex Pistolsi, Clash, Nirvana, Metallica, Misfits, Green Day i bezbroj drugih duguju svoje karijere zvuku Ramonesa.
Marky Ramone 2011. godine dobio je Grammya za životno djelo. I nakon 40 godina pronošenja imena The Ramones diljem svijeta, obećava vatrenu svirku i dobar provod, u čast svojim prijateljima i svim fanovima. Povodom 40 godina Ramonesa izdan je i obljetnički box set s raritetima ovog kultnog benda.
Nakon koncerta Triforce Crew do jutarnjih sati rokaju Ramones-e i ostale rock megahitove izvođača kao što su Led Zeppelin, The Beatles, Chuck Berry, Elvis Presley, The Who, AC/DC, Motorhead, Pearl Jam, Metallica, Nirvana, Green Day, NOFX, Rancid, Pankreas, Dead Kennedys, Sex Pistols, Misfits, Billy Idol, Rage Against the Machine, Pantera, Slayer, Megadeth, Sepultura, In Flames, Cannibal Corpse... Upad na after party je besplatan!
Hey ho, let's go!
tuna // 09/12/2016