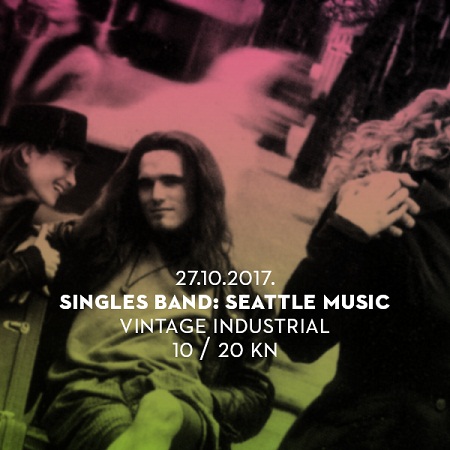 FB EVENT:
https://www.facebook.com/events/508928666123451/
Presjek grunge ere kroz obrade pjesama 90's bendova Stone Temple Pilots, Alice in Chains, Nirvana, Pearl Jam, Soundgarden...
Ako ste se upitali zašto Singles?
Singles je romantična komedija Camerona Crowea iz 1992. u kojoj, među glumačkim facama, glume i najveće face grunge scene: Chris Cornell, Sean Kinney, Eddie Vedder, Layne Staley, Matt Dillon, Bill Pullman, Bridget Fonda, Eric Stoltz pa čak i Tim Burton, a bendovi poput Mother Love Bone, Mudhoney, Screaming Trees and the Replacements su ostavili traga na sountracku.
Članovi benda:
Nikola Marjanović - vokal
Mislav Gverić - gitara
Krešimir Bakić - gitara
Sebastijan Jurić - bas
Ozren Živković - bubanj
Nakon što koncert završi, klub i dalje ostaje pod dojmom 90-ih i fenomena zvanog grunge!
Do 22:00 sata je ulaz besplatan, a od naplate iznosi 20 kn, odnosno 10 kn za studente
promo guy // 26/10/2017