Velvet Festival u suradnji sa Distune Promotion & KSET:
JAAKKO EINO KALEVI premijerno u Zagrebu!
Subota 2.3.2019. | KSET | 45/55/65 kn
🎫 Link za ulaznice: www.entrio.hr/event/jaakko-eino-kalevi-u-zagrebu-5823 + Dirty Old Empire, KSET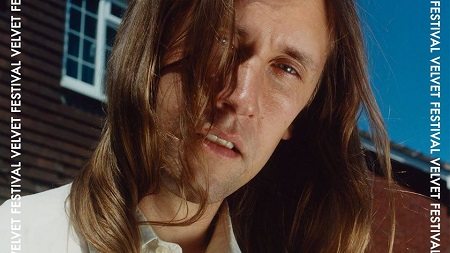 ⚈ Jaakko Eino Kalevi (FIN)
Na početku ožujka posjetit će nas sanjivi psych-pop glazbenik Jaakko Eino Kalevi čija glazba vuče paralele sa individuama kao što su Ariel Pink i James Ferraro. Široj javnosti se predstavio kroz gostovanje na albumu "American Utopia" Davida Byrnea, a nekima je možda poznat i sa drugog izdanja Velvet festivala, onog izdanja kada je na Jaakkov bis 50-ak ljudi završilo na pozornici.
Sa prošlošću avantgardnog i eksperimentalnog jazza, Jaakko nam u klupskoj i plesnijoj verziji donosi romantične i melankolične melodije obojane spektrom pastelnih nijansi koje čine zbirku živopisnih pjesama u kojima na prekrasnom mjestu sjaje moderni pop dragulji, gdje se sve to događa u nekom drugačijem vremenu, tamo gdje priroda i tehnologija žive zajedno u harmoniji. Dolazi promovirati svoj novi hvaljeni album "Out of Touch".
The prevailing mood of Finnish electronic musician Jaakko Eino Kalevi's music is louche, elegant, a little hazy around the edges…he offers a pastel-shaded blend of saxophone-stoked soft rock, electronic pop, and disco, both romantic and melancholic." - Pitchfork
⚈⚈ Sofie Winterson (NED)
Sofie Winterson's music creates a cinematic world through atmospheric key sounds, electronic drums, reverbed guitars and her powerful, beautiful voice. Since her first releases in 2014 she continued to garner the support of a growing fan base with encouraging nods from the likes of Gorilla vs. Bear, The 405 and Clash Magazine and is a RBMA Montreal Class of 2016 graduate. Her second album 'Sophia Electric' released end of year 2018 via Excelsior Recordings.
⚈⚈⚈ afterparty: Svemirko (DJ set)
🎟️ Cijene ulaznice :
45,00 kn od 17.12. do 31.12.2018.
55,00 kn od 1.1. do 2.3.2019.
65,00 kn na ulazu u klub
Koncert organizira Velvet festival u suradnji sa Distune Promotionom i klubom KSET.
⚈⚈⚈⚈⚈⚈⚈⚈⚈⚈
"Jaakko Eino Kalevi is back to wrap you in his electric blanket of yacht rock, neo balearica and quirky lo-fi pop" Mixmag 8/10
"Jaakko Eino Kalevi makes music that shines like the midsummer sun" Mojo
"On the Finn's fifth album, his fusing of Hall & Oates, early-1980s Bowie, post-Syd Barrett Floyd, prog, euro-disco and late-period Roxy finds its most perfect expression yet" The Sunday Times
"Out of Touch places Kalevi firmly in the lineage of left field pop's eccentric innovators… Scandinavian surrealism." The Vinyl Factory
⚈⚈⚈⚈⚈⚈⚈⚈⚈⚈
promo guy // 28/02/2019