ZAGREB TRIBES► THE BIGGEST UNDERGROUND GATHERING!!!
4 FLOORS:
► Irie Garden DUB Floor (Dub/ Roots/ Reggae)
► TECHNO Injection Floor (Techno/ Deep House)
► PUNK Yard- LIVE floor + TRASH PARTY+ PUNKS KARAOKE (HC Punk/ Heavy Metal)
► Saso Mange PSY Floor (Psytrance)
+++ CIRKUS SHOW | MUSIC | CHILL AREAS | SOUNDSYSTEMS | ART | FOOD | DRINKS | PUNKS KARAOKE)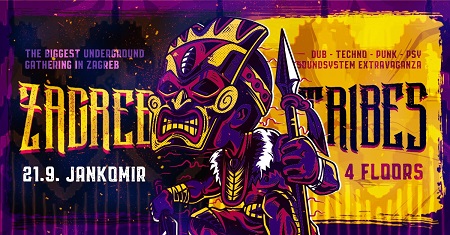 🔴⚫ DATUM ⚫🔴
21.9.2019.► DATUM JE FIKSAN! U slučaju manje kiše stavljamo tende, u slučaju nevremena selimo u zatvorene prostore... A SVI ZAJEDNO MANTRAMO SUNCE ☀ :)
🔴⚫ LOKACIJA ⚫🔴
OUTDOOR► Čarobni šumarak grada Zagreba- JANKOMIR bit će dom 3. Zagreb Tribesa!
GPS: 45°46'53"N 15°52'15"E
🔴⚫ NAJAVA LOOODILA U ŠUMICI JANKOMIR ⚫🔴
Najavljujemo 3. izdanje najvećeg underground okupljanja u regiji- Zagreb Tribes- sada već svima poznato okupljanje najšarenijih vibracija i glazbenih svjetova!! Čarobna šumica Jankomir postat će opet epicentar bassa, plesa i pozitivne energije!! Osim LIVE nastupa, zavidnog broja soundsystema i selektora, na svakom vas flooru čekaju legendarna gostovanja, Circus Show, plesne predstave, fina hrana, cuga, chill zone… Kojoj god alternativnoj skupini pripadaš (dub/techno/psy/punk) ovdje smo svi jedno, sljubljeni s idejom beskrajne ljubavi prema kvalitetnoj mjuzi i neopisivo dobrom provodu! Budi i ti dio našeg Tribea!!! ♥
🔴⚫ ULAZNICE ⚫🔴
Ulaznice pronađi ONLINE putem linka: bit.ly/ZT_tickets
CIJENE ULAZNICA:
🔻PRETPRODAJA:
AKCIJA DO 17.6.► 65 kn
18.6. - 1.7. ► 75 kn (Objava prvog dijela lineupa)
2.7. - 7.8. ► 95 kn (Objava drugog dijela lineupa)
8.8. - 20.9.► 105 kn
🔻NA ULAZU 21.9.► 120 kn
🎲🎲NAGRADNA IGRA🎲🎲
➤ SHARE event+ TAG Zagreb Tribes page u svojem postu (zaplavi ga tako da staviš @ prije imena pagea) ;)
* 1. KRUG NAGRADNE IGRE ZAVRŠAVA 1.7. U 00:00h
* 2. KRUG NAGRADNE IGRE ZAVRŠAVA 20.9. U 00:00
🔴⚫ LINEUP⚫🔴
🔻🔻🔻 IRIE GARDEN DUB FLOOR
---------------------------------------------------
POWERED BY SHIMANA SOUNDSYSTEM
🔺 Alpha and Omega (UK)- DJ SET
Legende! Pioniri britanskog duba djeluju kao A&O od 1990. godine. Radili su s legendama poput Greensleevesa, Leeja, Scratcha Perryja, Jah Shake i Gregoryja Isaacsa. Oni su roots-dub duo koji kombiniraju analogne i digitalne elemente- Christine Woodbridge i John Sprosen. Počeli su raditi zajedno već sredinom 1980-ih. Njihova misija je donijeti moćnu i svjesnu glazbu koliko je većem broju ljudi moguće. Njihov Steppa's Records label, osnovan je 2010. godine kao neovisna izdavačka kuća, specijalizirana za glazbu dubokih korijena. Na Zagreb tribesu možete doživjeti poseban DJ SET legende Christine Omege.
🔺 Shimana feat. Crucial Step (IT)
Shimana meets crucial step in a synergy of heavy soundsystem & raw dub culture.
Heavy dub chemist since 2015 and before, crucial step soundsytem was born out of a genetic match between dizzy italian basslines and crucial countryside life; for years its been seeking for his own gentic heritage in dub and soundsystem life, a research ended up in multiple tight collaborations with Shimana pickneys and their balkan ways. Started as mutual attraction, passing through several sex-tensions, this collaborations bloomed in a weird love-story where roses are scoops, wedding rings are dubpaltes and water is pivo. Due to the permanent socio-political dearth and the advancement of nothingness in their lands, Shimana and Crucial Step found strength each in the other and gave birth to a shared amazing project which is previewed to Zagreb Tribes as soundsystem experience, with all families and crews.
🔺 Genetik Dub LIVE (FR)
🔺 High Grade Commanda Sound
🔺 Dub Alibi
🔺 Omega Blondie
soundcloud.com/mirna-mandich/rootikali-ride-from-reggae-to-dub
🔺 Grumen
🔻🔻🔻 PUNKS YARD- LIVE FLOOR
----------------------------------------------------
POWERED BY: TEKNOBALISM SOUNDSYSTEM
🔺 Eke buba (hyper fast punk n roll) - Zagreb
🔺 Virtue Of The Vicious (Rs)
🔺 Natt (Epic crust) - Ljubljana (Slo)
🔺Hesperian Death Horse (Avant-garde/post-metal/sludge) - Zagreb
🔺 Smrt Razuma (DIY hardcore punk) - Osijek
www.facebook.com/SmrtRazuma
smrtrazuma666.bandcamp.com/releases
🔺 Pakt
🔺 Zlobnik
🔺 Path of cestoda (Rs)
🔺 Phezulu
🔺 Fried Brain
+PUNKs KARAOKE
+TRASH PARTY AFTER PARTY
🔻🔻🔻 TECHNO INJECTION FLOOR
------------------------------------------------------
🔺 Marko Nastić (Rs)
Marko Nastic je globalno prepoznatii umjetnik, od mnogih proglašen kao jedan od najboljih jugoistočnih umjetnika, i to kao producent i kao DJ. Marko je ostvario i izgradio jednu od najživljih klubskih scena na Balkanu. U karijeri dugoj preko 20 godina, Marko je napravio više od 200 izdanja. Zbog svoje popularnosti već je obišao cijeli svijet mnogo puta, a isto je tako rezident Exit festivala. On stoji iza projekta Easy Tiger, koji se sastoji od cijele serije partija i record labela. U Zagrebu vam sprema spektakl! .
🔺 After Neven
🔺 Denis Beifuss
🔻🔻🔻 SASO MANGE PSY FLOOR
---------------------------------------------------
🔺 Ejczka (CZ) Urban Antidote Records, Ufo Bufo Festival
Jan Horyna alias Ejczka has been DJing and organizing gigs since 2009. and in a short time established at Czech psytrance scene. Together with DJ Plech is a member of Polyhedra crew which organizes not only at psy scene well respected multigenre audiovisual parties Der Klang at Cross club in Prague. In 2014 joined Milan Perplex's team of famous czech Bio festival. As the artist & stage manager become part of UFO BUFO festival team in the same year. In June 2017 joined Urban Antidote Records family. His sets range from hypnotic dark psychedelic up to 160 bpm thru pure psytrance around 146 bpm to down trance line morning psytrance 143 bpm. He always keeps his sets psychedelic.
🔺 Inner (OddVod)
🔺 Zmayo (Pistolero)
🔺 Pila (Foresdelic rec)
🔺 dSk LIVE
🔺 3lowbeat
⚫⚫⚫ ORGANIZACIJA ovog luđaštva 😈
► Irie Garden
► Teknobalism Soundsystem
► Saso Mange Soundsystem
FACEBOOK EVENT:
https://www.facebook.com/events/385394638733855/
promo guy // 20/09/2019