Jedini hrvatski predstavnici izvornog blues/county/americana i autohtonog oldschool izraza od prije više 100-tinjak godina, zagrebački SHE BROUGHT ME GASOLINE konačno promoviraju svoj drugi album "
There Were Times
"
www.terapija.net/mjuzik.asp?ID=31121
realiziranog početkom ove 2022. godine.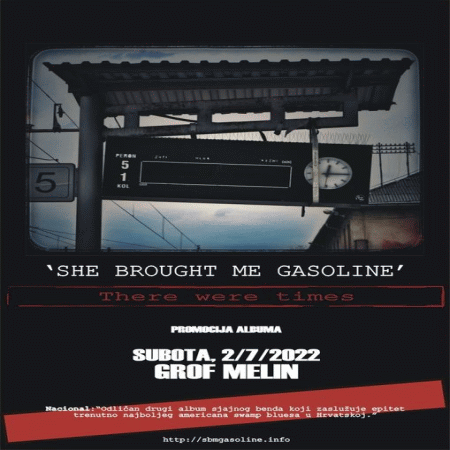 Pojavili se na sceni 2016. godine objavom dvostrukog singla "
Pathway/Soul made in China
"
http://www.terapija.net/mjuzik.asp?ID=24663
. Nakon objave singla bend zapažaju prvi kritičari, a britanski glazbeni portal Maximum Volume Music ga odabire za bend dana.
She Brought Me Gasoline 2018. snima novi singl "
Sometimes trouble comes
" s kojim dospijeva na vrh top liste Cener Radija 101, a potom dobiva poziv za nastup na Hrvatskoj radio televiziji.
U ožujku 2020. godine bend objavljuje svoj debitantski album "
On values and trash
"
www.terapija.net/mjuzik.asp?ID=29959
za talijansku izdavačku kuću Go Country Records. Album sadrži 12 pjesama u sirovom spoju bluesa, countryja i Americane. Album je vrlo dobro prihvaćen od kritičara te je uvršten na top liste najboljih albuma godine od strane nekoliko domaćih i regionalnih glazbenih portala (Ravno do dna, Stereoart, Osluškivanja). Kritičari su She Brought Me Gasoline u svojim recenzijama uspoređivali sa 16 Horsepower, Bonny Prince Billyjem, Steve Earleom, William Elliot Whitmoreom, The Dead South, Ray Wylie Hubbardom i sl.
U siječnju 2022. godine bend objavljuje drugi studijski album "There were times" (vlastito izdanje). Od algoritamske regulacije do malog zapuštenog bosanskog gradića, punog željeza i srebra... od loših obiteljskih odnosa do ljubavi koja odolijeva svim iskušenjima..... To su teme kojima su inspirirane pjesme novog albuma. Album sadrži 11 novih originalnih pjesama (trajanje 42:38 min.) koje se glazbeno i dalje mogu opisati kao sirova mješavina Americane i bluesa.
Above the regular crowd: D6wutQbrCDM
Uvodna pjesma "
Above the regular crowd
" prvi je singl s albuma. Bavi se averzijom prema stanju u koje suvremeno društvo izrasta. Bend je snimio video spot u - tzv. "Srebrnoj strijeli", vlaku koji je u svoje vrijeme bio ponos Hrvatske željeznice, kao metafori koja se nadovezuje na radnju pjesme. Album je predstavljen na nekim od najznačajnijih domaćih i svjetskih radijskih emisija i online magazina posvećenih bluesu i Americani, kao što su Americana Music Show, Bandana Blues radio show, Salty Dog Blues N Roots radio show, Garden Party radio show, Blues 4 U radio show, Americana UK magazine, The Alternate Root magazine, Red Hot Blues itd, a izdanje su ponovno popratile brojne domaće i strane kritike (linkovi na cjelovite tekstove recenzija:
sbmgasoline.info/
).
Fb event:
www.facebook.com/events/379565667450068
Početak 20 h
Upad 30 kn
promo guy // 30/06/2022