Nakon uspješnog osvajanja hrvatske publike prije dvije godine, najkvalitetnija norveška black metal ideja,
Satyricon
, ponovo dolazi u Zagreb! Koncert koji će se održati u petak 5. prosinca u zagrebačkoj dvorani Boogaloo održava se u sklopu turneje povodom promocije nijovog novog, sedmog po redu studijskog albuma "The Age Of Nero" (Roadrunner Rec./Dancing Bear). Kako najavljuju Satyr i Frost, dvojac iz Satyricona, radi se o njihovom do sada najkvalitetnijem albumu. Mastering je rađen u Sound City studiju, gdje je i Metallica snimala svoj povratnički album "Death Magnetic". Prve kritike nesumnjivo idu u prilog toj izjavi!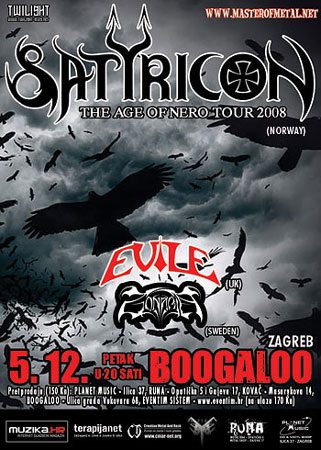 Satyricon na ovoj turneji prate odlični britanski thrasheri
Evile
, koji će nam predstaviti svoj novi album "Enter The Grave" (Earache Rec./Trolik) kojeg je producirao Flemming Rassmusen, poznat po radu s Metallicom, a kao drugi support nam dolaze švedske nove death metal zvijezde
Zonaria
koji će predstaviti svoj novi album "The Cancer Empire (Century Media).
Pretprodaja (150 Kn): Planet Music - Ilica 37, Metal Bar Runa - Opatička 5, Metal Shop Runa - Gajeva 17, Kovač - Masarykova 14 i sistem
Eventim
(na ulazu 170 Kn).
promo guy // 01/12/2008