Švedski
In Flames
slove za jedan od najutjecajnijih svjetskih metal bandova, nakon gotovo 20 godišnje karijere po prvi puta dolaze i u Hrvatsku i to u sklopu svoje istočnoeuropske turneje. Koncert će se održati 25. ožujka u zagrebačkoj Tvornici, gdje će promovirati svoj novi, deveti po redu album "A Sense Of Purpose" (Nuclear Blast).
In Flames su, uz At The Gates i Dark Tranquillity, osnivači i pioniri melodičnog death metala, pravca u metal glazbi gdje se osim melodičnih lead gitara i harmoničnih klavijatura koristi i elektronika koja je karakteristična za novije američke metal bendove kao što su Korn, te su time zasluženo ušli u "elitu" svjetske metal scene. Svojim su glazbenim talentom direktno utjecali i na zvuk današnjih metalcore bandova Darkest Hour, As I Lay Dying, Still Remains,… koji za In Flames kažu da su im najveći "idoli", također i na novije melodic death metal bendove Insomnium, Omnium Gatherum i Blood Stain Child, koji su nastali nešto kasnije.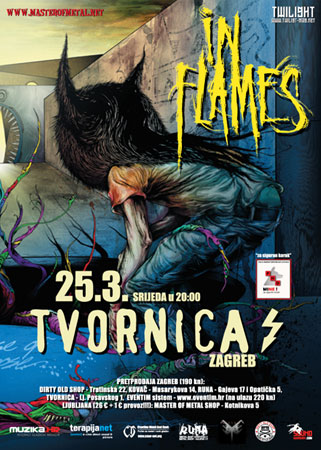 U svojoj dugogodišnjoj karijeri dobili su 4 švedske inačice Grammya (Grammies) i "Best International Band" nagrade, MetalHammer Golden Gods 2008. Nastupali su sa najvećim imenima metal scene poput Megadeth, Children Of Bodom, Slayer, Dream Theater, Testament, Dimmu Borgir, Judas Priest, Motorhead…kao i na velikim festivalima poput Hellfest, Ozzfest, Metal Campu te će nastupati na ovogodišnjem Wacken Open Air Festivalu.
PRETPRODAJA ULAZNICA ZAGREB (190 Kn): Dirty Old Shop - Tratinska 22, Kovač - Masarykova 14, Runa - Gajeva 17 i Opatička 5, Tvornica Kulture - Lj. Posavskog 1, Eventim sistem - www.eventim.hr
LJUBLJANA(26 € + 1 € prijevoz): Master Of Metal Shop - Kotnikova 5
Cijena ulaznice na ulazu 220 Kn.
Rezervacije na tomi@twilight-mag.net
promo guy // 20/02/2009