Frontman benda Jyrki69 je nedavno, malo u šali. a malo zaozbiljno izjavio da iako će mnogi ime benda shvatiti kao seksualnu aluziju, oni su usprkos dojmu koje ime stvara prije dalekih 20 godina sebi zamislili izvanzemaljca s 69 očiju i tako nazvali bend. Daleko više nego samo 69 očiju ove će ove nedjelje u Klubu Boogaloo gledati nastup legendarnog finskog benda, koji 24.1. po prvi puta gostuje u Zagrebu.
Iako prvotno najavljeni kao podrška The 69 Eyes na turneji kojom Finci upravo diljem Europe promoviraju svoj aktualni album Back In Blood, američke legende death rock scene Christian Death iz tehničkih su razloga otkazali svoje sudjelovanje na turneji, pa će se tako finskim rockerima na zagrebačkoj pozornici u Boogaloou pridružiti talijanska Mandragora Scream i domaća Phantasmagoria, što obećava žestoku rock večer i dobru zabavu.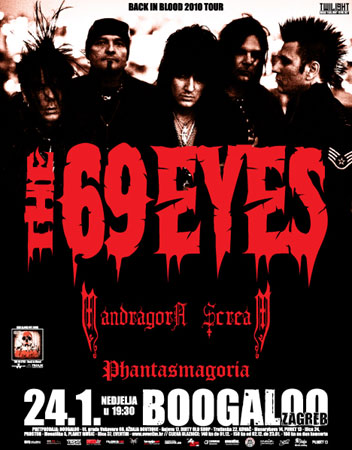 The 69 Eyes su abum
''Back In Blood''
snimali u Helsinkiju i Los Angelesu, objavljen je u Europi 28. kolovoza za Nuclear Blast, a producirao ga je Grammyjem nagrađeni producent Matt Hyde (Slayer, Monster Magnet), a
aktualni (drugi) single je pjesma ''Dead N'Gone''
za koju je spot, snimljen u San Franciscu, režirao MTV Superstar Bam Margera (Jackass).
Klub Boogaloo u nedjelju će vrata otvoriti u 19:30 sati, a bendovi će nastupiti točno po sljedećoj satnici:
20:00 Phantasmagoria
20:45 Mandragora Scream
22:00 The 69 Eyes
Ulaznice za koncert u pretprodaji su po cijeni od 150 kuna u sustavu
Eventima
koji pokriva gotovo sve gradove Lijepe Naše kao i pojedine izvan Hrvatske, te na sljedećim prodajnim mjestima u Zagrebu: Boogaloo, Vukovarska 68; Dirty Old Shop (Tratinska 22); Kovač (Masarykova 14); Aždaja Boutique (Gajeva 17); Punkt 13 (Ilica 24), Planet Music (Ilica 37), u Ljubljani u Master Of Metal shopu, Kotnikova 5 ili putem web stranice www.masterofmetal.net te na dan koncerta na blagajni kluba kada će cijena iznositi 160 kn.
promo girl // 21/01/2010