THE EXPLOITED, jedan od najutjecajnijih bendova u povijesti punk rock glazbe, ovog proljeća, u nedjelju 23. travanja, nakon raspodanog prvog puta po drugi put dolaze u zagrebački klub Vintage Industrial.
The Exploited - buntovnik iz Škotske stasao je krajem 70-ih u drugom valu punka koji je preplavio britansko otočje pa se proširio na ostatak Europe i produžio do Amerike. Osnovan u Edinburghu, The Exploited je u samom početku njegovao street punk zvuk koji se kasnije formirao u dosta brži i žešći hardcore punk. Prvi EP 'Army Life' izbačen je u ožujku '81, a već iste godine za etiketu Secret Records objavljen je album čiji će naslov krasiti mnoge zidove, zakrpe i torbe diljem svijeta te postati jedna od najizvikivanijih punk krilatica ikad 'Punk's Not Dead'.
Unatoč mnogim promjenama u sastavu, bivši vojnik Walter 'Wattie' Buchan ostao je sve do danas lider The Exploiteda, benda koji je uz Dead Kennedys i UK Subs nastavio tamo gdje su Sex Pistols i The Clash stali. Oštrica buntovničkog stava uperena protiv socijalno-političke nepravde niti danas nije otupjela pa će se u ljetnoj noći 13. srpnja Savskom cestom vrlo jasno i glasno čuti izvikivanje parole 'Fuck the System'!
The Casualties - njujorške punkere osnovao je pjevač južnoameričko-indijanskog podrijetla Jorge Herrera 1990. godine. Prvo izdanje s kojim su predstavili svijetu svoj prljav punkerski zvuk bio je EP "40 Oz. Casualty", s kojim su svima htjeli dati do znanja da bend želi oživjeti zlatno doba street punka s početka 80-ih koje su furali bendovi poput The Exploited, G.B.H., One Way System, Discharge, The Partisans …
Prvi album "For the Punx" objavili su 1996. godine kad su nastupili i na najvećem punk festivalu na svijetu "Holidays In the Sun" (danas "Rebellion") u Londonu i oduševili sve prisutne svojim 80's punk imageom i zvukom. Od tada redovito objavljuju albume i jedna su od najvećih svjetskih punk atrakcija koja svira širom svijeta. Album "We Are All We Have" iz 2009. uz hardcore punk zvuk donosi i par noviteta zvuku benda, nekoliko reggae pjesama, dok se u nekima može prepoznati thrash-metal utjecaji. Istoimeni singl "We Are All We Have" postiže najveći uspjeh Causaltiesa do tad. Posljednji, deveti album "Resistance" su obajvili 2012.
The Casualties su napunili 25 godina 2015. te su u sklopu rođendanske turneje gostovali u Vintage Industrial Baru.
Uz njih, kao dodatni support potvrđeni su i njemački metalci Code Red.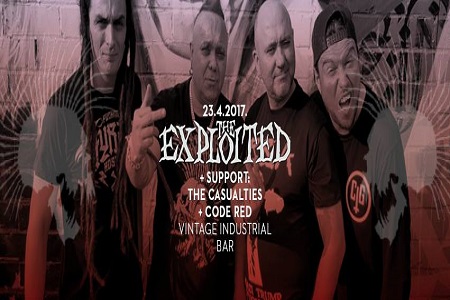 NEDJELJA 23.4.2017. THE EXPLOITED + support: The Casualties + Red Code @ Vintage Industrial Bar I Vrata 20:00 h I Start koncerta 21:00 h I Cijena ulaznica 90 kn / 110 kn
Prodajna mjesta: Vintage Industrial & Kavez (Savska 160) & Dirty Old Shop (Tratinska 18)
promo girl // 03/04/2017