UTORAK 12.12. | 5. rođendan VIB-a: #1 GBH + DJ PROGRAM @Vintage Industrial Bar | Start 20:00 | Početak programa: 21:30 I Karta: 65/80 kn I Pretprodaja: VIB (Savska 160), Dirty Old Empire (Tratinska 18)
Britanske punk/rock legende GBH vraćaju se u Vintage u utorak 12. prosinca i to u sklopu promocije novog im albuma 'Momentum' koji izlazi nakon 7 godina studijske pauze - slavimo duplo.
BIOGRAFIJA:
Punk rock legende GBH snovani su 1978. u Birminghamu, a sa prvim singlovima 'No Survivors' i 'Give Me Fire' probijaju se na 'Top Of The UK Charts' te odma plijen pažnju svojim specifičnim hardcore/punk/rock zvukom i ekscentričnim punk imageom dugačke kose dignute u zrak.
Prvi album 'City Baby Atatcked By Rats' izlazi 1982. i GBH odmah vodi na vrh punk scene. Ubrzo slijede američke i japanske turneje gdje sviraju velike dvorane i uz The Exploited postaju najveći punk/rock band. Albumi 'City Baby Atatcked By Rats' i 'City Baby Revenge' danas su punk klasici.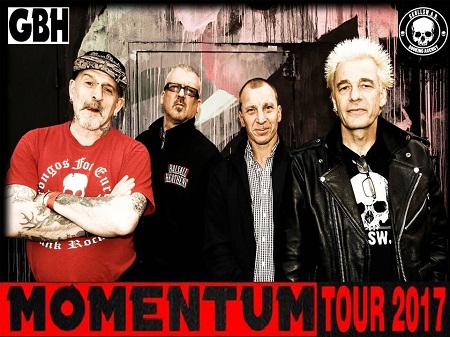 Kroz godine GBH izdaju cijeli niz albuma, pune dvorane po cijelom svijetu, pjevač Colin postaje ikona punk scene, a njihov logo se nalazi na gotovo svakoj kožnoj jakni punkera širom svijeta. Zahvaljujući svojoj beskompromisnosti i originalnosti postaju jedan od največih punk rock bendova druge generacije uz The Exploited, Dead Kennedys, UK Subs, Discharge. Zbog svojeg koketriranja sa metal zvukom cijela moderna metal scena navodi GBH za jedne od svojih uzora pa tako i Sepultura, Metallica, Slayer ('Sick Boy'), a prozvani su i 'Motorhead on 45' (ubrzani Motorhead).
Zanimljivo je da su GBH jedna od rijetkih grupa koja je opstala u originalnoj postavi od samog početka što je vjerojatno i jedna od tajni njihovog uspjeha. 1996. objavljuju album 'Punk Junkies' koji je uz The Exploitedov 'Beat the Bastards' proglašen najboljim punk/rock album godine. Sa predposljednjim, jedanaestim studijskim albumom 'Parfume and Piss' GBH se vraća prvobitnom sirovom zvuku, vjerojatno zaslugom producenta Lars Frederiksena (Rancid).
No, ovi veterani punka rade i dalje. Nakon 7 godina pauze, imaju novi album 'Momentum' (17.11. Hellca Records), s kojeg ćete, uz sve stare hitove, moći premijerno čuti 12.12. u Vintage Industrialu.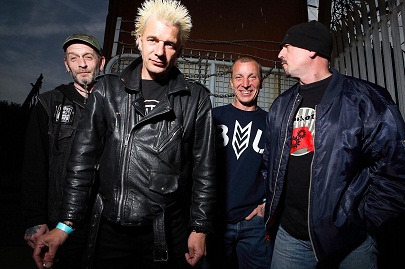 GBH su prvi puta nastupili u Zagrebu 1987. u legendarnom Kulušiću, zatim 2009. u Boogaloou, te 2014. U našoj maloj hiži - Vintage Industrialu, gdje je u posljednjih 5 godina prošao velik broj punk/rock heroja, a i ostalih….
DISKOGRAFIJA:
1982 City Baby Attacked By Rats
1983 City Babys Revenge
1986 Midnight Madness and Beyond
1987 No Need To Panic
1989 A Fridge Too Far
1990 From Here To Reality
1992 Church of the Truly Warped
1996 Punk Junkies We Bite
2002 Ha Ha
2004 Cruel and Unusual
2010 Perfume and Piss
2017 Momentum
promo guy // 04/11/2017