Još nas samo par dana dijeli do najveće rock n' roll zabave ove godine! Zadnji se detalji dogovaraju, logistika priprema i dobra vibra gomila.
Kao i prošle godine
, bendovi će se izredati na dva stagea. Vani u dvorištu, te u klubu. Od ove godine imaju i imena, tako da se unutarnji zove LOUD stage, a vanjski LIFE stage.
U nastavku pročitajte raspored nastupanja pojedinog benda te zacementirajte svoje mjesto dolaskom na ovu neponovljivu, zvučno/slušnu zabavicu.
E da, puštati će se i dobra mjuza prije, između bendova i nakon koncerta.
Vidimo se u nedjelju!!!!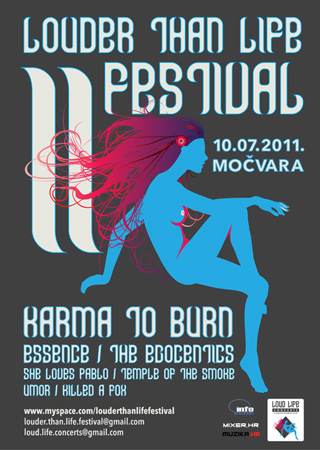 LOUD STAGE
start 23:00 KARMA TO BURN 00:30 end
start 21:45 ESSENCE 22:30 end
start 20:35 THE EGOCENTRICS 21:25 end
start 19:40 SHE LOVES PABLO 20:15 end
start 18:30 TEMPLE OF THE SMOKE 19:10 end
LIFE STAGE
start 19:10 UMOR 19:40 end
start 18:00 KILLED A FOX 18:30 end
Za one koji nisu još kupili svoju ulaznicu u pretprodaji neka pohitaju na mjesta gdje to mogu učiniti: knjižara ROCKMARK, Berislavićeva 13; DIRTY OLD SHOP, Tratinska 22; klub MOČVARA, Trnjanski nasip bb.
Cijena ulaznice je 70 kuna, a na dan koncerta 100 kuna!
promo guy // 06/07/2011