Novi 80's Party će u subotu 23. srpnja biti posvećen jednoj od najvećih zvijezda iz osamdesetih Billyju Idolu. Slušat ćemo i gledati presjek rada Billyja Idola od njegove prve grupe, legendarnih Generation X do danas. Nakon toga će djevi Tomi Phantasma i Marin vrtiti spotove i puštati najbolju glazbu iz osamdesetih kao i novije bendove koji se danas furaju na 80-te. Na programu će biti sinth pop, pop, new wave, electro, ebm, darkwave, gothic rock, 80's today, novi val, …. tj. Simple Minds, New Order, OMD, Ultravox, Human League, Duran Duran, Soft Cell, Cindy Lauper, Bananarama, Bangles, Eurythmics, Tears For Fears, A-Ha, Alphaville, Dead Or Alive, Pet Shop Boys, Madonna, Front 242, Nitzer Ebb, U2, David Bowie, The B 52's, The Smiths, Talking Heads, Lene Lovich, Siouxsie, Joy Division, Killing Joke, The Cure, The Sisters Of Mercy, The Cult, Blondie, Madness, The Police, Iggy Pop, Ramones, Misfits, The Clash, Denis & Denis, Video Sex, Placebo, Editors, White Lies, Marilyn Manson, Garbage, No Doubt, Moby, London After Midnight, Killers…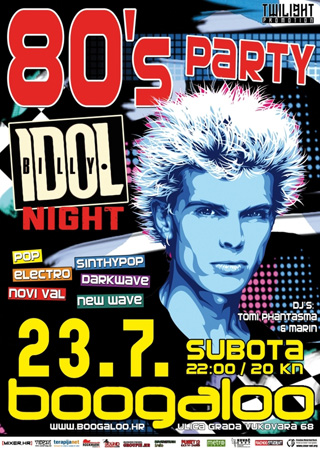 Party počinje u 22 sata , cijena ulaznice je 20 kn, a dio ponude pića je na ljetnim akcijskim cijenama.
Ps: Boogaloo Club ima veliku terasu gdje se slobodno može pušiti!
Dobrodošli!
promo girl // 20/07/2011