Sziget festival 2018 održava se od 8. do 15. kolovoza na Obudai otoku-Otoku slobode u Budimešti. Riječ je 26. izdanju festivala koji ove godine nudi koncerte najvećih glazbenih imena. Potvrđeni su: Arctic Monkeys, Dua Lipa, Gorillaz, Kendrick Lamar, Kygo, Lana Del Rey, Mumford & Sons, Shawn Mendes, Liam Gallagher, Bastille, Lykke Li, Stormzy, Parov Stelar, The War On Drugs, The Kooks i mnogi, mnogi drugi. Sziget je ujedno jedan od najboljih 10 svjetskih festivala, koji ponosno stoji uz bok festivalima kao što su Glastonbury, Roskilde i Lollapalooza, prema ocjeni kritičara i publike. Najveći je festival u Mađarskoj, koji se prošle godine, drugu godinu za redom okrunio titulom 'Line-up of the Year'. Sziget već nekoliko godina ima rasprodane festivalske sedmodnevne ulaznice, a posjećenost festivala svake večeri je preko 400 000 ljudi, dok ga u svih sedam dana trajanja posjeti više od milijun ljudi iz više od 100 zemalja svijeta. Najveća svjetska glazbena imena nastupit će na više od 50 pozornica, no Sziget njie samo festival glazbe, već i umjetnosti, sporta i multikulturalnosti. Uz koncerte, donosi brojne izložbe, predstave, predavanja, radionice, sportske sadržaje i performanse. Vidimo se tamo i ove godine!!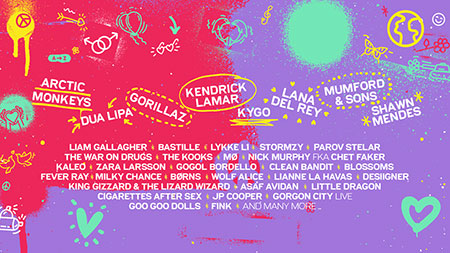 Sziget Headliners (A-Z)
Arctic Monkeys
Dua Lipa
Gorillaz
Kendrick Lamar
Kygo
Lana Del Rey
Mumford & Sons
Europe+ Stage (A-Z)
1Motta
5'NIZZA
Astronautalis
BEISSOUL & EINIUS
Blaudzun
Bostich + Fussible from Nortec Collective
CHEFBOSS
Electric Fields
Ezhel
Francobollo
Fresku
KETTCAR
Klub Des Loosers
La Sra. Tomasa
Lea Santee
MEUTE
Moonchild Sanelly
Omer Netzer
Peter Aristone
Run Over Dogs
Satra BENZ
SENBEÏ
Sexy Zebras
Shell Beach
Smokey Joe & The Kid
Sol Monk & Jenny
Strapo
TÉMÉ TAN
The Lytics
The Paz Band
The Poppers
Thom Artway
Tommy CA$H
Willi Peyote
World Music Stage presented by Ibis (A-Z)
Anima Sound System
Baba Zula
Besh d droM
Bukahara
Canzoniere Grecanico Salentino
Chalaban
El Juntacadaveres
Garmarna
Griot Blues
Hartyga
Hora de Joglar
Ifriqiyya Electrique
Jewish Monkeys
Jupiter & Okwess
Kistehén
Kries
LaBrass Banda
Ladánybene 27
Les Negresses Vertes
Meszecsinka
Mon côté punk
Mr Žarko
Onuka
Pannonia Allstars Ska Orchestra
Plaza Francia Orchestra
Szikra (Amsterdam Klezmer Band & Söndörgő)
The Poppers
Thom Artway
Tommy CA$H
Transglobal Underground feat. Natacha Atlas
Colosseum sponsored by Telekom (A-Z)
Andhim
Ben UFO
Dave Clarke
Dense & Pika
Eagles & Butterflies
Eelke Kleijn
Enrico Sanguiliano
Hernan Cattaneo
Jesse Calosso
Mind Against
Nakadia
Nicolas lutz
Paula Temple b2b Rebekah
Popof
Raresh
Rodriguez Jr.
Sama
The Martinez Brothers
Tiga
maja // 20/05/2018