This year was our second time at the Obscene Extreme Festival. This time we came by car and didn't travel for 20 hours by train from Zagreb, Croatia. After a short drive from Prague to Kutna Hora, small town where the Sedlec Ossuary is, the church whose interior consists of skeletons of 70 000 people, we arrived to Obscene Extreme, just at the beginning of the special Gutalax Toi Toi show.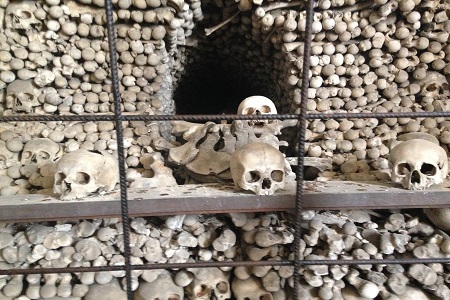 kostnice sedlec, kutna hora © lejapeja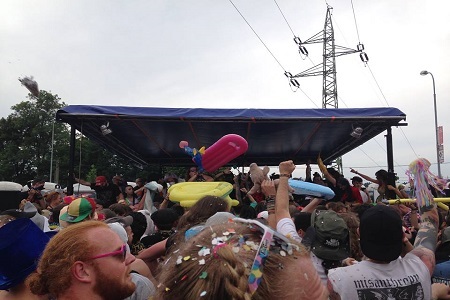 gutalax toi toi show © lejapeja
Show which was also a recording of their first live DVD video started around 6 pm, and by that time, that space in the heart of Toi Toi area was so full of people, that we almost couldn't smell that romantic Toi Toi scent. Gutalax is evidently OEF's favourite phenomenon and the rampage began already during their soundcheck. After the first song, toilet stage had unfortunately been broken. But it was not such a pitty because that cheerful and colorful circus was so motivating and in the same time great indicator to see what to expect in the next 4 days. After Gutalax show, Wrestling Mania took it's place on the main stage, Jay Shlak and Skullevil measured their strength and when they finished 2 bands performed.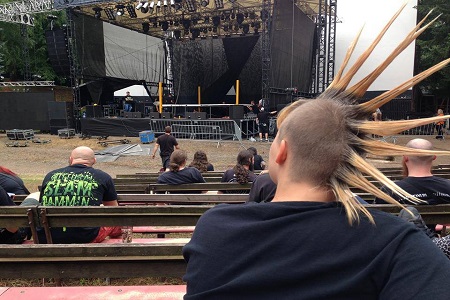 setting up the stage © lejapeja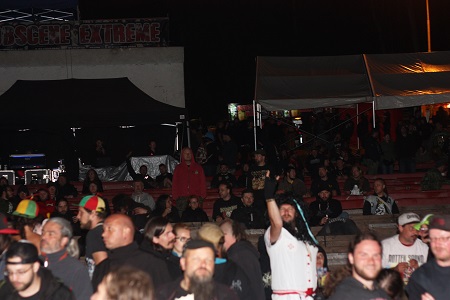 audience © lejapeja
The next day I found out that the drummer of the second band, Eat The Turnbuckle, had broken his leg on the second day of their tour in Paris, so he played OEF with a broken leg, same as the drummer of another band that performed one of the next days. Well, I believe that playing drums with a broken leg isn't the easiest job in the world, so congrats to those two. Wednesday on the festival ended with Selfie the Clown's solo freak show. I won't tell you what he was doing, if you like BDSM obscene stuff, you should try to find out by yourselves. After his show and a few beers, we went to rest for the next day. That night we didn't have much luck with the weather because during the night the rain flooded the entire city, so on Thursday the complete festival area and camp turned into a muddy swimming pool. When we woke up in the middle of that (not so) beautiful scene, there was no other choice but to spend the whole day under the beer tent, well protected from the rain and badly protected from the streams of beer and exhilarated people who were swimming along the beer streams 24 hours a day. Gotta tell you, in 2014. when we were on OEF for the first time, we were surprised how cheerful and freak-frendly it was, but this time that feeling got so strong it felt unreal. As it was relentlessy raining the whole day, we saw just a few bands before the evening. One of those were great Czech rockenrollized crust punks Just War, and the other were metalized Japanese hardcore punks Palm.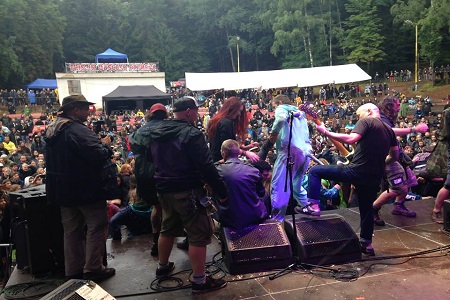 palm © lejapeja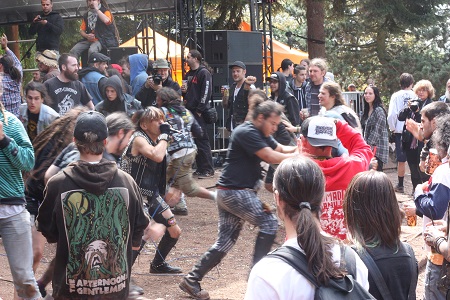 pogo © lejapeja
The evening was reserved for the American metal legends Venomous Concept, Incantation and Toxic Holocaust. The latter are Portland thrash metal punk lords that have existed for nearly 20 years and as a trio they exhibit abnormal amount of brutal energy and power. Joel Grind and his team led us through the set of their discography and played all the most popular songs like War is Hell, Bitch and Nuke The Cross.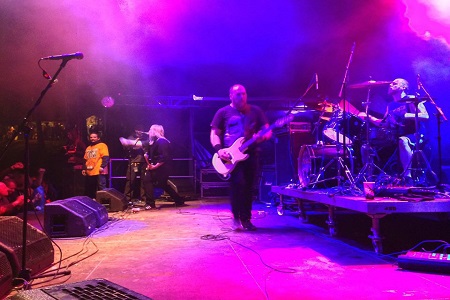 toxic holocaust © lejapeja
The last band that evening was Brujeria, Mexican death/grind machine. These 6 masked Mexicans which reminded me of mafia from video games, played their brutal one-hour lasting set and made the audience go really wild and crazy, they even dived through all the mud and rain. After Brujeria's performance it was time for another 2 freak shows performed by two Czech gropus - Fly High Tribe and S & M Project. As we were forced to drink under the beer tents since the early morning (oh, poor us!), by the start of freak shows we couldn't even stand on our feet anymore, so we went to rest for Friday, for us the most exciting day when it comes to music.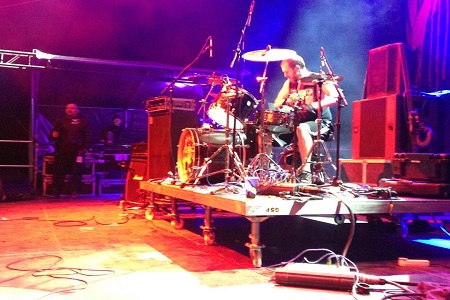 toxic holocaust © lejapeja
On Friday, the first band was finnish Ramin Kuntopulku. The band consists of two members, one of them plays the primitive set of drums and the other shouts and growls on the megaphone. In less than 20 minutes they presented us their urban grind songs, and we wondered if the songs were real or they were merely improvising. It was great to see something like that and one fun fact is that songs are called ''Uncomfortable silence'' etc.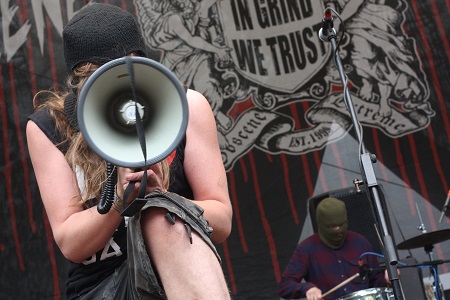 ramin kuntopolku © lejapeja
Further shows were played by many bands frome the whole Europe and also Australian band Wretch. We came to see kamikaze fastcore squad Speed!! Noise!! Hell!! Their name perfectly represents their musical expression, they have 2 vocalists who spent 90% of their time swimming and flying within the audience. Their fast hellish noise was a great thing for us to get dry after a rainy day.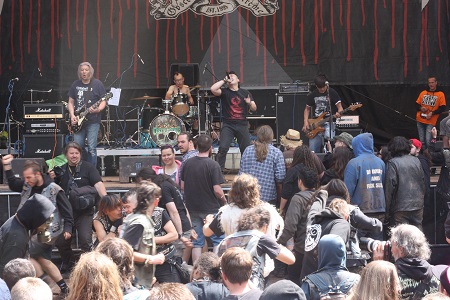 speed!! noise!! hell!! © lejapeja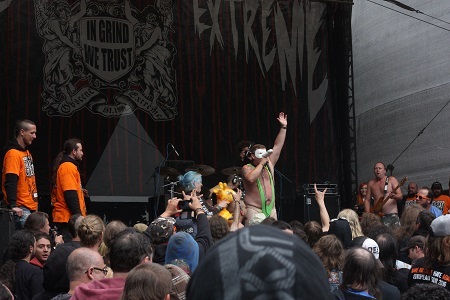 spasm © lejapeja
Later, we checked out Czech Porn/gore grind kings Spasm. It was their third performance on the Obscene. I remember them because of the high percentage of nudity during their performance and the rubber penis which was stuck to the vocalists nose. And the vocalist wore Borat's mankini. Then performed Gride. During their performance, there was something very interesting happening on the hill next to the stage. It was sort of a competition in sledging on inflatable rubber frog. It was so funny because almost no one managed to sledge entirely down to the bottom of the hill.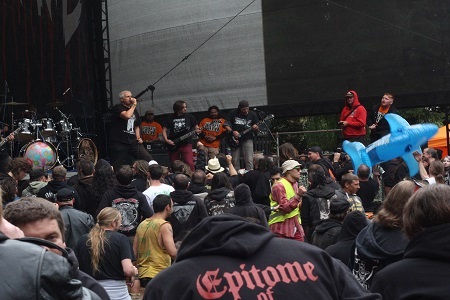 gride © lejapeja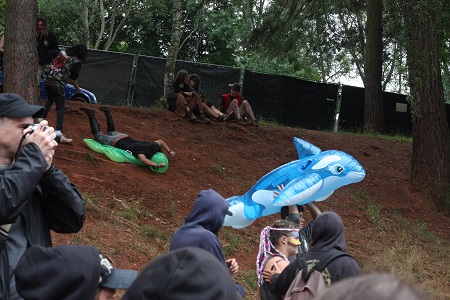 adventures during their show © lejapeja
After the performance of Defeated Sanity whose basses were so loud that it tickled our asses as we were sitting on the grandstand, it finally came time for a bit of hardcore punk. The band was Warwound, led by famous Rat from the Varukers. They mostly played cover songs of well known bands in which they also play (Sacrilege and Varukers, ofc.) We were so happy to hear old hits. After Warwound and their fellow Englishmen, Memoriam, it was time for another legendary hardcore punk band.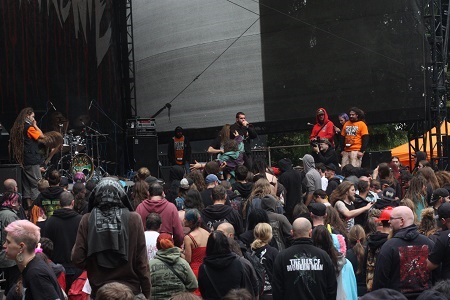 defeated sanity © lejapeja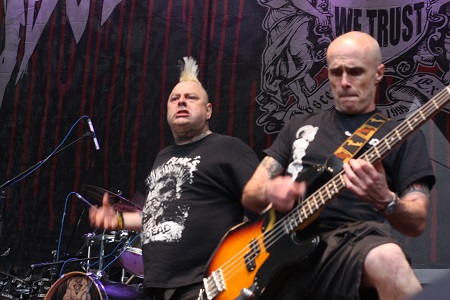 warwound © lejapeja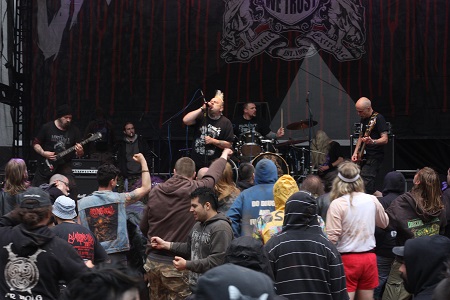 warwound © lejapeja
And that was Death Side, Japanese hardcore punk band which was fromed in the mid-eighties and in their 10 years long carrier they came to their own in the world of hardcore punk fans. They have recently re-united in memory of their guitarist Chelsea that passed away in 2007.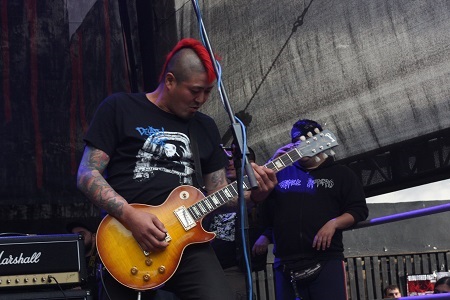 death side © lejapeja
In their 40-minutes long show they rocked out brutal dose of genuine Japanese hardcore punk and brought fans to a level of ecstasy. Friday was, therefore, for the hardcore punks on OEF, really a lucky day. After Death Side, it was time for American grindcore lords Insect Warfare who played their well-known set and finished it off with a half-minute long song.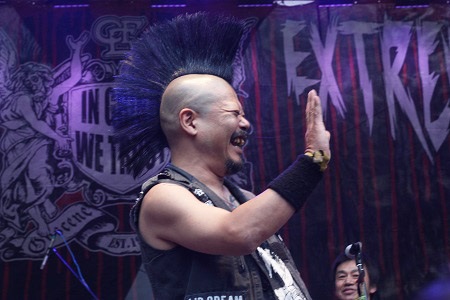 death side © lejapeja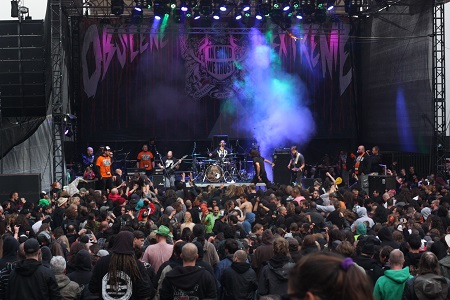 insect warfare © lejapeja
Then something incredible showed up on the stage. It was Melt Banana! This Japanese duo is playing some crazy demented music which sounds like a mix of grindcore and synth noise. The girl is on vocals and the guitarist plays riffs and side effects. It is all followed by the rhythm machine. It's hard to describe, but on the other hand so interesting that I'm gonna have to direct you to a video my pal Sale recorded:
After Melt Banana, it was time for more grindcore/hardcore punk lords, Extreme Noise Terror. These guys have existed for over thirty years, and they are led by the legendary punk rocker Dean Jones. So far, I watched them many times, but I can tell you that every time they play, they sound even faster and harder. At this show, something happened that had not happened for 21 years: they played their biggest hit called Murder, activist song that fights for animal rights. I watched an audience go wild in a disbelief (unfortunately too far away from the stage, because I was photographing the band) but I knew I was a witness to a historic moment for the band and for us as their fans.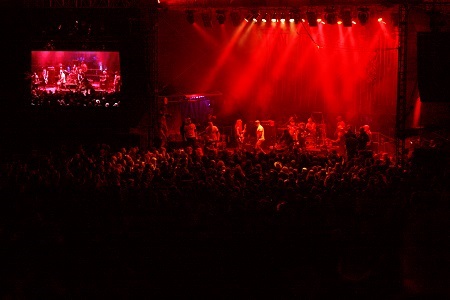 audience © lejapeja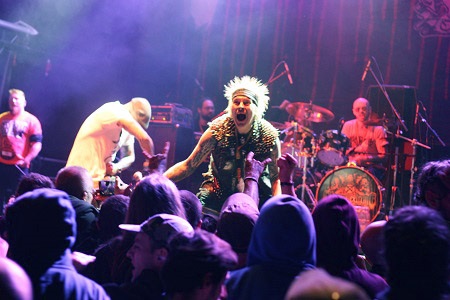 extreme noise terror © lejapeja
Their last song was a cover of Sham 69's Borstal Breakout and as they were playing the song, the bass player gave his instrument to a Crew guy on stage and had a little fun stage diving. The following bands were Polish death metal legends Vader, and then another band led by Rat from the Varukers (2nd that day) - named The Ville.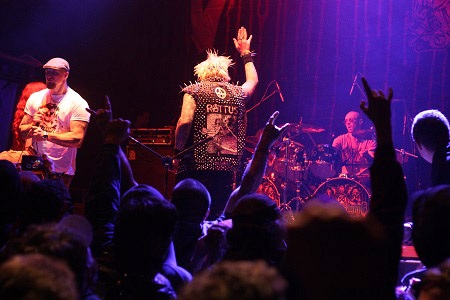 extreme noise terror © lejapeja
On Saturday, the sun finally went out and instead of an early morning coffee, we got our dose of energy from watching the performance of the French grindcore/powerviolence band which had an interesting name - Tina Turner Fraiseur. They formed in 2013. and luckily for us, they don't have any music relations to Tina Turner.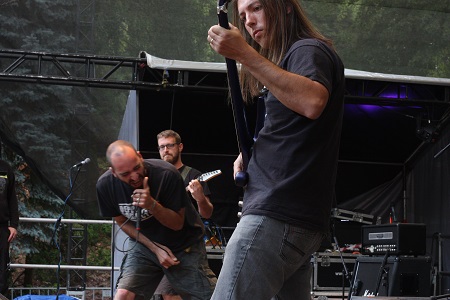 tina turner fraiseur © lejapeja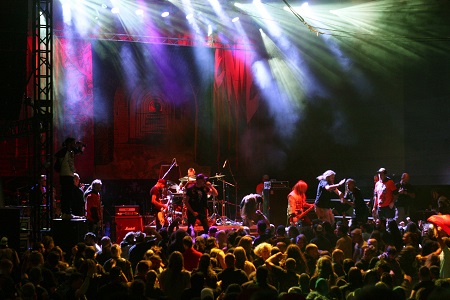 rotten sound © lejapeja
After they finished it was time for the new French grindcore squad called Bain de Sang, which I remember by the strong changes of rhythm. After their show we went to the city and came back to the festival area in the evening, right in time to see the performance of Finnish legends Rotten Sound, which I think, holds a record number of performances at the Oef in all these 18 years. And yes, they are the other band whose drummer also played with a broken leg. I think that the story was that he fell into a mud on Thursday and had no luck so he broke his leg and ended up walking with crutches. But that didn't prevent him from rocking out the gig. It even seemed to me that he was better at playing drums than walking down and up the stage. I admire his will! They played an almost twice shorter setlist than planned and they left the stage for a well-known German thrash metal legends Sodom.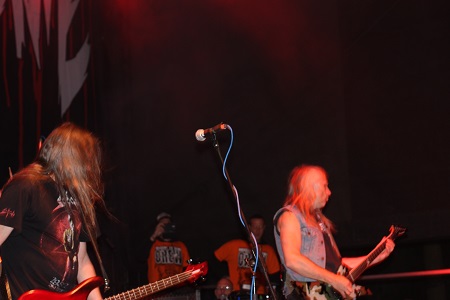 sodom © lejapeja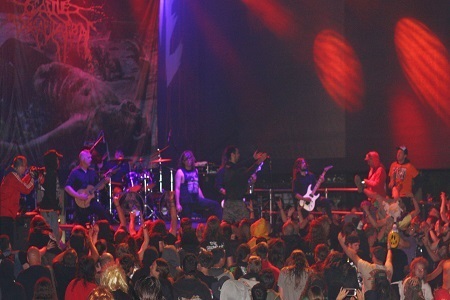 cattle decapitation © lejapeja
Sodom was formed in 1981. And from 1985. by today, they didn't stop realising albums almost every two years. At this performance they played almost all the well known songs from their early albums such as Agent Orange. It was a happy time for all the metal heads on the festival because they didn't stop headbanging for that whole hour. After Sodom's performance, it was time for American machine Cattle Decapitation to grind us down. Their show was very powerful and brutal and they burned a place to the ground and left a little bit more room for our most expected Saturday evening band - the mighty Hellbastard.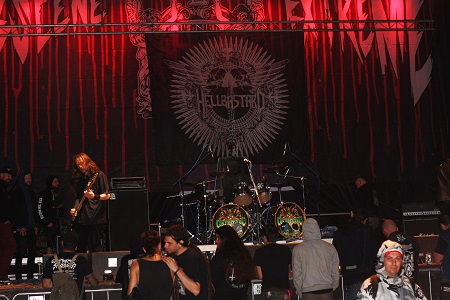 hellbastard © lejapeja
These bastards which came from the dephts of hell, led by energetic wild vocalist and guitarist Scruff, existed from 1984. to 1992. They re-grouped in 2008. and since then, their sound got even heavier!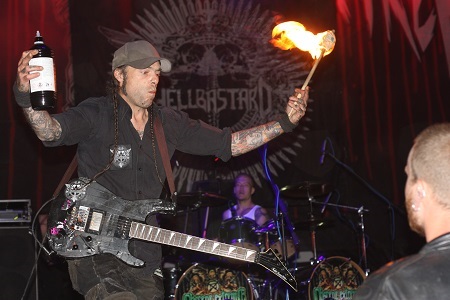 hellbastard © lejapeja
They dedicated one song to a OEF's organisator Curby, and they played it 8 times. Scruff had pulled the last atoms of hellish energy from our hearts with his evil laughter during the songs (Death Camp etc.) and we gotta be thankful for that! Because tuning up the guitars and fire performance took some time, their gig lasted a bit shorter than it was planned. But it's not a big pitty because the band gave it their best!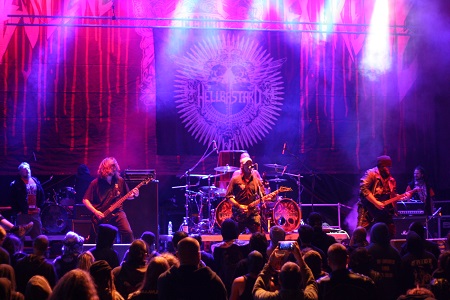 hellbastard © lejapeja
Obscene extreme is a festival with so much positive energy and cheerful, freak-frendly people dressed in colorful costumes, good beer and even better music, so I think it's the best festival I've ever been on, or maybe the best festival ever, at least for the extreme music fans. If you ever visit Obscene Extreme, you'll feel so great that after leaving the festival area, you'll almost certainly yell out the words which I will use to round up this report with : OBSCENE EXTREME FESTIVAL, SEE YOU AGAIN!
lejapeja // 20/07/2016