One of the world's biggest and most celebrated music and art festivals, enjoyed by and likened to Glastonbury by its founder Michael Eavis makes its return for 2018 with huge global stars for its 26th edition. From 8th-15th August, Sziget will play host to some of the most renowned names in music today across more than 50 stages, including Kendrick Lamar, Kygo, Mumford & Sons, Liam Gallagher, Bastille, The Kooks, MØ, Parov Stelar, Zara Larsson, Clean Bandit, Blossoms, Wolf Alice, Little Dragon, Everything Everything, Cigarettes After Sex and more in its first line up reveal.
Set in the heart of Budapest on Óbuda Island, Sziget is a community built festival and known as the 'Island of Freedom'. Sziget is dedicated to embracing diversity and has launched 'Love Revolution', using the power of the community to celebrate and bring love, acceptance, tolerance, and freedom to the heart of Budapest and beyond. Day tickets start at 65 euros with three, five and seven-day tickets also available. For more information and tickets, visit szigetfestival.com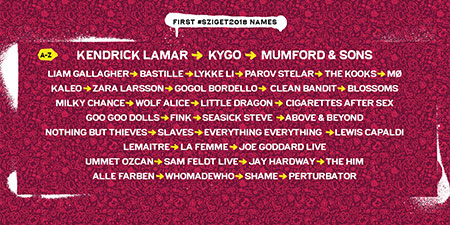 Sziget is one of Europe (and the world's) largest music and arts festivals. Taking place on Budapest's Óbudai-sziget - appropriately transformed into the 'Island of Freedom' every August - the festival welcomes 'Szitizens' from over 100 nations to come together and celebrate all forms of different culture, race, tastes and interests in one place.
Kendrick Lamar, the multi Grammy winning American sensation, known for his soaring ambition and lyrical talent, will headline Sziget Festival. Also headlining will be Norweigan DJ and producer Kygo who has been selling out stadiums since rising to fame four years ago with his unique electronic sound that captured a generation. Completing the headline bill and bringing with them a whole host of sing-along hits will be undisputed kings of folk-rock Mumford & Sons.
Among the first acts announced for Sziget 2018 is 'Rock 'N' Roll Star' Liam Gallagher, hot off the back of his critically acclaimed debut solo album and long overdue announcement as NME's Godlike Genius 2018. Alongside him are London rockers and best mates Wolf Alice and Slaves, who will be bringing their unparalleled energy to the Hungarian stage. American rock band, Goo Goo Dolls, who have sold over 12 million albums worldwide will be performing alongside kings of nostalgia The Kooks, indie masters Bastille, electro alt-pop geniuses Everything Everything, homeless turned folk-hero Seasick Steve, as well as Cigarettes After Sex, Nothing But Thieves and many more.
There will also be a spectacular array of electronic acts performing at this year's festival. Chart toppers Clean Bandit will be gracing the stage with their classical inspired electropop, as will Danish singer, songwriter, and electropop producer MØ, the mind behind the magnificent 2015 summer collaboration with Major Lazer 'Lean On'. Also performing will be electronic music legends Little Dragon. From Gottenburg, their iconic blend of alternative R&B, soul, and synthpop promises to mystify Szitizens.
Celebrated and awarded for its line-up, Sziget took home the award for best 'Line-Up of the Year' at the European Festival Awards 2017 for the second year running. Sziget stood out among 10 of the best festivals including Glastonbury, Roskilde, and Lollapalooza in the category compiled by experts and voted for by the public.
One, three, five and seven day tickets for Sziget are now on sale. Prices start at £65. For more information and tickets, visit szigetfestival.com.
promo guy // 23/01/2018