T: Where are you now and what are you doing?
Conrad: I am sitting in a field in France, just west of paris, at some retarded festival.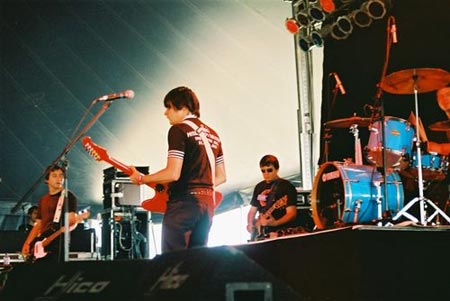 … AND YOU WILL KNOW US BY THE TRAIL OF DEAD on Southside 2002. © hax
T: You are not well known band in Croatia, so please give me a brief history of how the band started?
Conrad: It started one morning, just after breakfast, we said Fuck it, let's start a band because everything else is so fucking boring.
T: Why that name?
Conrad: We was tired of being clowned by punk ass bitches from bands with short names, yo.
T: Do you think you've had lots of attention because of your name?
Conrad: Not as much as we deserve, no.
T: Tell me something about "Source Tags & Codes" that i don't know?
Conrad: It's actually blue.
T: Were there any bands that inspired you to start a band?
Conrad: True inspiration comes from the heart.
T: What is the scene like in Austin? Are there any great bands that you think people should know about?
Conrad: Yes, but it's a big secret.
T: I have read somewhere that you switch instruments when you play. So who play what and how do you decide who is going to play what when performing live?
Conrad: Whoever is the most hung over, he gets to play bass, or sit down. Whoever has sustained an injury, he has to play drums or sing. Whoever is the most sober usually plays guitar.
T: I also read that you sell lot of "Madonna" album because people thought that that was Madonna stuff?
Conrad: No, I think it was the other way around.
T: What kind of music do you listen when you're on tour, at home...?
Conrad: I listen to the music of the spheres.
T: What's the last record you bought?
Conrad: The last record I broke was the land speed record for sheep sled at 49 mph, last broken in 1989 by carl schmidt.
T: What's the best gig you've ever been to?
Conrad: The great gig in the sky
pedja // 02/07/2002