After their great performances in
Mochvara, Zagreb, Croatia
and
Pekarna, Maribor, Slovenia
, here they are talking about stuff...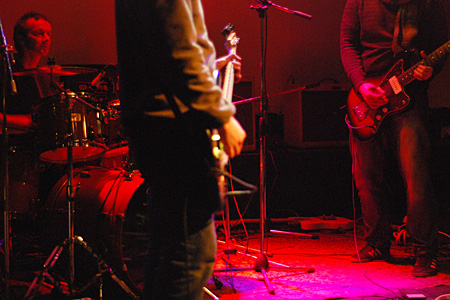 Transit @ Pekarna, Maribor (SLO), 08/02/2008 © Saša Huzjak
Where are you now and what are you doing?
Back home from tour (which was really great, we all want to hit the road again, so hopefully we'll be back next year) ... but at the moment back at work in Belgium
Why name TRANSIT?
Toon our bass player came up with the name 'transit' (like a lot of the other names of our songs, he mostly finds them), but as far as I know it is not for a special reason, we just wanted something that sounds nice and that sticks when people hear it …. And maybe in the future Ford will sponsor us with a Ford Transit tour bus ;)
A brief history of how the band started?
The band started at university a few years ago, Toni, Jeroen (guitar) and I (guitar) all studied at the same faculty here in Ghent. In our last year we started to come together on evenings to play long musical improvised sessions. After having a few drummers come and try out we finally found Koen (drums) after 3 years. He lived in the same street as our rehearsal place and we saw a drum in the window of his house by the street, we knocked on his door and asked if he wanted to come and play … and since then he's always been in the band. After having a few real finished songs we entered in one of the more prestige rock rallies in Belgium and ended up in the finals with a kind of honourable prize … and from then it only got better and better
Your first album will soon be out in the stores. Tell us something about songs? Are there any major differences between Broadleaves vs. Conifers EP and the new one (Whitewater)?
I think there is a difference, people hear a real evolution from the EP to our debut album, they mostly say that the sound has gotten bigger. I think we have also left out 'Explosions in the sky'- sound and found a kind of a darker, more expanded sound. We also experimented more on the album with synths and vocals. There is one song, 'thor,' on the record where a few friends Christoph (Soon), Wouter (toman) and Chantal (Sleepingdog) came to the studio to sing and the song finally ends with a big choir. Another song, 'lucas', was for a large part created in the studio, I only had a few piano riffs in my head and we again invited some friends, the brothers Wouter and Lode from the group toman, to come and play. I lead with the piano riffs, the other guys followed and the song was created at that moment … felt a little magical. The end of another song, 'january', was also created in the studio, just by kind of improvising in the moment during the recordings and seeing where we came out …. So I think we also tried to keep some kind of natural flow in a few songs on the album .. so I think there really is a big difference with the EP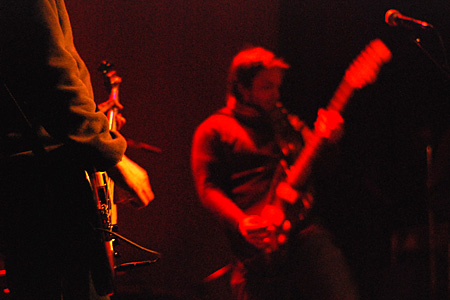 Transit @ Pekarna, Maribor (SLO), 08/02/2008 © Saša Huzjak
Since your music is mostly instrumental, how do you choose names for your songs?
Hmmmm, Toni mostly comes up with them or they refer to something from when we were making the song … e.g. the song January was made in January, Boat song was our first song we made in our new rehearsal room, which is a boot .. so pretty boring actually, but it's only a name
Can you please write your favourite albums and movies of 2007?
For me personal the newest albums of (but not sure that they are all from 2007)
Apse
Efterklang
Sigur Ros
dEUS
Band of Horses
Sparta
Explosions in the sky
Bloc Party
Tool
… and probably lots more
… for movies
Das leben des anderen
Persepolis
Into the wild
… but don't really watch a lot of movies
Tell us something about music scene in Belgium. We know about dEUS, ZITA SWOON but I'm sure there are some other great bands.
Together with dEUS, I love Soulwax as the more commercially successful bands, another more successful group that I really like is Goose, more dance music but funny and energetic ... also like A Brand, Arno and Confuse The Cat
Then for indie/postrock bands, I really like Madensuyu and toman, other good bands are De Portables, Motek and Swimmers of Loch Ness
Then for indietronics Ansatz der Maschine and Wixel, really good!
Then there are also the great bands
Hitch
and Galataseray from the Kortrijkse scene … but I think you already know them
And for singer/songwriter, Sleepingdog is also very good, a beautiful voice, whom I sometimes get to accompany when she plays live, nice ;)
What do you listen when you're at home, on tour, right now…?
At the moment I'm listening to Low .. but I listen to a very wide range of music at home, on tour there was less listening to music and more playing games on the playstation or watching dvd's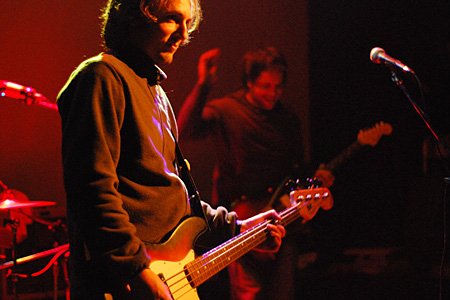 Transit @ Pekarna, Maribor (SLO), 08/02/2008 © Saša Huzjak
Tell me something I would never guess about you?
We're all ornithologists, we all love birds and nature
Is there something that you would like to bespeak to audience in Zagreb?
We all had smiles to the back of our ears after playing in Mochvara .. also after playing in Maribor and Koper. We are very thankful to all the people who came to the concerts and made it to be wonderful evenings, real big smiles … and would also like to really thank the people who organised the concerts for giving us a chance to play at these places for the first time .. and hope to see you all next year!!!!
pedja // 20/02/2008