Music of London quartet Gallon Drunk is often compared to the music of Nick Cave and the Bad Seeds, The Birthday Party, Tom Waits, Morphine... Since their begining in 1990 they released 6 studio albums and gained fans among artists like Nick Cave, PJ Harvey, Shane McGowan and Morissey. Last year Gallon Drunk released their latest album ''The Rotten Mile'' and are coming to Zagreb for the first time. We took this opportunity to ask James Johnston, founder and singer of the band, and also a member of Nick Cave's The Bad Seeds, a few questions...
Where are you now and what are you doing?
We are rehearsing for the tour, our first date is in Berlin.
Tell us something about the start of the band?
The band started in London in 1990, we were a bored group of friends living in a shared house. We did not anticipate the group taking off in the way it did.
Who were your influences at the beginning?
When we started, I was listening to a lot of the music that I still love. Suicide, Howling Wolf, Link Wray, The Stooges, Bo Diddley, Archie Shepp, Coltrane, the Gun Club. That sort of thing. We were all unemployed, and spent a lot of time listening to music.
Who is in the band now?
Myself, James Johnston, Ian White, who has drummed in the band since 1994, Terry Edwards who has been in the group since From The Heart of Town in 1993 (on organ and sax), and our bass player Simon Wring.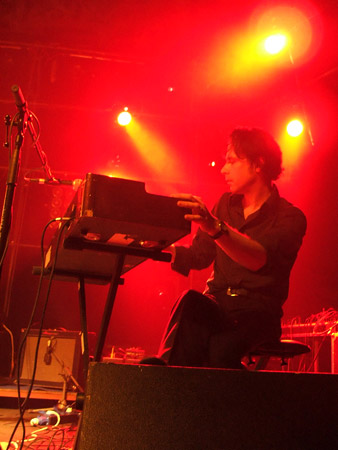 james johnston @ tvornica 12.05.2007. © sale
You played in many bands. Which one do you like the most, apart from Gallon Drunk?
Both Terry and Ian have played with Lydia Lunch, as have I. Ian and I played with Barry Adamson. Terry plays with the Tindersticks. I joined the Bad Seeds in around 2003, who are a tremendously good band.
I also play with the German group Faust, which is an incredible experience.
A lot of the experiences are very different, or enjoyable for different reasons.
And which album you participate in, you think is the best?
My favourite Gallon Drunk records are The Rotten Mile and From The Heart of Town.
How did you collaborations with other bands affect music of Gallon Drunk?
I think it freed it up a little. Also, I think it really help us focus on what was special about the group. That's what we went for in the studio for The Rotten Mile. We felt that as long as it was exciting, and represented the live experience of the band, then we'd try anything.
Are there any artist that you would like to play with?
I wouldn't mind being in Funkadelic.
How did you become a Bad Seed?
My brother wrote a book about Nick in 1992, so I got to know them then. Nick saw Gallon Drunk and asked me to tour with the band in the U.S. in 1994 when Blixa couldn't do a tour. When he eventually left the band in 2003 I was asked if I'd like to join, then Abattoir Blues was recorded. Or something like that.
What do you think of Grinderman project?
I think it's great, it's not a million miles from the sort of noise Gallon Drunk deliver. It's definitely my bag.
Can you please write your favourite albums and movies of 2007?
For most of 2007 I was lost in our record, and older music, so I'm not sure what I missed. Part Chimp made a great record called "I am Come". I think this year's been better for movies already with the Coen Bros film and There will be blood.
How many times you played in Zagreb and what do you remember the most?
This will be the first time Gallon drunk ever played here.
I played in Zagreb with Mick Harvey from the Bad Seeds, and I think we did a Bad Seeds festival concert too. I mostly remember the great hospitality we were shown, so I'm really pleased that we've got a chance to bring Gallon Drunk here at last. We'll play our hearts out for you.
terapija // 10/03/2008