Raskokodakaše se mediji da je "Seven Psalms" drugi solo album vrhovnog poglavara Nicka. Barem tako potpisan, ali nikako nije. Ima on s drugarom
Warren Ellisom
s njegovim ili bez njegovog dodatka još dvadesetak izdanja, ponajviše filmske glazbe koju je mahnito počeo štancati nakon općeprihvaćene tenzije "
Nocturama
" (2003) s The Bad Seeds da je konačno prigrlio svjetlo izašavši iz mraka.
Primjetili ili ne, njegova karizma ima čudnu komercijalnu moć da ma što god uradio u zadnjih dvadesetak godina, a pogotovo zadnjih desetak, sve odlično ide, sve se super prodaje, skače po top-10, čak i po no.1 listama najprodavanijih širom svijeta, pa unatoč tome što se njegove pjesme vrlo malo vrte po radio stanicama, uspjeva mu poput Tom Waitsa da manipulira općim mainstreamom i njegovim svjetonazorom. I uz to sakupljati nagrade i priznanja, a uh, albumi kakvi god da jesu i s kakvim god potpisima, sve su mršaviji i tananiji u glazbenom i stilskom obliku.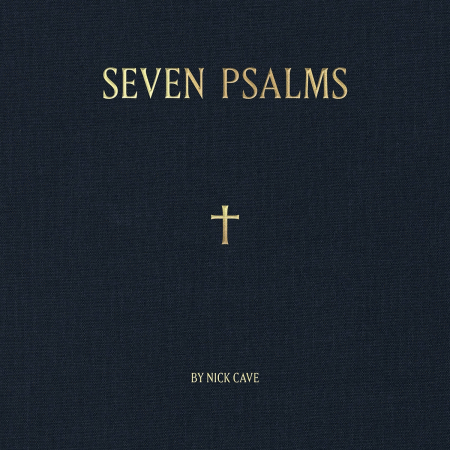 Ovo je još i najmršavije mu izdanje s Ellisom. Minimalistički synth u kratkim atmosferičnim etidama na koje Cave sriče svoje stihove o Bogu uzajamno povezane asocijacijama sa smrću dva sina (Arthur 2015. i Jethro Cave 2022.) su strogo približene religiji. Njegova nekadašnja mistika u uobrazilji seksa, monstruma i nasilja je odavno postala jednako važna kao i vječna božja milost, pokajanje i iskupljenje, ajde, tamo od spomenute "Nocturama" sesije. Sami kratki formati pjesama od cirka dvije minute, pa i manje pokušavaju utjecati i djelovati na slušatelja da razmišljaju o izrečenim stihovima poput svećenika u crkvi, primjerice '
nemam ništa osim molitve, molim te Gospodine da me odvedeš u svoj nebeski dvorac, dolazim k tebi, stojim na tvome pragu, dopusti mi da uđem, otvori mi vrata
...', a sjetite se, davno je demagoško metafizičkom teologijom sricao '
ne vjerujem u božju intervenciju
' ("Into my arms").
U principu, ovo su dobronamjerne teze i molitve bez obzira koliko sušatelj bio uvjeren u njih, Cave je postao običan propovjednik bez rock i underground pozadine što na licu mjesta iskazuje nepokolebljivu snagu i vjeru u dobrotu koja nadilazi zemaljske užase. Nema se što prigovoriti osim što je sve to tako monotono i dosadno, a posebice posljednji instrumental drone harmonija u kome je tih 7 psalma sažeto pod jedan komad za oproštaj. A kako god, ma što da snimio i realizirao, stvarnost pokazuje da se prihvaća i sjajno prodaje. Čim više Boga, nebeskih ikona, kipeca i laganih misa. Odani fanovi mu se klanjaju smatrajući ga blaženstvom. Sveta stolica još nije ništa komentirala.
Naslovi: 1.How long have I waited, 2.Have mercy on me, 3.I have trembled my way deep, 4.I have wandered all my unending days, 5.Splendour, glorious splendour, 6.Such things should never happen, 7.I come alone and to you, 8.Psalm instrumental
ocjena albuma [1-10]: 5

horvi // 07/08/2022