At the beginning they were "just another San Francisco experiment", then "a band that screams", lately they have become "a Californian avant-garde sensation"... this year they are just Deerhoof, a unique rock and roll band. With these words radiobagdad introduced us with their last album, the magical Friend Opportunity.
We are so excited for the opportunity to talk to Greg Saunier (drums and vocal) from this exceptionaly original band from San Francisco. You also can enjoy the relaxed conversation we had with him.
plagij.at: We can start with a short music history of Deerhoof. How did you guys meet each other? How did everything start?
Greg: When I met Rob in 1992, he used to wear duct tape in his hair - I think he was trying to form dreadlocks? We were playing together in a different band, but we started meeting on our own as an improvisation duo. With each other we could play all the things that we were embarrassed to play in front of the rest of the band. We called our duo Deerhoof. In 1994 the other band broke up so this is all we had. Satomi joined a few months later. She had moved to San Francisco from Tokyo that same week, and had never played music before, but she was a good singer. She sang almost without emotion which worked because Rob and I played with too much emotion. In 1999 Rob decided to move to Alaska so we asked John to join. He wasn't sure if he was more into music or soccer. In 2002 Chris joined. We wanted a keyboard player but after one show he said he wanted to play guitar, then later he said he wanted to play drums and later he said he wanted to play bass, then later he quit and now his band is called Cryptacize, their album just came out. This year Ed joined on guitar and it feels like a whole new band!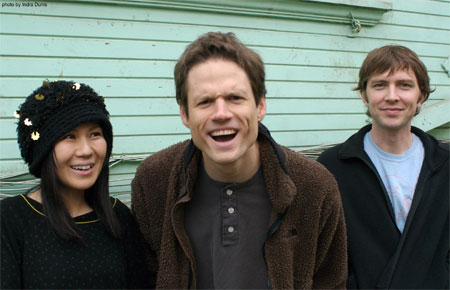 deerhoof © indra dunis
plagij.at: I really admire your songs, but I can't say what type of music you actually play. Can you tell us what your definition for the music you play is?
Greg: Why does it matter?
plagij.at: Did your live performances change a lot after Chris Cohen left the band?
Greg: They changed a lot even when Chris was in the band. But when he left it was just a trio, which makes everyone work very hard. This was great practice but it also made us sound like we were having a panic attack every time we played a concert. Now with Ed we feel like we can leave some more spaces in our playing.
plagij.at: Beside the band, you still have a work day jobs?
Greg: We had other jobs until 2002 or so because the band made no money. We decided to leave our jobs and try to tour more, to see if we could do it. Ed just joined but he has a job at the video store two nights a week.
plagij.at: Can you describe in details the process of creating of your songs?
Greg: I would almost have to describe each song separately. It seems like every one had a different process. The same trick never works twice. Sometimes songs come in dreams, sometimes they come after sitting for hours with a guitar, sometimes you just start humming something on the street. Sometimes one person writes everybody's parts, sometimes it's a collaboration. We feel lucky if we have any songs come to us, so we aren't picky about how they happen!
plagij.at: And how do you decide when the song is ready to be recorded?
Greg: Well usually we record it whether it's ready or not. Many times on our albums, the version that is on the album is the very first time we ever tried to play the song. It is strange because we would spend five minutes recording it and then spend two years mixing it.
plagij.at: You have impressive discography and such a big repertoire of songs. How do you go about choosing a set list?
Greg: Thank you. Everyone in the band writes songs so we try to have some of each person's songs in the concert. Besides that, I don't know. Some songs are easier to play live than others. Some of the songs on the albums have so many instruments that it's almost impossible to find a way to do it live. Maybe we like to choose the songs that are the simplest because then they can be a little different every time we play them. We like to improvise while we are playing a song.
plagij.at: Deerhoof supported bands such as Radiohead, The Flaming Lips, Bloc Party... What kind of experiences have you gathered and what were the benefits and shortages of concerts like this?
Greg: The Radiohead and Flaming Lips tours were wonderful because the bands are so good and they are so friendly. They are in charge of making the whole tour experience be a beautiful thing. Their concerts were such an inspiration. With Bloc Party the band was good but they weren't really in charge, they had all these managers who decided everything, and their managers were horrible, really mean. All about business and nothing about art.
plagij.at: How did they influence the song writing on your last record?
Greg: Not so much because we were recording the last record already when we were touring with Radiohead and The Flaming Lips. Maybe you will hear more influence on the next one? I think the influence from both of those bands is to try to go for the maximum emotion in a song, don't settle for only something that sounds pretty.
plagij.at: Can you tell us more about the Milk Man ballet project? Did you like it?
Greg: This was one of the biggest moments in our career. A schoolteacher decided to create a stage version of our album Milk Man, with singing and dancing and all of the music played live, arranged for a group of local musicians. The dancers were all schoolchildren. We always hoped that our music could be played by other people, it didn't have to be us, and it didn't have to be "rock" instruments. Also we always hoped that our music was for children as well as adults, that it could be sung by children. The kids really enjoyed the experience. I think back to important musical experiences I had when I was a child and how much those experiences shaped my life. So I was very proud to think that some children were having this kind of experience with our music.
plagij.at: Do you have time to listen music from other bands? According to you, which are the best albums released so far this year?
Greg: I don't listen to nearly as much music as my friends do. I'm more the type of person who focuses on a few things and really gets obsessed with them. The only albums I know from this year are ones by my friends... I recommend all of them highly though. Cryptacize, Why?, Weird Weeds, Xiu Xiu.
Wrong Time Capsule - Deerhoof
plagij.at: What's your opinion, in which direction will the music evolve? How do Myspace, mp3 and Internet affect on music's future?
Greg: I think that because music is free on the internet, the only bands that will be able to continue are two types of bands. One is bands that aren't trying to make money, which is great because then you get all kinds of bands who are doing it just for the art of it, or for the fun of it, and not trying to get people to like them which can be tiring. The other type of band is one that makes people want to give their money to them. This would have to be a band that people really trust or believe in, or want to support for some reason, like the world is a better place because this band is there, so you're willing to chip in to keep the band going.
plagij.at: When can we expect your next record? Are you preparing it already?
Greg: One of the nice things about Deerhoof's audience is that it seems like they don't expect us to sound one way, or maintain one style, because we've never had one big hit song. Maybe they simply expect to be surprised. It's wonderful for us because we can try to allow ourselves to do something new each time. We are recording an album over the next couple of months, we're so excited about it right now. We've been practicing every day to get ready.
plagij.at: Do you have any plans for visiting this part of Europe?
Greg: I would love to do more. We have played in Zagreb at KSET several years ago, and then we played in Istanbul last year. Right now we don't have any specific plan. I'm happy that you wanted to this interview though, I am amazed that there is anyone who has heard of our little band in your part of the world.
filip // 26/03/2008