Two albums and few years behind them, The GO! TEAM are coming to croatian biggest summer festival, Vip INmusic festival. Ian Parton, leader of the band in his own words...
Where are you now and what are you doing?
at home - between shows - before the summer onslaught of festival season. we're gonna be whoring ourselves round the world in russia, korea, japan, breazil, argentina.........
You recorded ˝Thunder, Lightning, Strikes˝ all by yourself and afterwards recruited a band. How did it come to you to form THE GO! TEAM?
Well I never dreamt of doing it on my own - i always wanted to be a gang - and preferably with people that might not have normally been in a band together. I didn't want to be just another bunch of blokes with guitars pretending they're cool.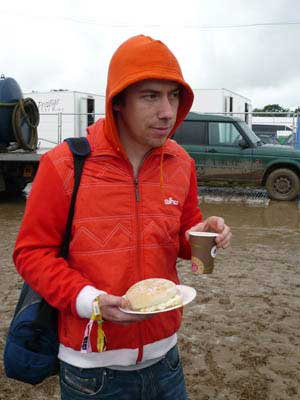 ian parton
Why 2 drummers?
Well we have 3 drummers in the band so we like to show off - plus i think it looks and sounds pretty hot.
Describe your music in few words?
trashy, technicolour, cheeky, relentless, shit kicking
Do you plan to re-record ˝Thunder, Lightning, Strikes" with the band?
Nah - there's too much other stuff to do.
A big part of your songs are samples. How do you find them?
I hunt through northern soul records, bollywood records, film soundtracks, double dutch documentaries, B movies....
For US release of ˝Thunder, Lightning, Strikes˝ you had to replace some samples. Why and which samples?
Well when we first released the record on Memphis industries in the UK it was totally illegal - there were over 50 uncleared samples - when the major labels got interested about a year later we had to go back and try and clear em all - which was a proper ball ache - most we cleared some we had to replay - but i think we got away with it.
Do you have something in common with Dolly Parton?
we both like the song "Jolene"
What are your favorite albums, movies, books?
films: midnight cowboy, play it again sam, spinal tap, nuts in may, albums: daydream nation by sonic youth, velvet underground - (the banana album), music has the right to children by boards of canada.
Which do you prefer, cd, vinyl or mp3?
vinyl of course - sitting at a computer feels a very sanitised way of listening to music.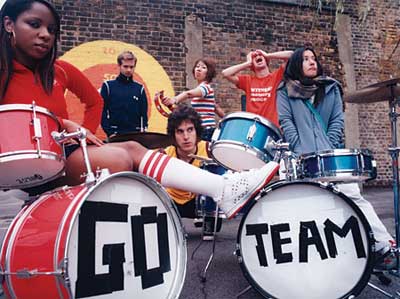 the go! team
What do you think about myspace as service to promote yourself?
yeah but every fucker is doing the same so we're drowning in music, everyone is spamming and tyrying to become the next myspace sensation and the moment has passed - its pretty handy though for checking people out.
Are there any song that you would like to cover and any artist that you would like to play with?
There's a song by a really obscure 60's girl group called "betty and karen" that I'm thinking about covering - i'd love to do a gig with Deerhoof.
Tell me something I would never guess about you?
i used to make documentaries about mummies.
pedja // 27/05/2008
PS: You can meet Ian Parton and members of the band in Dallas record shop, Masarykova 6, Zagreb, on 02/06/2008 at 17h.