Duke Special just released one of the best album of the year. We had a little pleasant talk with the man himself about it, tours and this and that.
Hello! How are you doing at the moment?
I am very well thank you! I have a had a very busy number of months so I am looking forward to a few days off over Christmas.
Your third album "I Never Thought This Day Would Came" has just been released and it really is a beautiful album. What can you tell us about it? Was it hard writing it?
Well, I recorded it between London, south of Chicago and in Northern Ireland during June and July of this year. It was produced by Paul Pilot (www.paulpilot.co.uk/) who also co-produced my last record and my first 2 EPs. It was mixed by Nick Terry who has worked with The Libertines and McAlmont and Butler among a host of others. I collaborated on many of the songs, with Bernard Butler, Paul Pilot, Phil Wilkinson, Daniel Benjamin from Germany and Ben Hales.
The thing that we noticed right away is how the overall sound of the album is somewhat darker and more melancholic than it was on the previous albums. Even the tunes that sound like a circus romp are a bit darkish. So What set the tone of the album? What brought the change in sound?
I deliberately wanted to go somewhere different with this album and not just make another "songs from the deep forest." I suppose the mood of any songs I write reflects where my head is at at that time. On this record I had a vision of people who were walking in their sleep dancing with ghosts and skeletons in an upstairs dusty old ballroom.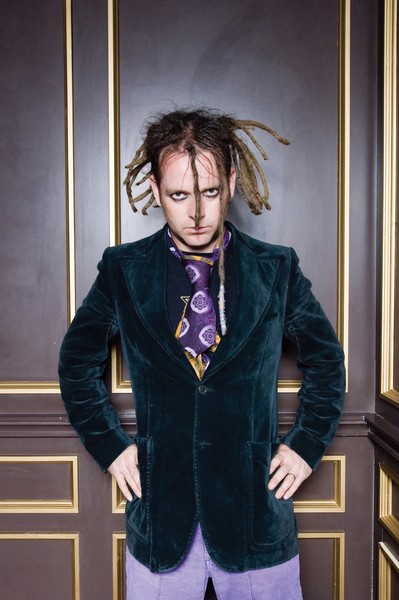 Duke Special
How will the album be performed live? Will it be stripped down version? The whole album seems to be filled with elaborate orchestrations and we reckon that tunes such as "Diggin' An Early Grave" will sound absolutely massive live!
Every tour I do is different and depends on the logistics of the shows, size of venue, budget etc and being a solo artist I have the luxury of performing the songs many different ways. You have mentioned "Diggin' an early grave," well I have already performed this with a 63 piece orchestra in Dublin, solo throughout the UK, with a 7 piece band in front of 2 and a half thousand people in Belfast and with Temperance society "Chip Bailey" in a printing press in south west Ireland in front of 5 people and a film crew. In January I will be performing throughout the UK with only Temperance on drums and percussion and myself on record player and piano.
The thing that I've also noticed is that a wide variety of people seem to be listening to your music. It seems to appeal to both younger and older audience. So how is it at the gigs? Unfortunately, being in Croatia stopped us from seeing lots of your shows.
You are right, my shows seem to attract people of all ages which I love but it doesn't surprise me given the eclectic mix of music which has influenced me.
You rather famous by your live performances and by what we seem to know, you've been on tour...well, almost forever. Is it still as exciting as it was at the start? Does it get tiring after a while?
I adore playing live, I love the immediacy of seeing the audience react to a song and making a connection with it. However, in the past I think I toured too much and it began to feel more normal being on the road than being at home which made it difficult for my family. I am trying to get a better balance now.
What is your opinion on all the release schemes going around these days? Do you think the future of music is online or that these are just clever marketing plots that work in a certain moment?
I really don't know what is going to happen in terms of how people will end up buying music or even if it will cost anything to buy. It seems like advertising tie-ins and sponsorships are increasing and both labels and musicians are having to rely on live revenue to boost their income. I think live music will always be the most important thing though, after all recordings are always just trying to capture what people experience live - that connection.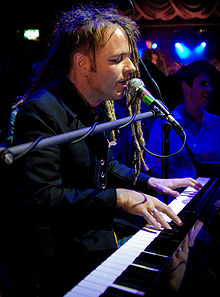 Duke Special
So what's in the future for Duke Special? After listening to songs like "Flesh and Blood Dance" we can't stop thinking that you should sometime do a soundtrack to something like Tim Burton's Nightmare Before Christmas.
Tim Burton is actually someone I would love to collaborate with! Well January will see me touring in the UK and the states as well as curating a night based on detectives and mystery when I will be presenting the whole evening as a puppet of myself. More writing, both on my own and with others will continue and this year I also hope to begin an annual Duke Festival in Northern Ireland! Another priority is to release the new album "I never thought this day would come" in the UK, Europe and America. One more ambition this year is to stage a play around the life of a silent movie star called Hector Mann for which I recently recorded 12 original songs with steve Albini, the renowned recording engineer.
And our final question, what are you reading and listening to recently?
I am currently listening to Nick Cave's Murder Ballads and reading Anam Cara by John ODonahue.
Thanks a lot for answering these! We really appreciate it!
No, thank YOU!
kris // 20/12/2008