THE THERMALS will visit Zagreb in October, right after two U2 days. They announce a new album and not completely the same sound... Hutch is the leader of the band and the main singer and he was ready to answer to all my questions...
Hello to The Thermals! Congrats for the very good new album! IMHO, it sounds softer, maybe warmer, maybe more pop-ish than its predecessor "The Body, The Blood, The Machine"... Was it your intention or just... happened?
-yes, everything we do is quite intentional. with each record we make we grow in small ways.
Are you fully satisfied with the album?
-yes, we would not release a record we are not satisfied with. we think it's our best record yet.
How long did it takes to make it?
-we wrote it for a little over a year, tracked 8 days in oregon city at supernatural sound with john congleton, then did another 8 days at his studio elmwood in dallas.
"Now we can see" is the first single, I suppose. Is it "by plan" or just this song found the way to the listeners?
-yes it is by plan. we chose this to be the single then leaked it to the world.
Which song (in your opinion) will be the new "Pillar of Salt" in term of popularity? Maybe "We were sick"?
-we think "now we can see" will be the new "pillar of salt". maybe "we were sick".
You didn't loose the feeling for creating catchy melodies. Who inspired you the most?
-thank you. we are inspired by weezer, the breeders, the beatles.
I think that people will compare you now with "Green Day" more than ever! Are you sick of "Green Day" comparison?
-no, we almost never get compared to green day. we love green day's early records and never mind getting compared to them. we compare ourselves to them more than anyone else.
Maybe you are the new Ramones?
-probably not. we'll never be as good as the ramones, and we're also way better than them.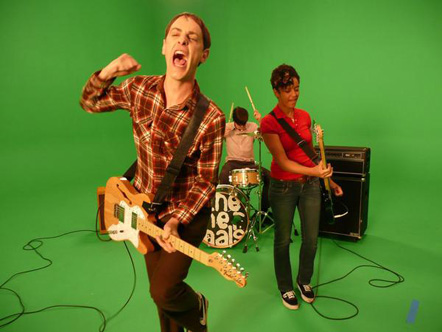 The Thermals
There's a lot of bands where you're form (Portland, Oregon). Is there a friendship growing with some of them?
-yes it's always growing. we are friends with pretty much every great band in town - the shins, the decemberists, the jicks, quasi, shaky hands, i could go on forever.
You've already been in Zagreb. I see that you're returning in October? We are all happy because your last show was great! Will there be something special this time?
-just another fantastic thermals show where we play all the hits, fast and loud. shows in zagreb are always very fun for us!
You sound like you're really enjoying living? How do you succeed to cancel crisis, global warming and other major world problems?
-we have great lives, knock on wood. most of the world's problems will not be solved. we just have to find ways to live with/around the problems.
My standard question to all bands: What do you like to eat the most (but not expensive) in your hometown?
-pad thai. there is so much great thai food in portland.
A noisy party / A quiet forest. Choose what you like more and why?
-right now i'd choose a noisy party, as long as it's filled with interesting, attractive people. why? because i love drinking, talking and fucking.
danko // 24/04/2009