Matt McGee, the man behind
the book
...
How and in what period of your life did you get an idea to write such a book?
In 2005, I had an idea for a different U2-related book that would have involved some help from the U2 fans who work with me on
@u2
. We pitched our idea to Omnibus Press, hoping they would publish it because they've done several U2 books before and they understand the U2 fan audience. They didn't like the idea we submitted, but instead told me they had an idea of their own to write a history of U2 in the style of a diary. When they asked if I was interested, I jumped at the chance because I've always been interested in U2's history. I've always collected newspaper articles and magazine articles - anything with little facts and bits of information. So, it was a natural fit. But it wasn't my idea!
How many collected newspaper articles and magazine articles did you have when you start to write book.
At least 5,000 articles, maybe close to 6,000.
During writing "u2 diary" you read many books about the band. Which book made the biggest impact. Which you find to be the best?
I have about 30 U2 books on my shelf, and I re-read each one of them during the writing of the book. It was a challenge, but also a lot of fun! The most helpful books were the ones that are a collection of articles about U2. Rolling Stone magazine did a book that reprinted every U2 article they had ever published. Hot Press magazine did two books with all of their U2 articles included. Those were helpful because they gave me easy access to so many good articles and interviews.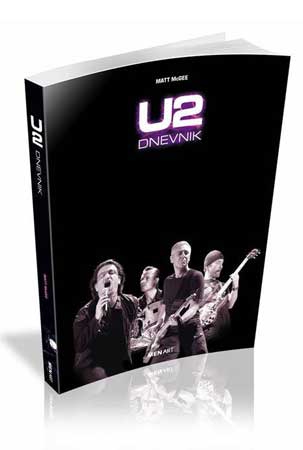 The book says that you never met members of the band? Which band member would you like to meet the most and what would you say to him at that occasion?
That's true - I've never met any of the band. I don't think there's one band member I'd rather meet more than the others. What I'd like to do is spend about a week in Dublin, doing one-on-one interviews with them so I can ask them all the questions that U2 fans would like answered. I'd like to write the final book about them after their music career is over!
Which is the most bizarre thing concerning u2 mentioned in your book?
There's an early mention about Bono being kicked out of one school, apparently because he threw a bag filled with dog poop at one of the teachers! That's about as strange a story as you'll find in the book, I think. But you know, kids will be kids.
Which is the best u2 album in your opinion?
Achtung Baby, no doubt about it
Top 10 u2 songs?
Wow, my favorite songs change a lot. Right now, the list would go like this:
Where the Streets Have No Name
Original of the Species
The Unforgettable Fire
One Tree Hill
Mercy
One
Bad
An Cat Dubh/Into the Heart
New Year's Day
Breathe
Top 5 albums, movies, books in general for you?
Most of the books I've read recently are kids books, because I have two children who are seven and 11 years old! My favorite movies are any of the Pixar films, especially Wall-E and Monsters, Inc. And my favorite non-U2 albums ... that's tough. I really enjoy Coldplay, Collective Soul, and a German band called Reamonn.
Have you been to Ireland ever before or during writing of your diary?
I visited Ireland twice back in the 1990s. The first time was in 1996 and then I went back again in 1997 to see U2's PopMart Tour. They did two really amazing shows right when Princess Diana died. I haven't been back to Ireland since then, though.
Have you ever been to Croatia, would you like to come (again)?
I've never been to Croatia, but I would love to visit someday. I had hoped to be able to come when Menart invited me for the recent book event, but the airfare was too expensive and I only learned about the event about a week before it happened.
I've actually never been to mainland Europe at all, and that bothers me. I wanted to see U2 start the 360 Tour in Barcelona a couple weeks ago. I have friends in Germany and wanted to visit them while seeing U2 in Berlin. But the travel costs were too much so I've had to stay home. I'll be there someday.
Matt McGee predstavlja knjigu "U2 Dnevnik"
+ some f.a.q.s. from
www.u2diary.com
Don't you already have a U2 timeline on @U2? Why turn it into a book when it's already on the web?

We did have a section on @U2 called "This Date in U2 History," which is currently offline for two reasons — the second of which is this book. That material provided a very early foundation for U2 - A Diary, and much of it will be included in the book.

However, as my research quickly proved, that section of @U2 is very incomplete. "This Date in U2 History" runs about 50,000-60,000 words. The manuscript I submitted was almost 204,000 words. The book, as you can see, will include a lot more than what was on @U2. It'll have much more information, not to mention many expanded "back stories" and behind-the-scenes information culled from interviews I've done (and will continue to do) that have never been published before.

Isn't there already a book that covers U2 on a day-by-day basis?

You might be thinking of the terrific book, U2 Live - A Concert Documentary. That book details every concert U2 has played in chronological order. While U2 - A Diary will, by default, include references to U2's concert dates, it will not go into the detail on every show like U2 Live does. U2 - A Diary will cover all of U2's history — not just live shows, but all the events and dates that played an important role in the band's development.

Why bother writing a book about U2's history when they already put out their own official history book?

I bought U2 by U2 as soon as it was published, and I think it's a terrific book. But ultimately, that book is U2's own version of events. There are many events and stories that were either left out completely, or not told as thoroughly as I believe they could have been told. The band might not feel these stories and events are important, but U2 fans do. I believe U2 - A Diary will fit very comfortably on your bookshelf as a complement to U2 by U2 and the other terrific U2 books that have been written.
pedja // 20/07/2009