I was living in a village in Wiltshire on the edge of Salisbury Plain. Collingbourne was the nearest village hall.
I posted flyers all over Marlborough and convinced some people from work to come. It made the local paper, but that came out on the day of the concert.
It wasn't a full hall, but attendance was okay.
Regarding Lol's narrative at the start of 'part six', I went into a music shop in High Wycombe after the concert and we talked about the Lyon Clarinet. Generally regarded as a joke, they didn't even consider it to be an instrument. Useless and in the wrong key.
Seemed like a very practical instrument to me. No need to transpose when reading music in concert pitch and easily fixed if broken.
The keys just push back into place
[
Mark Browne
]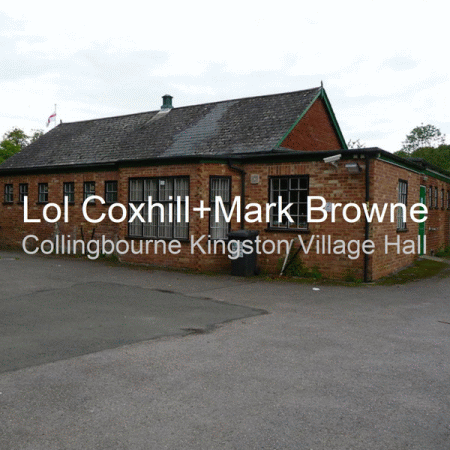 Tonalitetom kojim je započet album, "izbjegavajuća mogućnost", da uvodom polako dođe do promjene, ali one prave intelektualne. Dokle god se bude osjećao taj momenat nešto se u tome može i muzički osjetiti, naš život, makar Jugoslovenski koji je bio je bio pun improvizacija. Izvjesno ti trenuci u muzici su posljedica provokacije toka razmišljanja iz kojeg se nazire blagi osmjeh u trenutku prepoznavanja improvizacije. Otuda su nekad ljudi imali jak smisao za humor.
Doživljaj ove muzike se nadograđuje na džez, intelektualno, s tim da imamo potpunu fokusiranost na improvizaciju, sa određenim smislom za slobodu. U tome ona zrači izuzetnom energijom, toliko neuhvatljivom da prosto kao muzika nikad neće zamijeniti onaj pojam slikarstvo, mislim to se kod Keith Rowe-a neđe "vidi", jer sve one objekte koje koristi, efekte, i tako dalje, možemo, a i neđe sam na internetu to vidio (vjerujte mi na riječ), kad se okače na zid dobija se prava umjetnost od predmeta kojima ozvučava objekte. Ne znam samo je ona plaža uz asfaltni put koji je nekad bio u hladovinu sad određenim efektom plaže na drugo mjesto pomjeren. To primjećujem kod njega.
Muzika je prilično u određenom dijelu previše slaba, u pokušaju da dostigne buku. Ako je sve smiješno, kao što jeste, moglo bi se dosta toga i napisati, ako baš sve nije smiješno… Određeni džez koji je toliko genijalno odsviran, na marginama, iz kojih se ponekad čuje taj nedostatak vazduha koji prekida sjajan tok improvizacije, koji nije jednostavno shvaćen od strane kolega na način koliko ko može i kad treba da nastupi. Ta improvizacija je prava filozofija radničkog duha da prosto je ne možemo iskorijeniti, već po jedan instrument duvački treba omogućiti svakoj grupici sa stepeništa itd... Dobro improvizuju, mislim u drugom dijelu albuma je improvizacija koja se meni lično više sviđa, a što da ne, lijepo rečeno "San koji srećan sanjaš sam - Block Out". Dok je god taj bijeli displej u našem licu, a taj drugi dio albuma u pozadini, možda imamo šanse da preživimo novo doba koje dolazi. Taj drugi dio stvarno ima kontinuitet džeza, moram da istražim, nadam se da ću putem ovih recenzija otvoriti tu polemiku sa samim sobom zašto je zapravo džez nešto na čemu se više oslanja moj sluh nego da se jednostavno nazove slobodna improvizacija. Slobodno je dosta, mislim, zašto džez nije više Američki to je pitanje, a mi bi svuda sa njima u savez, a sve su svoje uništili. Kao nek' mi svira marinac - onaj isti nemoral i ekspresija zadovoljstva.
Naslovi:
1 Part One 9:16
2 Part Two [MB Solo] 9:56
3 Part Three [LC Solo] 14:23
4 Part Four 6:37
5 Part Five 24:39
6 Part Six 5:04
ocjena albuma [1-10]: 10

edo žuđelović // 15/08/2022
PS:
Lol Coxhill
soprano saxophone
Mark Browne
alto saxophone
recorded 18 March 1994 onto DAT by Mark Browne at Collingbourne Kingston Village Hall, Brunton, England
DAT transfers by Steven Cossar
mastered by Jim McEwan