Grupa
Y
je nastala 2004 godine, naprije kao klasičan rockovski trio sa surovim zvukom, kojeg je 2007 nadgradila dodatna dimenzija u obliku četvrog člana na sintetizatoru i sampleru. Godinu prije grupa izdaje malu ploču "Germ" za
God Bless This Mess records
, koja unatoč malom financijskom uložku dobiva odličan odaziv kod glazbene kritike i kod koncertnih organizatora.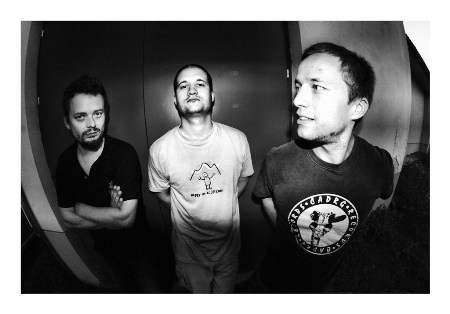 Y [:why]
Y krasi inovativan, progresivan pogled na instrumentalnu glasbu, razapetim izmedju ambientalne atmosferike post rocka i metal matematike jednih Don Caballero. Y su bili 2007 sudionici Klubskog maratona, turneje 6 bendova po slovenskim klubovima pod okriljem ljubljanskog Radija Študent.
Poslije krače pauze, Y se ponovno okupljaju kao trio sa novim basistom i ove godine sviraju koncerte po svim relevantnim klubovima u Sloveniji, koji su zapravo pripreme za snimanje prvijenca. Na početku ljeta bend ulazi u studio i snima svoju prvu ploču.
Na turneji ih prate
The canyon observer
.. and they are.. a slovenian post/noise/sludge band formed by 5 individuals with a shared taste in music. Their creations are filled with primal aggressive energy, enriched with atmospherical noise escapades.
The Canyon Observer - My Will
Upad će Vas koštati 25 kuna na ulazu.
promo guy // 19/10/2011