U Boogaloo nam u utorak 20. ožujka dolazi još jedna metal legenda, Blaze Bayley, bivši pjevač največeg heavy metal benda na svijetu, Iron Maiden. Blaze dolazi u sklopu svjetske turneje "The King Of Metal Tour 2012" gdje predstavlja svoj svoj novi, šesti solo album "The King Of Metal" koji izlazi početkom ožujka, taman neposredno prije zagrebačkog koncerta. Pored svojeg materijala će Blaze izvesti i podosta pjesama iz njegovog "Iron Maiden razdoblja".
Karijera Bayleya Alexandera Cookea "Blazea" obilježena prefiksom 'ex-Iron Maiden singer', se bliži brojici trideset, a započela je mjestu u Tamworth pored Birminghama 1983. godine s grupom Wolfsbane, s kojima je snimio tri albuma, da bi se 1994. našao u najvećem heavy metal bendu.
Pet godina provedenih u Iron Maiden donijelo mu je puno iskustva i popularnost. Blaze se također dokazao kao songwriter i ko-autor mnogih pjesama na albumima "The X Factor" (1995.), kojeg dio fanova smatra najmračnijim pa čak i ponajboljim Iron Maiden izdanjem. Drugi album na kojem Blaze pjeva je "Virtual XI" (1998.). No, Brucea Dickinson se vraća 1999. u Iron Maiden, što znači novi početak za Blazea.
Već 2000. Blaze snima izvrstan album "Silicon Messiah", po mnogima jedno od najboljih heavy metal ostvarenja prošlog desetljeća. 2002. izlazi drugi album "Tenth Dimension", 2004. treći album "Blood & Belief" i prvi DVD "Alive in Poland" koji potvrđuju njegov kompozitorski potencijal.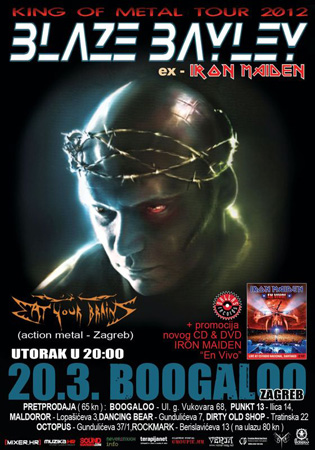 Slijedi reunion Wolfsbanea, a 2008. novi solo album "The Man Who Would Not Die" koji je bio popraćen novim DVD izdanjem "The Night That Will Not Die" (2009). Album dobiva odlične kritike a još idući album "Promise And Terror" (2010.) još i bolje. 2011. izlazi povratnički album Wolfsbanea, "Wolfsbane Save The World".
Zagrebački koncert će se održati u utorak 20. ožujka u dvorani Boogaloo s početkom u 20 sati. Kao predgrupe će nastupiti zagrebački perspektivni metalci Eat Your Brains i old school heavy/thrash metal band Vis Maior iz Čakovca. Cijena ulaznice u pretprodaji iznosi 65 kn, a na ulazu će ulaznica koštati 80 kn.
Pored koncerta će se održati i promocija i projekcija na velikom platnu novog Iron Maiden DVD izdanja "En Vivo" (EMI/Dallas Records) snimljenog na turneji "The Final Frontier World Tour" na stadionu Estadio Nacional u Santiagu u Chileu. DVD sadrži i dokumentarni fim "Behind The Beast" i audio snimku koncerta na cd-u.
Prodajna mjesta: Boogaloo Club - Ulica grada Vukovara 68, Dirty Old Shop - Tratinska 22, Punkt - Ilica 14, Octopus & Hexagen - Gundulićeva 37, Dancing Bear - Gundulićeva 7, Maldoror - Lopašićeva 3, Rockmark - Berislavićeva 13. Rezervacije: rezervacije@twilight-mag.net (subject: Blaze, ime + prezime - max 2 ulaznice na 1 ime)
promo guy // 15/03/2012