Jedini rockabilly festival u Hrvatskoj
Tear it Up! peti po redu festival koji se održava u Medulinu jest jedini takve vrste u Hrvatskoj. Riječ je o rockabilly festivalu kojemu je cilj približavanje muzike 50'-tih široj populaciji u Hrvatskoj. Karakteristično za festival jest i free upad, te to da ukoliko dođete sa vintage autom dobijate besplatno noćenje u Medulinu. Ove godine vas očekuje deset bendova od kojih su tri iz Hrvatske, a to su Shoutin' Torpedoes, J.Cash Tribute Band i najstariji rockabilly bend u Hrvatskoj Mississippi Queen. Kraljica svira još od davne '89. i iza sebe imaju četiri studijska albuma, te jedan koji su stavili na internet i možete ga skinuti na ovome
linku
.
Uz bendove će vas zabavljati do ranih jutarnjih sati i najbolji disc jockey-i tako da će te zoru doćekati uz pucketanje ploča i u ritmu ludog rock'n'rolla.Ove godine se festival održava u periodu od 31.05. - 04.06. Uz to za vrijeme festivala moći će te kupiti i razne vintage stvari te se potpuno vratiti u pedesete. Tako da zabave neće nedostajati.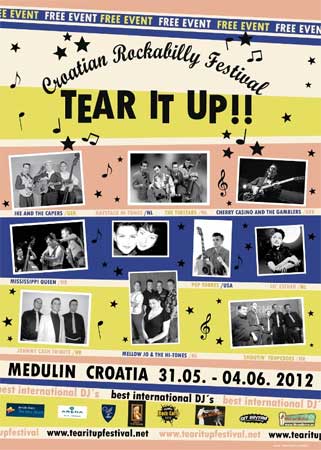 Line up bendova:
PEP TORRES (USA)
IKE AND THE CAPERS (GER)
THE TINSTARS (NL)
CHERRY CASINO & THE GAMBLERS (GER)
LIL' ESTHER (NL)
MISSISSIPPI QUEEN (HR)
MELLOW JO & THE HI-TONES (NL)
HAYSTACK HI-TONES (NL)
SHOUTIN' TORPEDOES (HR)
J.CASH TRIBUTE BAND (HR)
Ivan K.
terapija // 24/05/2012